Throwback Thursday: Dale Jarrett wins first race at Michigan in 1991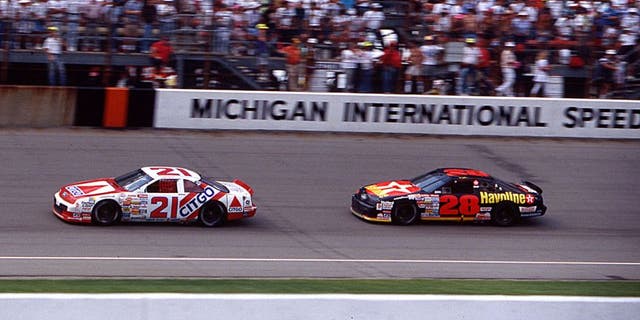 NEWYou can now listen to Fox News articles!
Dale Jarrett is a NASCAR Hall of Fame member now and a past NASCAR Premier Series champion, but in 1991, he was just one of many drivers trying to secure his place in racing.
In his first 110 Premier Series starts between 1984 and '90, Jarrett posted just three top-five and 15 top-10 finishes and was not someone regarded as being an elite driver.
Jarrett didn't make it in his first go-round in the Premier Series, but he got what so many of us want out of life: a second chance.
In Jarrett's case, he signed with the famed Wood Brothers Racing team in 1990, suffering through a rocky chapter with the team as he had nine DNFs in just 24 races.
But his fortunes began to turn in 1991 at Michigan International Speedway, which this weekend hosts the FireKeepers Casino 400.
In the '91 race, Jarrett and fellow Ford driver Davey Allison put on a show for the ages, going fender to fender over the closing laps, banging fenders and trading paint, with Jarrett prevailing by inches at the line to win his first race in NASCAR's top division.
The rest is history: Jarrett would go on to win 32 races, including three Daytona 500s and two Brickyard 400s, plus the 1999 championship. But Michigan was where he won his first race.
"Many of us often need a second chance in our life or our profession," Jarrett said when he was inducted into the NASCAR Hall of Fame in 2014. "In 1990 I found myself on the outside of the Cup Series looking for that second chance. That opportunity came shortly after that year began from the Wood Brothers race team after their driver Neil Bonnett was injured at Darlington.
"A phone call from Eddie Wood to substitute for Neil was a career-making call for me. As fate would have it, I ended up driving the famed No. 21 Ford for the next two years, earning my first career win in 1991 at Michigan," he said.
"I know second chances are worthless if you aren't ready to take advantage of them, but I believe I made the most of mine with the help of everyone at Wood Brothers Racing."
That he did.
And on this Throwback Thursday, we remember that amazing race.