Three keys to winning at New Hampshire Motor Speedway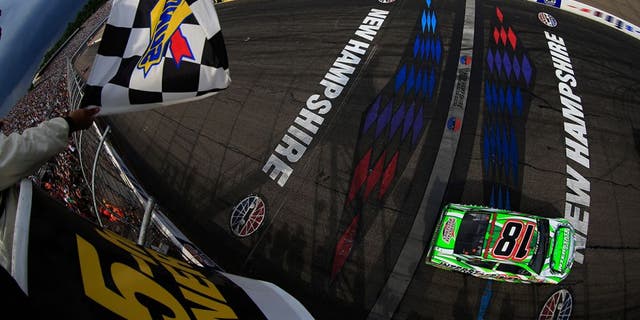 NEWYou can now listen to Fox News articles!
Who will win today's New Hampshire 301 NASCAR Sprint Cup Series race?
While that is a difficult question because there are so many drivers who have a legitimate shot, here are three keys to getting to Victory Lane at the 1.058-mile track.
TRACK POSITION IS KING -- These days, this is true at most tracks.
But it's probably more important at New Hampshire Motor Speedway than perhaps all others. It's a difficult place to pass, and that put a premium on qualifying -- which bodes well for the likes of pole sitter Jimmie Johnson, Kyle Busch, Martin Truex Jr., Kurt Busch and Joey Logano. Of those top six qualifiers, only Truex has never won at NHMS. The other five drivers have a combined 12 wins in their careers at Loudon and will start in prime position to win again.
"I've always said this is the birthplace of track position," said Ryan Newman, who owns three wins at the track but will start 25th in today's race after an unusually poor qualifying effort on Friday. " We have always really spent a lot of time in qualifying trim here and (usually) qualified well. That I think pays dividends for the race itself."
KEEP AN EYE ON KESELOWSKI -- Brad Keselowski, driver of the No. 2 Team Penske Ford, became the first and (so far) only driver to sweep a weekend's worth of XFINITY Series and Sprint Cup racing at the track when he did so in July of 2014.
Throw in the fact that Keselowski also is on a two-race Cup winning streak, having won the previous two races at Daytona and Kentucky, and the rest of the field has legitimate reasons to fear the No. 2.
"It's been a good couple weeks having won at Daytona and Kentucky. Having that win streak and coming to Loudon, one of our best racetracks, we could not pick a better place to go for three weeks in a row," Keselowski said. "I think in general, (we have) just a lot of enthusiasm. We think we can pull it off this weekend."
That's all good if your name is Brad Keselowski. If it's not, fellow drivers will be well served to keep an eye on where BK is and what he's up to during the race.
SAVE YOUR BRAKES -- Kyle Busch, the defending race winner who owns two career Cup victories overall at the track, said that NHMS features sweeping turns but feels like a true short track.
That makes braking very important. More specifically, it makes it a premium for drivers not to burn up their brakes before they get to the end of the race, which is not very long by NASCAR standards.
"Loudon is a Martinsville-like short track, but it's just over a mile," Busch said. "It's a little more spread out, but there's some rooting and gouging going on because it's a one-lane track and everybody fights for that particular groove."
So his advice, to both himself and fellow competitors: save your brakes.
"To be fast at Loudon, you have to have good brakes and you have to roll the center really well and get that good forward bite off the corners and make sure it sticks," Busch said. "The biggest thing about Loudon is you keep losing front turn and that's why the brakes go away -- just because the corners are longer and more sweeping than you need to keep those front tires around you."