Thomas Almeida crushes Albert Morales with highlight-reel knockout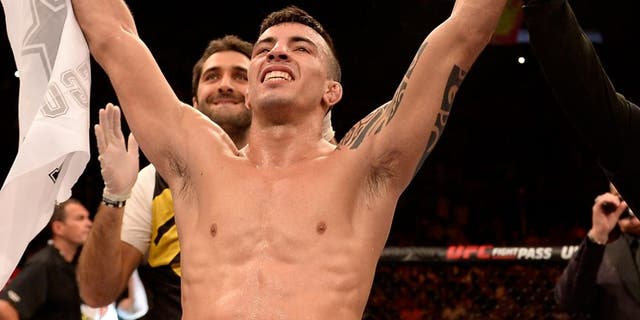 Thomas Almeida wanted to make a statement following the first loss of his career earlier this year to title contender Cody Garbrandt.
The young Brazilian certainly put an exclamation point on his performance with a stunning second-round finish over Albert Morales in Brazil on Saturday night.
Almeida had been tagged as the next great bantamweight prospect until he ran into Garbrandt, but that lone loss wasn't going to deter him from his ultimate goal to climb the rankings and fight for a UFC title one day.
Straight out of the gate, Almeida showed no ill effects of the knockout loss as he came right after Morales with huge combinations of punches throughout the first round.
Morales didn't back down as he continued to get in Almeida's face, but that didn't help him much once the Brazilian knockout artist found his range and started to land at will on the feet.
The second round only saw more damage landed for Almeida after he connected on a staggering punch early before absolutely pouring on the punishment with Morales fading into survival mode.
With his opponent trapped against the cage, Almeida opened up a barrage of punches, slicing through Morales' defense before connecting with a sickening shot to the body. Morales finally crumbled and the referee saw enough to stop the carnage.
Almeida was declared the winner at 1:37 in the second round.
The TKO served as the 17th-career finish by strikes during Almeida's career while also putting him back in the win column after a disappointing outing in his last fight in May.
"I'm back," Almeida said after the victory.
There's no doubt Almeida's stock took a hit with his loss to Garbrandt, but he proved that he's still one of the most dangerous fighters in the bantamweight division with another nasty knockout added to his record on Saturday night.