This might be the dumbest way to concede a penalty kick ever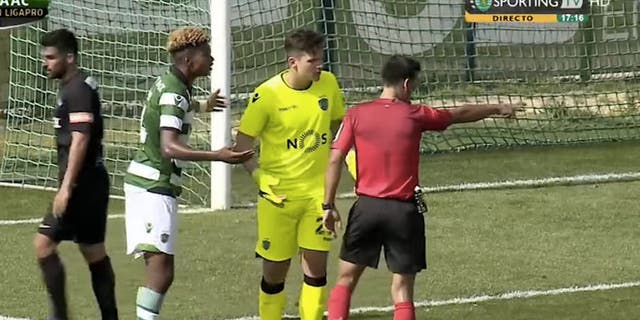 Although giving up a penalty kick is something no one wants to do, it's often understandable. In the jostling and desperate efforts to keep a striker at bay, these things happen sometimes.
But then there are other penalty kicks that are given up -- the kinds of penalty kicks that can only be described as, well, dumb. Sporting CP's reserve team showed us a new way to concedea completely unnecessarypenalty kick on Sunday vs. Academica. Take a look:
Simply stunning -- and not in a good way.
The ball clearly had not yet crossed the line and, by putting a toe to the ball, the substitutewas interfering with the play. Then, to make matters worse, he touched the ball with his hands even after it hadn't gone out yet, officially making it a handball.
The sub, who was supposed to be innocently warming up on the sideline, managed to concede a penalty without even being in the game. Yet, if he hadn't touched the ball, the ball would've justwent out for a benign goal kick since a player from Academica kickedit last.
That silly penalty kick ended up bringing Academica level with Sporting CP, and Academica eventually went onto win 2-1. If that unnecessary penalty kick never happened, the result probably would've been very different.
MORE FROM FOX SOCCER