The Washington Redskins have already blown it with Kirk Cousins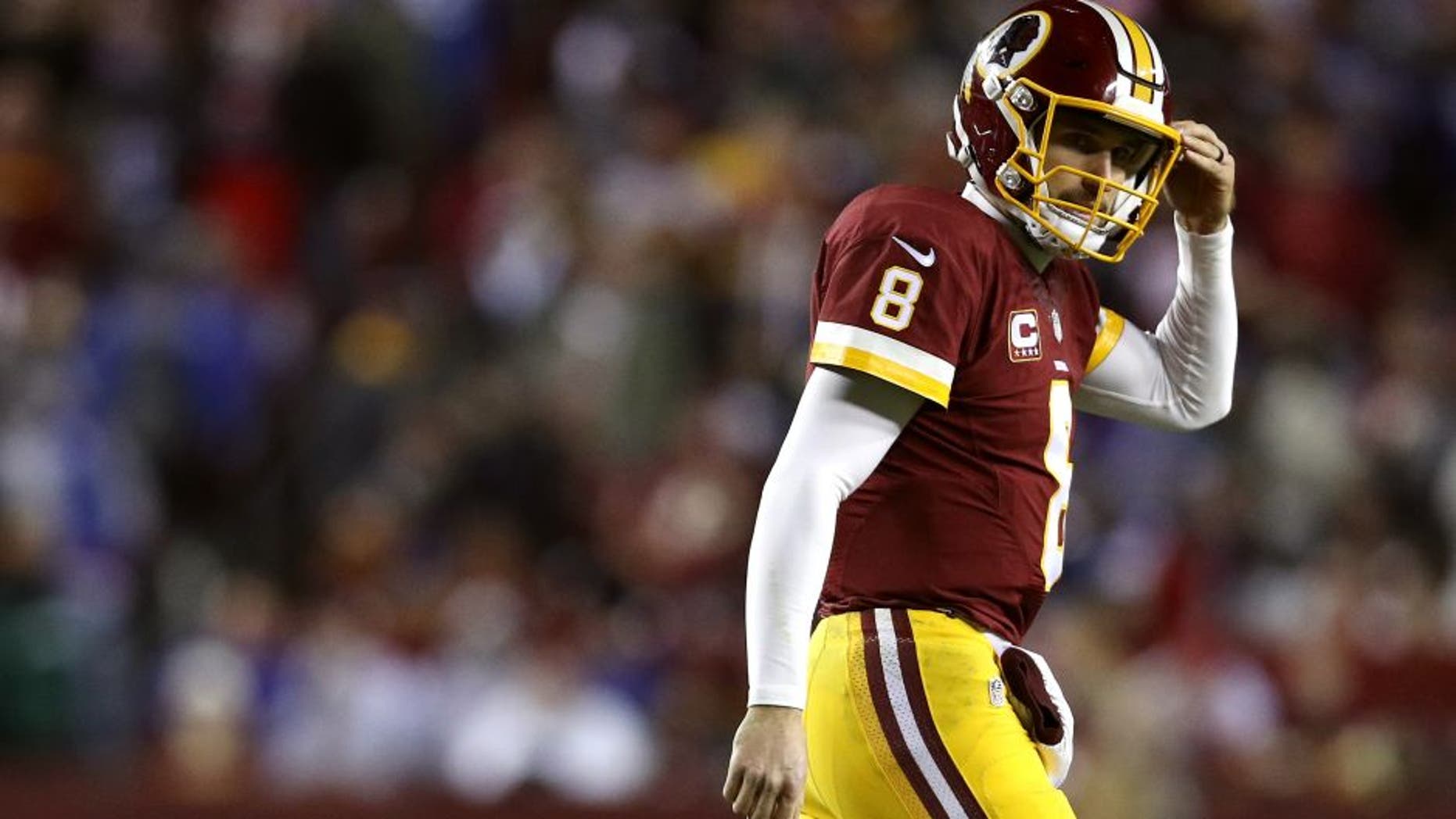 It didn't have to be this hard. It never has to be this hard. But, time and again, the Washington Redskins continue to make things more difficult than they need to be and this time it could mean waving goodbye to the best quarterback the franchise has seen since the early 1980s.
Kirk Cousins, who will be designated with the franchise tag this week (ensuring him a one-year, $24 million contract), wants a long-term contract that will pay him the market value for a quarterback who's thrown for 9,000 yards in the past two seasons and led Washington to back-to-back winning campaigns for the first time in 25 years. The Redskins appear to have no interest in giving it to him and instead are engaged in a bizarre contract stand-off where every day of inaction gives Cousins more leverage. And with more leverage, a Cousins exit, once seen as unfathomable, is perhaps becoming inevitable. Washington has strung along Cousins about as far as they could.
The future, which had been cloudy at the end of the season when Cousins said "the ball is in their court," is getting clearer every day. If the Redskins don't give Cousins the long-term deal he deserves, he won't be franchised again in 2018 (the number goes to an insane $35 million for one season) and a likely transition tag designation would mean Cousins would basically hit free agency after next season, only with Washington able to match any offer sheet (which isn't happening barring another lowball miracle). It's why a tag-and-trade option for this year is being openly discussed in the media. Nobody is giving up two first-round picks for Cousins but San Francisco, coached by Cousins' former offensive coordinator Kyle Shanahan, could offer a package that includes the No. 2 pick in this year's draft.
Franchise, transition, trade, offer sheets. These are the keywords at Redskins Park only because of a colossal screwup that could haunt the franchise for the next decade. Last year, Cousins reportedly asked for $20 million per year with a $60 million guarantee. The Redskins balked, lowballing him with a $16 million annual contract with just $24 million guaranteed. Fine. If Washington knew it didn't want Cousins leading them in the future, there should have been no problem cutting bait and moving on. But they kept him around, franchising him for that same $20 million he wanted - a move as indecisive as ever and one that lacked the forethought that with every passing day, Cousins would get closer to being able to dictate his own terms.
The 'Skins just pushed their decision back a year, hoping Cousins would either fall flat on his face or lead them to a Super Bowl win. Anything in the middle, apparently, was going to lead to the current quagmire. Whereas 2015 was the "show me what ya got" season, 2016 was "do it again." And Cousins did it again. He led Washington to its first back-to-back winning seasons in 25 years and shattered his own franchise record for single-season passing yards. A brutal interception in a must-win Week 17 game killed Washington's playoff hopes but for a team that's started Shane Matthews, Danny Wuerffel, Rex Grossman and John Beck in recent years, getting within one throw of the playoffs has to be considered a moral victory.
Maybe those bad decisions, which have to divide Washington's front office as much as the residual scarring from the Mike Shanahan era, means Kirk Cousins won't be Tom Brady, but it's not as if Matt Ryan or Drew Brees looked bound for the Hall of Fame after their second full year as a starter either. And anyway, the QB market is far different now. Cousins is worth what he can get. The Redskins seem to think he's worth what they offer.
Cousins deserves market value - probably $70-80 million guaranteed now, which is really only $46-56 million guaranteed given that the Redskins are prepared to pay him $24 million this year. If he gets it then all the bad blood is gone. Money makes it all go away. But if Kirk Cousins gets to July 16th without a long-term deal, he's as good as gone. The ball will be in Cousins' court and it won't be going anywhere. He'll be in position to become the highest-paid player in NFL history in about 380 days.
Maybe Cousins is being greedy and demanding too much of the Redskins. Maybe he's trying to bleed every last dollar from his next contract. If so, then good for him. Do you. That's the beauty of a supply-and-demand free market. But while Cousins is entitled to go and get his, there's a line where his financial and professional interests intersect. Cousins shouldn't do the Redskins (or another team) any favors but he also has to realize there's a certain point where he salary gets so high it hinders the ability of Washington, or any team, to functionally build around him.
That's not an issue right now in Washington, which hasn't even gotten to within shouting distance of Cousins' apparent asking price. Remember, this is a team that hands out huge contracts like Halloween candy. Josh Norman hit the market last April and the Redskins waited approximately 48 hours before making him the richest cornerback in NFL history. They spent two days evaluating a player they'd only passed in the night and decided he was worth a cap-busting contract.
Meanwhile, Kirk Cousins took the Redskins to the playoffs in 2015 (not a small feat for the franchise) and when it came time to negotiate his contract, the Redskins offered an insulting lowball that, in retrospect, may be viewed as the initial nudge that pushed Cousins out the door.
With the upcoming tagging for 2017, the Redskins will have guaranteed $44 million to Cousins over the last two seasons. Remember, Cousins apparently would have been happy with $60 million guaranteed one year ago. Dan Snyder and his dysfunctional front office were so shortsighted that they couldn't look far enough ahead to realize that if things played a certain way, they were going to end up giving Kirk Cousins what he wanted anyway. This could all have been a moot point if the Redskins had been able to do the math and realize that paying off Cousins early was a lot better than the alternative. In the end, the best quarterback the Redskins have seen since Joe Theismann may walk or get traded because over $16 million guaranteed - chump change to the biggest chumps in football.