The Thunder's recent dominance hasn't been seen in over 20 years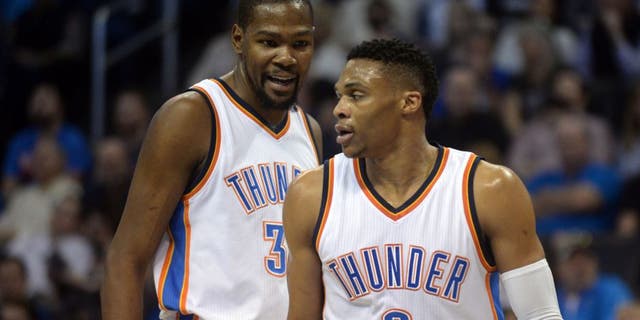 The Oklahoma City Thunder are currently riding an eight-game win streak. Quietly hidden behind all the carnage the Golden State Warriors and San Antonio Spurs are causing on a nightly basis, Kevin Durant and Russell Westbrook are playing the best basketball of their careers at the exact same time.
It's extremely scary, and their level of dominance over the rest of the league hasn't been seen in over 20 years:
Westbrook and Durant are averaging a combined 46.7 points and 17.9 assists per game over OKC's last eight. They're efficient, unselfish and totally unstoppable. Opposing teams trying to slow them down also have to deal with Serge Ibaka's effective inside-outside attack, Enes Kanter bulldozing his way to the glass and the rest of the Thunder's supporting cast stepping in and crushing it in their specific roles.
Dion Waiters is suddenly knocking down half his threes and Steven Adams just might be the most underrated center in the entire league, a pick-and-rolling menace who affords outside shooters the space they need by barreling down the lane and sucking help defenders into the paint.
All those contributions are helpful, but it's nothing without Westbrook and Durant. Their stellar all-around play makes everyone else better, and it may be time to put this team in the same conversation as Golden State and San Antonio.