The Penguins' decision to hang on to Marc Andre-Fleury was surprising (and may save their season)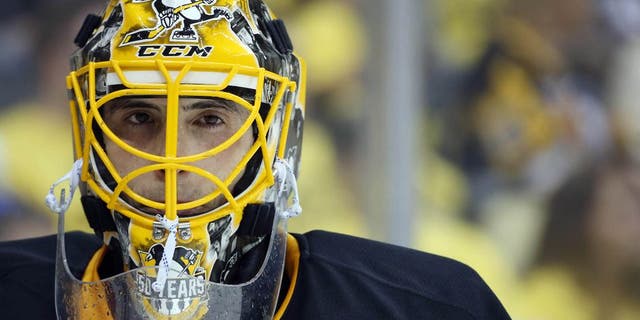 NEWYou can now listen to Fox News articles!
To win the Stanley Cup, you typically need strong, reliable goaltending throughout the playoffs.
Last spring, the Pittsburgh Penguins got that from a 21-year-old Matt Murray en route to a Cup win. After starting just 13 games in net during the regular season, Murray took the reignsfromlongtime starter Marc-Andre Fleury while Fleury recovered from a late-season concussion, his second of the year.
Murray burst onto the scene and mannedthe crease for 21 of the Penguins'playoff games, posting a superb .923 save-percentage and 2.08 goals-against-average.He was the unexpected hero the Pens needed, and he looked to be the future in net for Pittsburgh.
But now, with the Penguins looking to defend their Stanley Cup title, they may needanother unexpected hero: Fleury.
Murray, who had a great (official) rookie campaignand was slated to start the Pens' playoff opener against the Blue Jackets on Wednesday,suffered a lower-body injury in warmups and missedGame 1. Fleurystepped in and gave a strong effort, making31 saves in the Penguins' 3-1 victory.
There's reportedly a timeline for Murray's injury, thoughit hasn't been made public. All that's known right now is that's significantenough to keep Murray out forGame 2as well.
ThePenguins keeping the details ofMurray's injury and his recovery timeline under wraps makes it tough to determine (or even guess) what kind of impact it will have onthe road ahead. But anytime a goalie suffers a lower-body injury there's reason to be concerned, as those are the onesthat typically have a higher chance of lingering and affecting mobility and performance.
Luckily, the Penguins have Fleury -- the franchise's winningest goalie and two-time Cup winner -- ready to fill in, and that's about as luxurious an insurance policy as you'll find in the NHL.
It's also one that they easily could have surrendered earlier in the year.
Throughout the past year, there's been plenty of talk about the Penguins possibly shoppingFleury around to other teams and shipping him out of Pittsburgh. Dealing Fleury would not only clear the way for Murray, but it would also getFleury's contract, which carries a cap hit of $5.75 million through 2019, off the books. There seemed to be plenty of teams in the market for goaltending help this year.
By trading Fleury, the Penguins theoretically could have landed some additional pieces to aid them down the stretch. They were in the market for defense,especially with the division rival Capitalsscooping up prized defenseman Kevin Shattenkirk in the days prior to the trade deadline.
Ultimately, though, the Penguins held onto Fleury, despite a flurry of rumors involving him. It was a bit surprising to some at the time, but Pittsburgh general manager Jim Rutherford offered an explanation.
Hes an important part of our team. I know he hasnt played as much this year as maybe certainly he would like and maybe hes capable of, said Rutherford following the deadline.But now that we get past the deadline and going down the stretch here, its going to be important to have two healthy and fresh goalies going into the playoffs.
Was he ever right about that.
Even if Murray manages to get back in the crease for Game 3 and immediately perform at 100 percent, the Penguins are extremely fortunate to have a familiar and trusted guy like Fleury in net for the first two games of this series. The Pens are already banged up a bit on the defensive end and they're going up against a tough Blue Jackets team.
No offense to Tristan Jarry, but Fleury sounds like a much more comfortable option than a 21-year-old with exactly one game of NHL experience. (Though the young, inexperienced route didwork out for the Pens last year.)
The odds are still likely thatFleury is on his way out of Pittsburgh soon -- he'll likely get dealt this offseason with the expansion draft looming -- but now he has what might be his last chance to play a significantrole for theonly franchise he's ever known.
Last year, the Penguins' strongest line in the playoffs was comprised ofPhil Kessel, Nick Bonino and Carl Hagelin -- three playerswho had all been acquiredthat year. They were instrumental in securing another ring for Pittsburgh and were a huge reason that Rutherford was named GM of the year in 2016.
This year, Rutherford'sbest deal may turn out to be one that hedidn'tactually make.
Mark J. Rebilas-USA TODAY Sports | Mark J. Rebilas