The <i>Other</i> Football: EA Sports video franchise changing soccer in U.S., one gamer at a time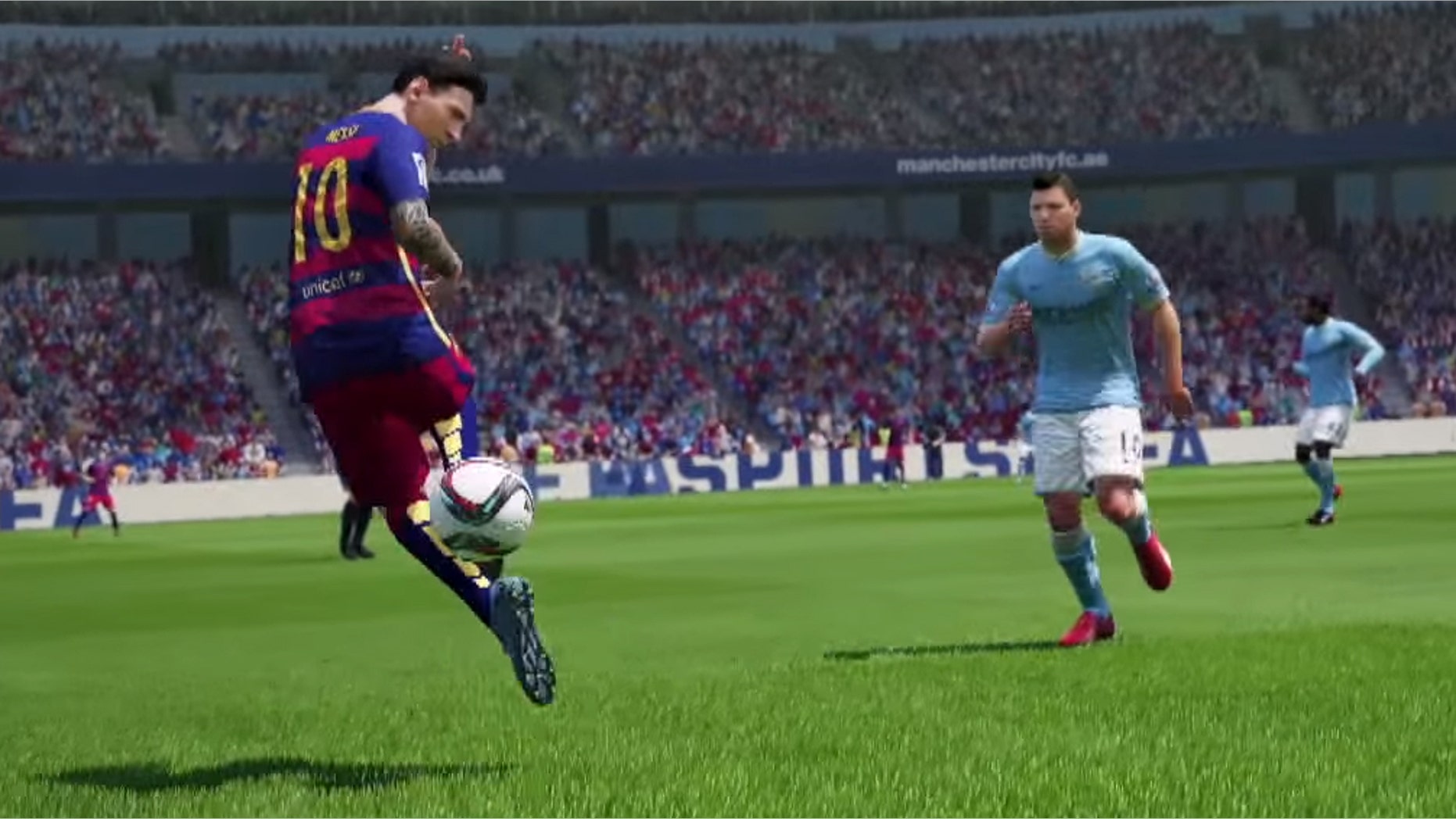 The latest edition of the fantastically popular FIFA video game series is something bearing the world governing body's name that offers a nice break from all the scandal headlines and is actually helping soccer's popularity in the U.S. – something FIFA hasn't done since the 1994 World Cup finals were held here.
"While the video game industry has made a killing from its soccer games, the sport itself has received a huge boost," Phil Schoen, a long-time soccer announcer and the main soccer voice of beINSPORTS and Sirius XMFC and the voice of FIFA 2000, said of the EA Sports franchise.
"Not only has it unveiled the complexities of the simplest game to those already in love with it, but it has helped expose the sport to so many new fans and bring soccer into the mainstream," he added. "In some ways I'm amazed by the popularity."
Schoen said young folk, including his son and his friends, are "in love with" the EA Sports game.
"While there are probably many who even prefer their soccer in the digital format, it has gone a long way towards making the flesh-and-blood variety more acceptable in America," he said.
FIFA 16 has been the topic of many conversations with my kids, their teammates, and pretty much anyone who's interested in soccer. Could it be that EA Sports has helped the growth of soccer in the US perhaps more than FIFA ever could have hoped to?
I will argue that it has. Take a look at the figures EA Sports released last year regarding the effect FIFA 2015 had on soccer here. The U.S. was the second best-selling market for FIFA 15; of all Americans playing soccer videogames, 95 percent play EA Sports FIFA.
Now here are the really fascinating numbers: more than a third (34 percent) of the game's players became pro soccer fans, and half are more interested in soccer as a result of playing.
Those are pretty significant numbers. In conversations I've had there's no doubt that knowledge of the game has increased substantially thanks to the video game. While the majority have always known and loved the big-names stars such as Messi and Ronaldo, now lesser known players and coaches are becoming household names too.
Even stadiums used in the video game are becoming common knowledge. (Surprisingly West Ham's Upton Park, which is close to my heart, is one.)
The video games have also taught new and old fans game tactics. "Coach, can we park the bus?" – a description of when a team sends everyone to its half of the field to defend – is something I heard for the first time recently while giving a pre-game team-talk to my youth squad. I'm not sure the tactic was quite understood, but the joy of hearing it was undeniable.
I asked how he knew of the tactic and was informed that it's on FIFA 16!
So I asked my kids to take me on a beginner's – or should I say "idiot's" – guide of the game. I have to admit, I quite enjoyed it.
I was able to recreate the Superclásico, playing for the Carlos Tevez-led Boca Juniors against River Plate in a Buenos Aires rainstorm.
Sadly, Tevez got only one shot which went wide of the goal, as River took me down 2-0 at Boca's home stadium, "La Bombonera." There was no violence between fans (something the video game doesn't allow), but my thumb got very sore.
My son, who plays on both grass and digital pitches, enthusiastically agreed to write a short review of the game for this column. It starts with, "I love it."
"Fút draft is a new feature and way to play," he wrote. "You can draft a squad and if you get a winning streak going you win coin packs and more. You can test your team-building skills and pick the best play for each five-player draw for all positions. You need to make key choices based on player quality and team chemistry. The more wins the bigger prize. A four win streak will earn you the best rewards."
My only real negative, apart from not being very good at it, is, Why can't we have an American commentator for the U.S. market? Wouldn't it be nice to have an American accent as well as an English color man? Schoen and Ray Hudson come to mind as possibilities.
Even so, the FIFA 16 is not just a cool video game – it and its franchise predecessors have changed the image of soccer in America, one gamer at a time.
There aren't many video games that can boast of having had such a positive impact on our country's sports landscape.
Video of the week
Nice to see that sportsmanship is alive and well.
West Bromich Albion's Venezuelan striker Salomón Rondón saved U.S. international and Sunderland defender, DeAndre Yedlin, from a bad fall in this weekend's premiership clash.
West Brom went onto win 1-0.
From the wires
Lionel Messi's injury might just be what Neymar needs.
With Messi out of action, the Brazil striker has taken over the spotlight at Barcelona and has the room to prove he has what it takes to finally make the three-player shortlist for the player of the year award.
Neymar is almost certain to be in the 23-player list that will be announced Tuesday for the FIFA Ballon d'Or award. It would be the fifth consecutive time he makes it that far, but this could be the first year in which he has a realistic chance of breaking into the top three.
Neymar is making a strong case for himself thanks to outstanding performances early in the season, including a four-goal game in the Spanish league on Saturday.
"Impressive, unstoppable, electric," Barcelona coach Luis Enrique said of Neymar after the match. "Almost impossible to stop without committing penalties."
Neymar has become the go-to guy since Messi tore a ligament in his left knee nearly three weeks ago, attracting most of the attention of the defenders, setting up teammates and even taking the penalty kicks.
Barring more injuries, there is little doubt that either Messi or Cristiano Ronaldo will win the best player award in January, as has happened the past seven years. But making it to the top three would be considered a great achievement for the 23-year-old Neymar, who is in his third season with Barcelona.
It would be another step toward his goal of becoming the best in the world, something he has wanted since beginning his career with Brazilian club Santos. It was one of the reasons he moved to Barcelona, a place where he knew he would have a chance to show what he can do.
Neymar recently played his 100th match with the Catalan club, reaching the milestone with better numbers compared even to Messi, including in goals scored and assists.
"I want to keep making history, winning everything with the club," said Neymar, who leads the Spanish league in scoring with eight goals in as many matches. "My life and my game changed for the better [after coming to Barcelona]."
Although Messi and Ronaldo have been regular front-runners in the Ballon d'Or award, there hasn't been much consistency about the third member on that final list, with Manuel Neuer making it last year and Franck Ribery the year before. Andrés Iniesta and Xavi Hernández were the outsiders in previous years.
Neymar was voted the fifth-best player in Europe last season, behind Messi, Barcelona teammate Luis Suárez, Ronaldo and Gianluigi Buffon.
A voting college that includes national team captains, coaches and selected journalists in more than 180 countries are expected to decide the Ballon d'Or top three in November.
Whether Neymar will make it this year may depend on how he performs after Messi returns from injury in a few weeks. The spotlight will have to be shared again, and Neymar might have to fall into a supporting role.
But if he can keep it up, it would be almost impossible to keep him from the award ceremony next year.
And there is no telling if he will let anyone replace him after that.
The Associated Press contributed to this report.