The NFL will wait: QB Sean Mannion still has goals at Oregon State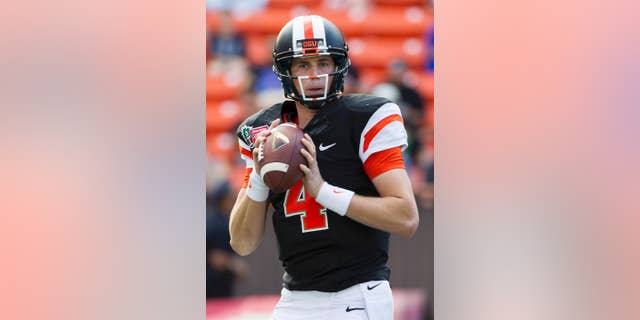 CORVALLIS, Ore. – The difference in Sean Mannion is marked: The once soft-spoken and reserved quarterback for Oregon State has blossomed into a confident full-fledged leader in his senior season for the Beavers.
A perfect fit in Oregon State's pro-style offense, Mannion set a Pac-12 season record for passing yards last season with 4,662. He threw an Oregon State-record 37 touchdown passes, third-most for a single season in conference history.
Mannion, who has 10,436 career passing yards, needs 1,839 more this season to pass USC's Matt Barkley as the all-time Pac-12 leader.
Mannion could have gone to the NFL this spring, but decided to play out his college career.
The Beavers open the season at home Saturday against Portland State.