The Latest: Xavier getting complete team effort against FSU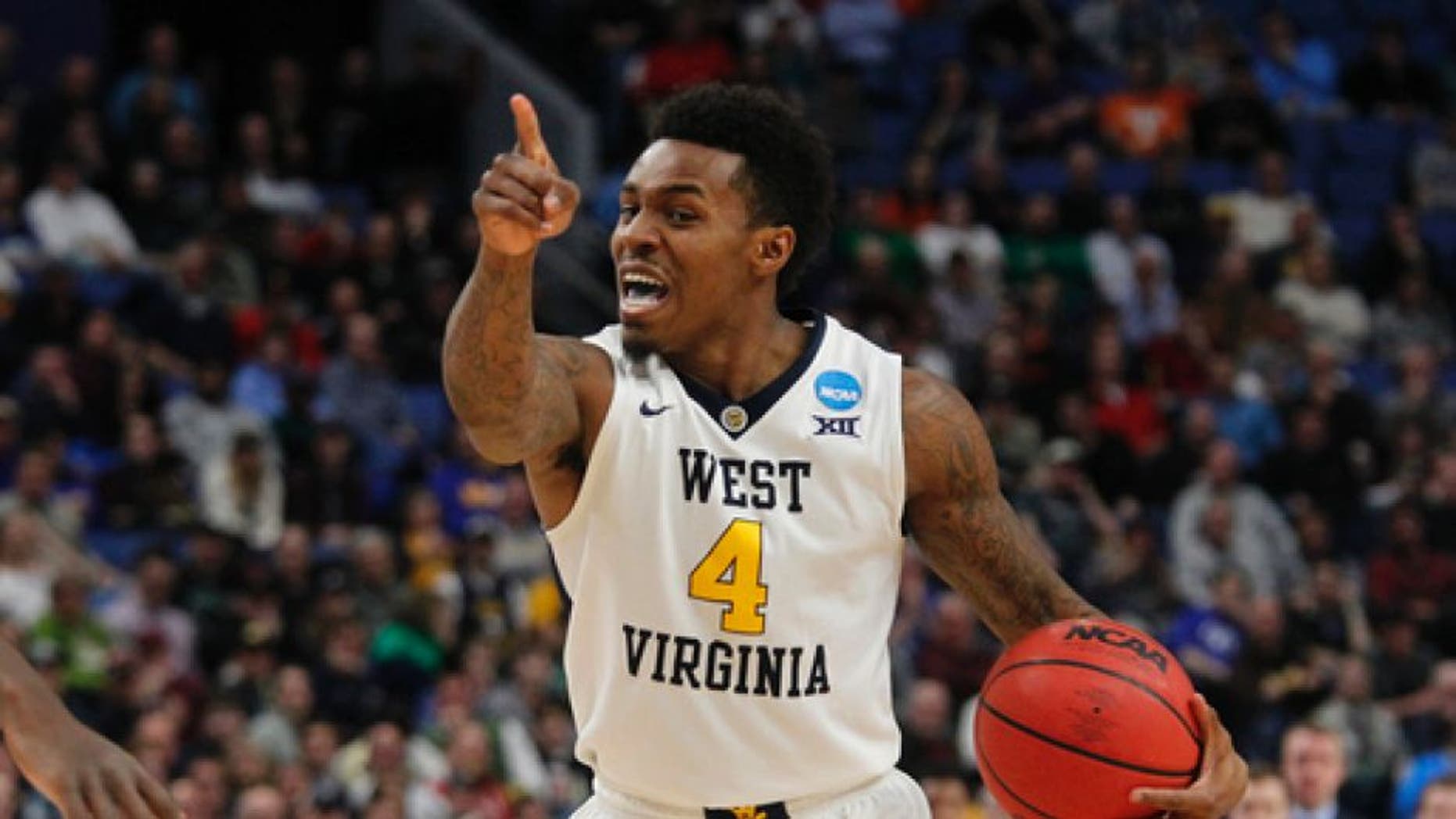 The Latest on Day 3 of the NCAA Tournament (all times Eastern):
7:15 p.m.
No. 11 seed Xavier is getting a complete team effort against third-seeded Florida State.
All eight guys who entered the game scored, helping the Musketeers build a 44-34 lead at halftime in the second round of the West Region.
Sean O'Mara leads Xavier with 9 points off the bench. But the main reason the Musketeers are on top is because they are 5 of 7 from 3-point range. The Seminoles are 1 for 8 from behind the arc.
FSU trailed by 15 points early, but Xavier Rathan-Mayes and Dwayne Bacon helped the Seminoles recover - albeit briefly. Rathan-Mayes has 11 points and Bacon 10 at the break.
- Mark Long reporting from Orlando, Florida.
---
6:30 p.m.
Villanova coach Jay Wright just headed for the arena exit where the team bus is parked after the No. 1-seeded Wildcat' 65-62 loss to Wisconsin.
An arena security guard greeted Wright and said: ''Have a safe trip home.''
Wright looked up and with a polite smile responded by saying, ''Thank you.''
And then the security guard said something Wright nor anyone else at Villanova might ever want to hear: ''Come back any time.''
The security guard was simply being polite, not realizing the Wildcats' tournament history in Buffalo.
In 2014, Villanova was a No. 2 seed when it was knocked out in the second round by seventh-seeded and eventual champion Connecticut.
- John Wawrow reporting from Buffalo.
---
6:20 p.m.
Northwestern's dream season could be ending shortly.
The Wildcats are being outmanned by Gonzaga through the first half.
The top-seeded Bulldogs lead 38-20.
Nigel Williams-Goss leads Gonzaga with 14 points, six rebounds and four assists - three of which have come on alley-oops.
Northwestern, in its first tournament in program history, is having trouble finding an open shot.
The Wildcats are 9 for 30 from the floor and have committed eight turnovers.
---
5:50 p.m.
If you picked third-seeded Florida State to make it to the Sweet 16, you might not want to listen to coach Leonard Hamilton.
Hamilton's assessment of his team doesn't exactly exude confidence, especially considering the talented Seminoles -- who have two starters projected as first-round NBA draft picks -- looked so sloppy in beating 14th-ranked Florida Gulf Coast in the opening round in Orlando, Florida. FSU is about to tip off against 11th-seeded Xavier, with a trip to San Jose, California, on the line.
''We're not a great free throw shooting team. Sometimes we have a tendency not to take care of the ball,'' Hamilton said Friday. ''We kind of find ways to win. We would love to be a real smooth, solid, pinpoint-execution team, but that's not the kind of how we're built. We're aggressive. We like to push the ball down the court. We like to move the ball at times. We like to attack the basket.
''I think what this team has done is we figure out ways to win. We have a lot of holes in our game, but this team's well connected,'' he said. ''They like each other. We have great camaraderie and togetherness and esprit de corps. They're connected. When we have to pull together, we find ways to do that.''
---
5:15 p.m.
Defending champion Villanova has lost in the second round of the NCAA Tournament, falling to No. 8 seed Wisconsin 65-62 in the East Region.
Villanova, the No. 1 seed overall, had a chance to tied it at 64 but Josh Hart failed in a drive to the basket with 4 seconds to play and lost the ball.
Wisconsin plays the winner of Florida-Virginia in the Sweet 16.
---
5:00 p.m.
How does Butler Blue III warm up for a big game in Milwaukee? With a little vanilla custard, of course.
The beloved bulldog hit Kopp's Frozen Custard a few hours before Butler's second-round game against Middle Tennessee State in the NCAA Tournament. He posed for a few pictures with fans and gobbled up some custard before hopping back into his official car to travel to an alumni event.
Butler Blue III, who also goes by Trip, lives with Michael Kaltenmark, 37, the director of external relations for the school, and his family; wife Tiffany and sons Everett, 6, and Miles 2. It's his fourth trip of the year.
''This is a bonafide celebrity,'' Kaltenmark said, ''so when we take the dog out we get people hollering at us on social media and giving us shoutouts when we go places and they come running out and they want to get a picture with the dog. ... Yeah, he's a celebrity and he's just a lot of fun to have around.''
---
4:30 p.m.
The University of Illinois says it hired Brad Underwood as its men's basketball coach, a day after Underwood's Oklahoma State team lost to Michigan in the first round of the NCAA Tournament.
''I am excited to welcome Brad Underwood, his wife Susan, and their three children to the Fighting Illini family,'' Illini Athletic Josh Whitman said in a statement. ''In searching for a new coach, we were looking for a proven winner who would build upon our proud tradition while developing an unmistakable identity for Illinois Basketball.
---
4:20 p.m.
After watching Michigan make 16 3-pointers in Friday's first-round win over Oklahoma State, Louisville coach Rick Pitino compared the Wolverines to the Golden State Warriors.
On Saturday, three Cardinals players were asked what NBA team they would compare themselves, too. The most creative answer came from Ray Spalding, who confessed he's a Sacramento Kings fan. But it's not a comparison Cardinals' fans would likely accept. Or perhaps his teammates.
''I don't know that we compare to the Sacramento Kings,'' Spalding said. ''Let's go with the Cavs.''
---
4:00 p.m.
Top-seeded Villanova has some work to do.
The defending national champion trails eight-seeded Wisconsin 31-27 at halftime of a second-round game in the East region. Trying to become the first back-to-back titlists in 10 years, the Big East champions shot only 30 percent from the field in the first 20 minutes and that had a lot to do with Wisconsin's stifling defense.
The only school to make the Sweet 16 in each of the past three years, Wisconsin withstood foul trouble for junior center Ethan Happ, who sat out the final 11:49 after picking up his second foul.
Josh Hart leads the Wildcats with 10 point, but Kris Jenkins, the star of last year's title game, is just 1 for 7 from the field and has forced several shots.
Bronson Koenig and Vitto Brown have scored 9 apiece for the Badgers, who have upset top seeds in two of the past three tournaments.
- Tom Withers reporting from Buffalo.
---
3:50 p.m.
North Carolina coach Roy Williams is raising the possibility that point guard Joel Berry II could miss Sunday's second-round game against Arkansas in Greenville, South Carolina due to an ankle injury.
The junior, for his part, sure sounds like he plans to play.
Berry was injured in the first-round win against Texas Southern, though he returned to the game. Williams said Saturday that Berry wouldn't practice that afternoon and would continue to get treatment, leaving him ''hopeful'' Berry will play.
Berry estimated himself at ''75 to 80 percent.''
''I'm never a guy that lets something like this stops me from playing,'' Berry said, adding: ''I'm expecting to play. I want to play. If (Williams) tries to sit me out, I'm going to try to convince him my best that I want to play and I'm good.''
---
3:40 p.m.
Wichita State is having flashbacks while preparing for its next game. The Shockers (31-4) face second-seeded Kentucky (30-5) in the second round on Sunday in Indianapolis. Coach Gregg Marshall is showing his players video of the schools' memorable second-round match-up three years ago.
Wichita State was 35-0 when it lost to the Wildcats 78-76 in 2014, a painful moment that the Shockers aren't avoiding.
''We watched a little bit of that game today with our team to show them how we countered Kentucky's size and athleticism,'' Marshall said.
Both teams have changed significantly since that game. One thing is the same: The Shockers have another long winning streak, this time 16 in a row. That's second only to the 35-0 run for longest in Shockers history. And Kentucky has won 12 in a row, giving the game the two longest winning streaks left in the tournament.
- Joe Kay reporting from Indianapolis
---
3:20 p.m.
Louisville coach Rick Pitino could be standing on the opposite sideline for Sunday's game - if not for a change of heart 16 years ago.
The two-time national champion acknowledged that he briefly accepted the Michigan job one morning in 2001 before a conversation with his wife prompted him to call back university officials and turn down the job.
''She said I was making a decision based on the wrong factors, and she was right, because I never -- I'd never been on the campus before. I didn't know the athletic director, and I was taking a job blind to it all,'' he said. ''But I thought it was a great job, great university, academically as well as athletically. Just wasn't the right fit for me.''
---
3:15 p.m.
Villanova's Kris Jenkins continues to struggle with his shot. Jenkins, who hit the game-winning, championship-winning 3-pointer last year in Houston, has missed his first four shots Saturday against Wisconsin. Jenkins is 2 for 17 in two games in Buffalo.
---
2:25 p.m.
Arkansas coach Mike Anderson believes the Southeastern Conference's emphasis on men's basketball is bearing fruit. A year ago, only three SEC teams were in the field and South Carolina made headlines for getting an incorrect text from the NCAA saying the Gaemcocks were in when they weren't.
But the league hired former Big East guru Mike Tranghese as a consultant and this year, the SEC had five teams in the field. South Caroilna is in Greenville along with Arkansas. The eighth-seeded Razorbacks play top seed North Carolina on Sunday with seventh-seeded South Carolina playing the nightcap against No. 2 seed Duke.
''I think you're going to see a big difference and we're seeing it right now,'' Anderson said. ''I think we're starting to scratch the surface.
---
1:45 p.m.
According to ESPNStatsInfo, there are 164 perfect brackets remaining out of 18,797,085 submitted to ESPN's Tournament Challenge. Higher-seeded teams won 26 of the 32 games through Friday.
---
1:15 p.m.
''Press'' Virginia has taken its toll on the usually efficient Fighting Irish.
Notre Dame has turned the ball over 10 times in trailing 42-35 at the half. Notre Dame had not committed double-digest turnovers in its previous nine games since a 13-turnover outing in an 84-72 win over Florida State on Feb. 11. The Mountaineers entered the game leading the nation in averaging 20.4 turnovers.
- John Wawrow reporting from Buffalo.
---
12:25 p.m.
West Virginia set a single-season school points record when Jevon Carter hit a fade away 3-pointer from the left corner.
The basket put the West Region's fourth-seeded Mountaineers up 13-4 on the fifth-seeded Notre Dame Fighting Irish 6:04 into the game.
West Virginia upped its total season total to 2,886 points and top the mark set by the Jerry West-led Mountaineers in 1958-59.
There's an asterisk that goes with the record. The 1958-59 team scored 2,884 points in just 34 games in a season that ended with a loss to California in the national championship game. This year, the Mountaineers set the mark in their 36th game.
- John Wawrow reporting from Buffalo, New York.
---
12:20 p.m.
New Jersey Gov. Chris Christie is attendance again Saturday to cheer for Notre Dame, which is playing West Virginia in the NCAA Tournament for a spot in the Sweet 16. Christie is sporting a dark blue Notre Dame hooded sweatshirt and sitting directly across from the team's bench in KeyBank Center. Christie was also on hand for Notre Dame's first-round matchup against Princeton.
Christie goes way back with Mike Brey, the Fighting Irish coach who began his career at Delaware, Christie's alma mater. Also, Christie's oldest daughter, Sarah, attends Notre Dame and is a student manager on the team.
''We were great friends when I was in Newark, Delaware, and he was a hoops fan lawyer from New Jersey,'' Brey said. ''He knows more about my team than some of my staff. The guy's unbelievably plugged into our stuff, so love having him around.''
Christie wasn't looking pleased as the Mountaineers jumped to a 10-0 lead on his beloved Irish.
- Tom Withers reporting from Buffalo.
---
12:15 p.m.
The Fighting Irish have started cold in missing their first five shots and trail the Mountaineers 10-0 only 3:13 into the game. Notre Dame's V.J. Beachem has missed all three attempts.
---
12:00 p.m.
NCAA President Mark Emmert has arrived at the KeyBank Center in Buffalo to attend the second round of the NCAA tournament.
The West region's fourth-seeded West Virginia Mountaineers play fifth-seeded Notre Dame in the first game. And the East Region's top seed Villanova faces eight-seed Wisconsin.
Emmert was escorted into the arena by Metro Atlantic Athletic Conference commissioner Richard Ensor, and was scheduled to watch the games from a private suite.
- John Wawrow reporting from Buffalo, New York.
---
11:50 a.m.
Mike Brey might have 15-5 record against former Big East rival West Virginia. That doesn't mean all of the Notre Dame coach's memories of playing the Mountaineers are fond as the two teams prepare for their second-round meeting.
Brey particularly remembers a trip to Morgantown, when former Mountaineer star Jerry West's son, Jonnie, came off the bench and immediately hit a 3-pointer.
That's all Brey says he needed to see in sensing the Fighting Irish were in for a long night.
This marks the teams' first meeting in the tournament, and first since Notre Dame's 71-44 win on Feb. 22, 2012.
- John Wawrow reporting from Buffalo, New York.
---
11:40 p.m.
The NCAA Tournament is moving into the round of 32, with eight of the 16 spots in regional semifinals to be filled Saturday.
The tournament has mostly lacked drama so far. Higher seeded teams are 26-6 so far.
Heavyweight matchups are coming.
Afternoon games pit No. 4 West Virginia against No. 5 Notre Dame, No. 1 Villanova against No. 8 Wisconsin and No. 1 Gonzaga against No. 8 Northwestern. The five evening games have No. 3 Florida State against No. 11 Xavier, No. 4 Butler against No. 12 Middle Tennessee, No. 2 Arizona against No. 7 St. Mary's, No. 4 Florida against No. 5 Virginia, and No. 4 Purdue against No. 5 Iowa State.