The Latest: Roger Federer advances to 2nd round at Wimbledon with straight-set win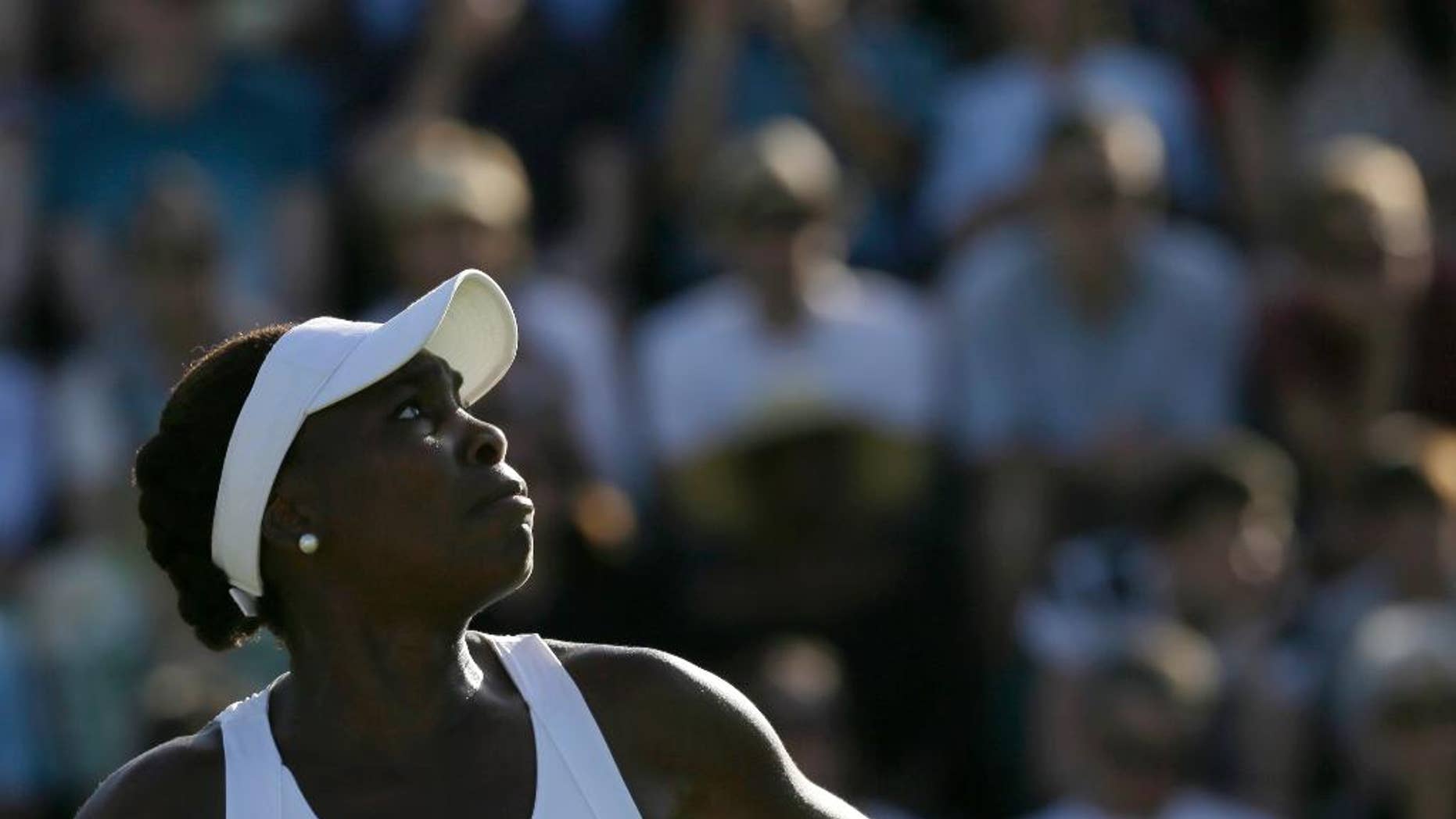 LONDON – The Latest from Wimbledon (all times local):
___
3:15 p.m.
Roger Federer had little trouble in his opening match at Wimbledon this year, advancing to the second round in straight sets.
The seven-time champion at the All England Club beat Damir Dzumhur of Bosnia 6-1, 6-3, 6-3 on Centre Court.
Federer lost in last year's final, and hasn't won the Wimbledon title since 2012.
___
2:45 p.m.
Serena and Venus Williams have pulled out of women's doubles at Wimbledon.
The tournament referee's office announced the withdrawal Tuesday, but did not give a reason.
___
1:50 p.m.
Petra Kvitova opened defense of her Wimbledon title on Tuesday with a dominant performance on Centre Court.
The 2nd-seeded Czech lost only one point on serve as she beat Kiki Bertens of the Netherlands 6-1, 6-0 in less than an hour.
The only point that Kvitova dropped on serve came when she double-faulted on the first point of the final game.
___
1:05 p.m.
Former Wimbledon champion Amelie Mauresmo doesn't come to the All England Club to play anymore, but she still has some work to do in southwest London.
Mauresmo, who won the 2006 title at Wimbledon, is now the coach of 2013 champion Andy Murray, who will get his tournament started later Tuesday against Mikhail Kukushkin of Kazakhstan.
https://twitter.com/stevewilsonap
___
12:30 p.m.
Breakfast at Wimbledon? How about a double bagel?
Angelique Kerber served up the third 6-0, 6-0 scoreline of the tournament on Tuesday, beating Carina Witthoeft on Court No. 18.
On Monday, both Venus Williams and Andrea Petkovic won their matches 6-0, 6-0. Those were the first double bagels at Wimbledon in six years.
___
12:15 p.m.
With summer temperatures soaring, there's also a touch of winter sports on display at Wimbledon on Tuesday.
NHL star Henrik Lundqvist is among the guests invited to the Royal Box on Centre Court. The New York Rangers' Swedish goaltender is due to be accompanied by his wife, Therese.
Swedish tennis great Stefan Edberg is coaching Roger Federer, who was due up second on Centre against Damir Dzumhur.
Among others in the Royal Box on Tuesday: England soccer coach Roy Hodgson and three-time Wimbledon champion Maria Bueno of Brazil.
___
12:00 p.m.
Wimbledon is known more for its rain, but it's the sun that could cause some problems this week.
Temperatures are expected to top out at 29 degrees C (84 degrees F) on Tuesday, and that could be enough for female players to request a heat break.
Wimbledon's "Heat Rule" allows for a 10-minute break between the second and third sets if the heat stress index rises above 30.1 degrees C (86 degrees F). The heat stress index factors in temperature along with humidity and surface temperature.
The men are not allowed to invoke the rule.
___
11:50 a.m.
Play is underway on Day 2 at Wimbledon.
Defending women's champion Petra Kvitova will be first up on Centre Court when plays starts in the main stadium at about 1 p.m., followed by seven-time champion Roger Federer and 2013 champion Andy Murray.
Rafael Nadal, a two-time Wimbledon champion who has struggled this year, is first up on Court No. 1.