The Hitlist: UFC Japan's guts, class & redemption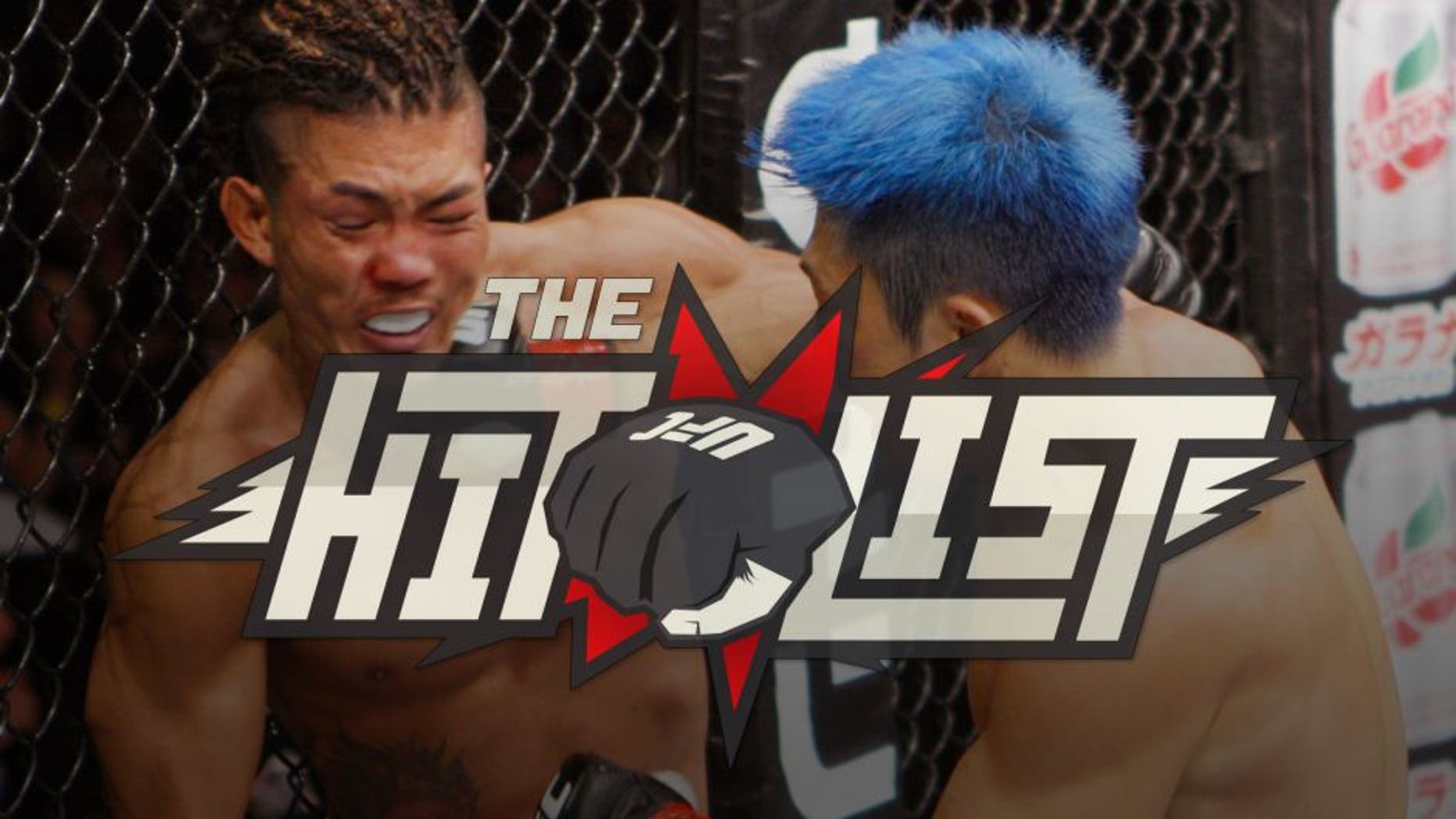 UFC Fight Night Japan started off a bit slow but by the time it was over, we'd seen several fantastic back-and-forth battles with shocking endings. Read on to find out our five favorite moments from the card, and then let us know yours on Facebook and Twitter!
Keita Nakamura switching the script on Jingliang Li
Keita Nakamura was getting knocked around pretty badly. Jingliang Li tuned him up with strikes on the feet for the better part of two rounds, heading into the final period of their UFC Fight Night contest.
In the third, Li continued to connect with volume and accuracy. Though bloodied, Nakamura remained resolute and focused.
He stalked Li, and then shot in for a takedown. Li sprawled expertly and defended the attempt.
Before he could make Nakamura carry his weight for too long, however, the Japanese fighter hit a sharp wrestling switch, took Li's back, and then sunk in a choke. Then, it was all over.
Li would not submit, so he went out, and fell face-first to the mat. Nakamura refused to be defeated, even as he was being beaten, it paid off, and it was beautiful to watch.
The Draw
Fighters and fans alike usually want decisive wins and losses. Draws are not usually satisfying.
Saturday's draw between Mizuto Hirota and Teruto Ishihara was, however. Using the fundamentally flawed 10-point must system that is used for MMA by the UFC, Ishihara would have clearly won the fight.
After all, he hurt and dropped Hirota multiple times in the first two rounds. Since the fight went the full three scheduled rounds, that should have given Ishihara a two rounds to one decision, even if he lost the third.
In fact, he would go on to lose the third, and in such a way that really reflected well on Hirota. For nearly all of the fight's final five minutes, Hirota somehow mustered the courage and conditioning to chase Ishihara and put him on the defensive, even after looking to be nearly knocked out in the first two rounds.
I personally would never want to see a fighter who ends the fight having it taken to them as much as Ishihara did declared a winner, but that's what happens a lot in the silly fight-by-the-numbers game of 10-point must system scoring. Hirota won the fight of fights because he was the man who ended the contest surging forward and doing the most damage, while his opponent was worn out and merely hanging on.
However, there would have also been a little sense of unfairness had Hirota been given a win since Ishihara did so much damage to him for most of the fight. Though neither man is likely satisfied after all the work they put into producing a victory, I took no small amount of joy in seeing an ill-fitting scoring system effectively ignored and neither man being called a loser.
Uriah Hall's ground game
Yes, Uriah Hall scored a brutal TKO win off the strength of his sniper-like stand up striking over Gegard Mousasi -- the most skilled opponent the TUF runner up has ever beaten. Hall's surprising offensive and defensive ability on the ground in the first round made that all possible, however.
Though he's an excellent boxer, Mousasi was smart enough to cut to the grappling chase in the first round and take Hall down. From there, it looked as though Hall may be taken out quickly as he was mounted in short order.
Instead, Hall popped up and looked for leg locks and then arm bars with ease and skill. Though he was not able to finish the submissions, they did allow for the New Yorker to improve his position.
When Mousasi survived that surprising surge and then took Hall's back near the end of the first, things once again looked grim for the striker, however. Hall managed to get out of a deep rear naked choke and hang on until the end of the round, though, and when he had his chance in the second, we all saw how he made good.
Hall is fighting often, becoming less hesitant to let his strikes go on the feet, and perhaps most importantly, improving in his relatively weak areas. The guy is ready for top-10 and top-5 opposition, now. And it's in no small part due to his ground game.
Barnett vs. Nelson
I have to be honest - Josh Barnett and Roy Nelson's Saitama main event was a lot closer than I thought it might be. Nelson has power and great jiu jitsu, especially on top, but I thought Barnett would be able to stifle the strikes on the inside and not be put on his back.
Nelson dominated the wrestling portion of the fight, repeatedly put Barnett out of his element on his back, and also hurt the former champion repeatedly with strikes on the feet at both free-standing range, and inside in the clinch. For his part, Barnett was a non-stop action hero in the clinch, landing a scary amount of elbows and punches, to the body and head of Nelson, fired off in rapid combinations.
Nelson somehow took all of that punishment without going down or slowing down too much, and both men demonstrated inspiring conditioning. It was a phenomenal contest that was rightly capped by Barnett's show of class afterward, calling Nelson a true champion and asking him to share the spotlight with him
Takeya Mizugaki's tears of joy
Takeya Mizugaki had been a top bantamweight title contender for years. He arguably deserved to be world champion after his close fight against Miguel Torres in 2009.
Still, Mizugaki went into Saturday's fight against George Roop having lost two straight by finish. As it turns out, his skid was enough to make him consider retirement.
After earning a decision win, all of that pressure was relieved and Mizugaki showed the world with tears of joy just how much heart he's put into his career.
"I'm not going to lie," he said through translation, post-fight.
"I was on the edge of quitting this sport last year. For me to be able to come back and get a victory in the UFC means the world [to me]...This win means so much to me.