The Hit List: The Top 5 Moments of UFC 190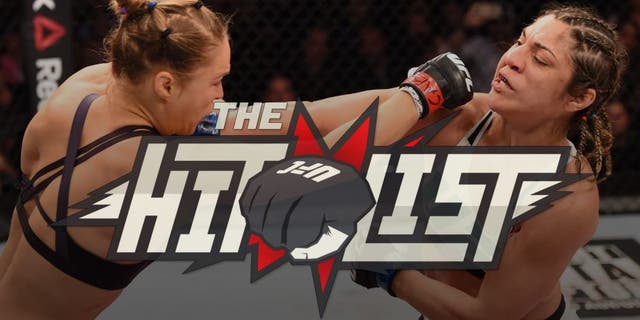 NEWYou can now listen to Fox News articles!
UFC 190 played out even better in live action than it looked like on paper. The Rio pay-per-view was headlined by Ronda Rousey's defense of her bantamweight title but also featured legends and top contenders on its undercard.
Everyone delivered. So it was tough to choose just five moments as our favorites.
But we tried. Read on to find out the picks, and then take to Twitter and Facebook to let us know yours!
Rousey's striking
When Ronda Rousey grabs hold of an opponent on the inside, she dominates. That much has been abundantly clear ever since the former two-time Judo Olympian made her MMA debut in 2010.
Of late, however, Rousey has shown an eagerness to duke it out with strikes on the feet -- no more so than Saturday night, when she insisted on trading punches with Brazilian bomber Bethe Correia.
In just 34 seconds, dozens of punches were thrown by each woman. Correia landed a lot of hers, flush on the chin of Rousey.
Rousey landed more and landed truer, however. Her final shot -- a straight right to the temple -- dropped and knocked Correia out.
Rousey doesn't yet angle-out after combinations or move her head very well in the midst of punch exchanges, but she still has the best striking at 135 pounds. The reason is her offense.
Her strikes (so far, mostly punches and knees) are the quickest, so she throws with serious volume. She also has single-shot stopping power, something that her constant antagonist, InvictaFC 145-pound champion Cris "Cyborg" Justino, has not really ever shown.
Here's an unsolicited tip for Cyborg, whom we adore as the ferocious fighter she is, and who we hope gets another shot at Rousey: If you are ever going to drop weight and fight Ronda in the UFC, do it soon. Rousey's offensive striking is improving way too fast for anyone to count on her not getting exponentially better with each passing year.
Demian Maia's grappling game
Frankly, Demian Maia's grappling skills are some of my favorite things in all of MMA, period. That said, Maia was impressive in shutting down and then submitting a younger Neil Magny.
Plain and simple, Magny was the hottest top welterweight in the world heading into UFC 190. If he would have beaten the former world title challenger Maia, I would have personally called for the American to get top-five opponents next.
Maia instead showed that, even in his late 30s, he deserves to be in the division's top five. The rear naked choke win is the Brazilian's third straight victory, after very close decision losses to Rory MacDonald and Jake Shields.
At his best, there isn't likely anyone Maia can't take down to the mat in the entire division. And, once he's on the mat, there isn't anyone he can't catch in a fight-ending submission hold.
If Maia's conditioning can keep up with the top guys in the division (he faded against MacDonald after initially dominating him on the mat), he's capable of making another title run. The inspiring thing about Maia is that he looks like an everyday man up until the moment he grabs hold of opponents in a cage.
Then, he does things no one else has ever been able to do in the UFC, with his grappling. Scoring a lateral drop on Chael Sonnen and moving right into a finishing mounted triangle?
Yup, he's done that.
Pulling half guard in a fight and finishing from off his back? Yup, done that, also.
Maia's skills are a thing of beauty to watch, and in dominating Magny, he showed that they are enough to still hang with the top young guys in the division.
'TUF' competitors earning their main card spots
I have to admit that I rolled my eyes before UFC 190 when I saw that the XL seven-fight main card included debuting "TUF: Brazil" finalists Glaico Franca, Fernando Bruno, Reginaldo Vieira and Dileno Lopes. I was wrong to.
All four men fought their hearts out with no small amount of poise and skill and more than earned their billing. The Brazilian television network that aired "TUF: Brazil" may have requested of the UFC that these four were featured on the UFC 190 card, but the fighters themselves made sure to earn it in the cage.
Bruno refused to give in even after a frustrating first two rounds, and made a valiant effort in the third round. Franca didn't waiver in the face of that resurgence, however, and still managed to finish the fight with a choke in the final seconds of the bout.
Vieira and Lopes traded submission attempts, position and strikes for three closely fought rounds of exciting action. After the final horn, it was anyone's guess as to who would get the nod from the judges.
Vieira did, but Lopes also proved his mettle. We hope all four men find a home in the UFC.
Gadelha earns a rematch with Joanna 'Champion'
Claudia Gadelha lost a close split-decision to Joanna Jedrzejczyk in December. Since then, Jedrzejczyk has gone on to win the UFC strawweight title and defend it, looking more dominant each time out.
In fact, Joanna "Champion" has looked so fantastic in her two fights after that December bout that it is easy to forget how close her fight with Gadelha was. Gadelha has an argument for deserving the bout, and after a win over fellow top contender Jessica Aguilar at UFC 190, the Brazilian has earned a rematch with the Polish kickboxer.
Gadelha has the power striking to hurt anyone, including the champion, but she also has good timing with her takedowns and fantastic Brazilian Jiu Jitsu ground skills. The point is, she's a real threat to Jedrzejczyk, and we can't wait to see these two warriors get after it again.
Antonio Silva's comeback
You just can't seem to keep a good giant down for too long. Antonio "Pezao" Silva headed into UFC 190 with exactly zero wins in his past four fights.
He also had to endure a long, unfortunate and dubious suspension for testosterone-replacement therapy (Silva is one of the few, if only, UFC fighters who has a real reason for needing the theraputic-use exemptions). Then, he got stifled with takedowns and grappling by Soa Palelei in the first round of their UFC 190 main card bout.
Silva refused to be controlled in the second round, however. He landed a bomb of an uppercut, which stunned Soa.
Then, he pinned his massive opponent against the cage with his left hand on his head, and teed off with his right until the fight was over. The 35-year-old has had to endure a lot over the course of his life and career, including a life-threatening condition and brain surgery.
Yet, he's still here, knocking dudes out and looking every bit the fighting monster that his English nickname "Bigfoot" is meant to imply. Good on Silva.