The Chiefs' true quarterbacking enemy isn't Peyton Manning at all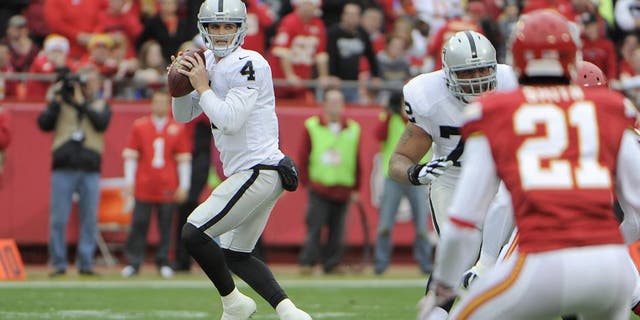 Peyton Manning won't be around forever -- but Derek Carr looks poised to fill that power vacuum in the AFC West. John Rieger USA TODAY Sports
Peyton Manning has only so many more wins against the Kansas City Chiefs left in him.
There's no retirement clock currently ticking for Derek Carr, though. And that's bad news if you're Andy Reid and Co.
Carr has blossomed into a surefire franchise quarterback. With 2,094 yards, 19 touchdowns, and four interceptions, he's the NFL's sixth-rated passer behind names like Brady and Rodgers. Unlike those names, he's still on the upswing of his career.
Imagine facing a player in his prime like that twice a year for the next decade. And imagine jockeying for playoff position when they have that arm and the Chiefs have Alex Smith.
The Chiefs might get a look at what post-Peyton life will look like when they face Carr in Weeks 13 and 17 -- and it might not be a pretty picture whatsoever.
(h/t ESPN)