The case for Terrelle Pryor making the Browns roster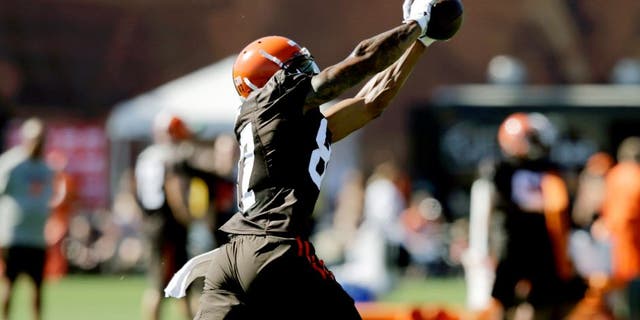 Terrelle Pryor has been called a project by his coach, an early lock for a roster spot by fellow receiver Dwayne Bowe, and a guy who resembles Calvin Johnson in a uniform by teammate Joe Haden.
The quarterback turned receiver turned heads early in camp, but a lingering hamstring injury has derailed his progress and pushed him to the roster bubble. If he doesn't make his debut in Cleveland's preseason finale Thursday night in Chicago, Pryor could hit the chopping block. If he is given his walking papers, it would be a mistake that could come back to haunt a franchise that doesn't really need any more haunting.
Here are five reasons Terrelle Pryor should be on the Browns roster after Saturday's cutdown to 53 players:
1. Playmaking wide receivers don't exactly grow on trees, especially ones that that are 6-foot-4, 223 pounds with sub-4.4 speed. Yes, Pryor is a project that may require a year or two of seasoning, but he's already flashed the potential to be a threat in the passing game during his limited practice time. Pro Bowl corner Joe Haden has gone up against his share of stud receivers, and he didn't hesitate to invoke Calvin Johnson's name when discussing Pryor's physical ability. That's not to say that Pryor's ceiling is anywhere close to Johnson's, but even if he turns out to be half the player Johnson is, the Dawg Pound will be barking if it happens somewhere besides Cleveland.
2. With Josh Gordon suspended yet again, the Browns' receiving depth chart isn't quite setting the world on fire. Bowe and Brian Hartline are nothing more than solid possession guys, and Andrew Hawkins is 5-foot-7 but has the shiftiness to thrive in the slot. Outside of the top three, Travis Benjamin is best served as a returner, Taylor Gabriel is basically Hawkins' twin with not as much skill, Marlon Moore is a special teamer and fourth-round pick Vince Mayle and his case of the dropsies would probably benefit from a year on the practice squad. Surely, Ray Farmer and Mike Pettine aren't playing fantasy football, but with a depth chart this bereft of explosive ability, why not take a flier on Pryor?
3. The Browns are going to struggle to score points this season. When they do get into the red zone, they're going to need six as much as possible. If there is one player who can emerge as a red zone specialist on the depth chart, it's Pryor. He wouldn't have to worry about running different routes. Josh McCown could just point him to the end zone, throw it up for grabs and let Pryor's height and speed take over. If Pryor figures out how to come down with them, he'll become McCown's best friend.
4. When Pryor signed with the Browns this offseason, the plan was for him to leave his quarterbacking days behind him. That was before Johnny Manziel's elbow flared up and before Connor Shaw broke his thumb. Thaddeus Lewis is now the team's No. 3 quarterback, but having Pryor around gives Pettine an emergency option. Furthermore, if Pettine keeps Pryor on the roster, he can get away with carrying just two quarterbacks in the short term and sign a third QB as needed during the season.
5. Another team will pick him up. Haden said himself that Pryor would be on his 53-man roster, but if Pryor is cut, Haden doesn't believe he'll last long on the waiver wire. You would have to believe there will be at least a handful of takers with all of the major injuries to receivers already this preseason (Jordy Nelson, Kelvin Benjamin). In fact, just look at the Panthers' depth chart and dare to think that Cam Newton wouldn't love to have a giant target like Pryor to throw to.