The 6 biggest fourth-quarter collapses in NBA history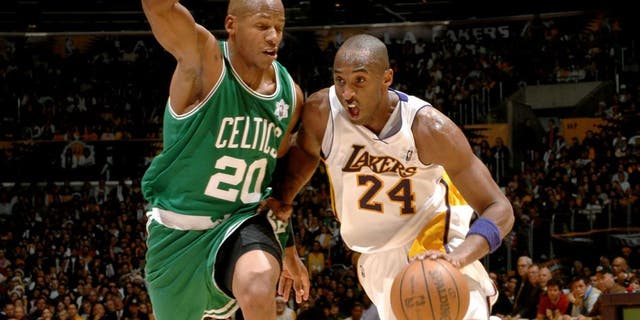 On Sunday night, the Texas A&M Aggies pulled off one of the most miraculous comebacks in NCAA Tournament history. That's the pleasant, joyful side of the story. The uber-depressing side is what happened to Northern Iowa: They blew a 12-point lead in 35 seconds.
It's a collapse so severe that they'd struggle to do it again if they even tried.
Has the NBA ever seen anything like that? Not quite, considering Northern Iowa's entire season literally imploded in half a minute. But that doesn't mean there haven't been some stunning comebacks/meltdowns over the past 50 years.
Here's a look at six all timers:
6. New York Knicks vs. Milwaukee Bucks, 1972
Led by Oscar Robertson and Kareem Abdul-Jabbar, the Bucks held an 18-point lead in Madison Square Garden with about six minutes to go. With no three-point line, the Knicks clawed their way back for a one-point win.
It's an incredible comeback from one juggernaut against another, and would go higher on the list had it not been in the regular season.
5. New York Knicks vs. Indiana Pacers, 1995
The Knicks were victorious in the previous example, but here they find themselves on the other end of what might be the most memorable nine-second sequence in NBA history. Game 1 of a 1995 first-round series between the Indiana Pacers and New York Knicks (aka the night Reggie Miller morphed into the grim reaper).
4. Portland Trail Blazers vs. Los Angeles Lakers, 2000
The biggest fourth-quarter comeback in a Game 7 was assisted by a Trail Blazers team that disintegrated down the stretch, scoring 13 points in the final 12 minutes. It also gave us the most iconic moment of the Shaquille O'Neal-Kobe Bryant era, an exclamation point alley-oop that sent L.A. to its first NBA Finals in a dozen years.
3. Los Angeles Clippers vs. Houston Rockets, 2015
Relatively speaking, the stakes here weren't all that high, considering it was only the second round, and the depleted Clippers would've been throttled by the Golden State Warriors in the Western Conference Finals. But still: yikes. The Clippers had this game in the bag, up 19 in the second half against a Rockets team that wasn't trying very hard and had benched James Harden, their best player.
2. Boston Celtics vs. Los Angeles Lakers, 2008
This was the first time Kobe was on the verge of winning a championship without Shaq. And, well, he choked. The Lakers held a 24-point second-half lead over Kevin Garnett, Paul Pierce, Ray Allen and the Boston Celtics, and they let it slip through their fingertips. At home.
James Posey scored 18 points in the series-turning victory. Bryant managed only 17, and his team went on to lose in six games.
1. Dallas Mavericks vs. Miami Heat, 2006
Until the Dallas Mavericks upended the Miami Heat in the 2011 NBA Finals, this game might've gone down as the defining moment of Dirk Nowitzki's career. He was tremendous, scoring 30 points with his team up 2-0 in the Finals. But a missed free throw with Dallas down by one in the final few seconds -- after they blew a 13-point lead with six minutes to go -- was enough to essentially end the Mavs' season.
Dirk and Jason Terry finally got their revenge on Dwyane Wade and the Heat, but they had to wait five long years to get there.