The 18 greatest second-generation athletes of all time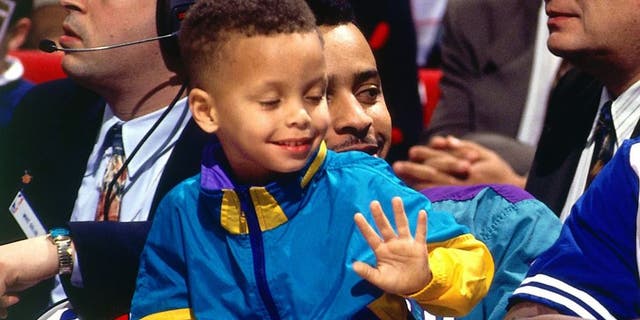 NEWYou can now listen to Fox News articles!
When the Olympics begin on Aug. 5 and attention shifts to track and field, you're likely to hear about the pedigree of a certain U.S. high jumper, Vashti Cunningham. The 18-year-old is the daughter of former NFL quarterback Randall Cunningham.
If not for Steph Curry's knee and ankle injuries, she would have had second-generation company, but Curry is passing on the Rio games. Without further ado, here are the best sons and daughters of athletes, beginning with Vashti.
18. Vashti Cunningham, track and field
First generation: Randall was a longtime Philadelphia Eagles quarterback, a two-time NFL MVP and a great dual passing-rushing threat.
Second generation: Vashti claimed gold in the high jump as a 17-year-old in the 2015 Pan American Junior Championships and won the 2016 USA Track and Field Championships in Portland in March when she cleared 1.99 meters. Then in June the 18-year-old earned a spot on the U.S. Track and Field team with a second-place finish at the Olympic trials, becoming the youngest athlete to make the team since 1980. Her coach? Her dad, Randall. "I don't feel the pressure," she said. "My dad has taught me to keep my eyes set on what I want to do and not pay attention to anyone else."
17. Andrew Luck, football
First generation: Father, Oliver Luck, spent four seasons as a quarterback with the Houston Oilers, much of the time as a backup to Warren Moon.
Second generation: Most sane NFL general managers starting a franchise today, but with one eye on the future, would select Indianapolis Colts three-time Pro Bowler Andrew Luck as their starting quarterback. And the 6-foot-4, 240-pound former No. 1 overall pick just got paid like it, with an extension through 2021 for $140 million with $87 million guaranteed. If the Colts' offensive line improves and Luck learns to better avoid taking hits during scrambles, the best years are probably still ahead for the 26-year-old ping pong enthusiast.
16. Chip Jenkins, track and field
First generation: Father, U.S. sprinter Charlie Jenkins, won gold medals at the 1956 Olympics in Melbourne in the 400 meters and in the 4x400 meter relay.
Second generation: Charles Jenkins Jr. is truly a chip off the ol' block. In his first 600-meter race in 1987, Jenkins set the American record with a time of 1:15:80 that stood until 2013. And like father like son, Chip was a member of the 4x400 meter team that won the gold medal at the 1992 Barcelona Olympics.
15. Mike Bibby, basketball
First generation: Father, Henry Bibby, won three NCAA titles as a point guard for John Wooden's UCLA Bruins (1970, 1971, 1972) before getting drafted by the New York Knicks. He spent nine seasons in the NBA with the Knicks, Jazz, 76ers and Clippers.
Second generation: Mike also cut down a championship net with Arizona in 1997 and got drafted second overall in the 1998 NBA Draft by the Vancouver Grizzlies. Bibby was never an All-Star but a key player on the early 2000's Sacramento Kings teams (alongside Chris Webber) that vied for the Western Conference crown and pressed the eventual 2002 NBA Champion Los Angeles Lakers to brink. Bibby finished his 14-year career with 14.7 points per game, 5.5 assists and 1.2 steals.
14. Clay Matthews III, football
First generation: Matthews III hails from one of the great football families that includes his father, Clay Jr., a four-time Pro Bowl linebacker, Hall of Fame tackle Bruce Matthews, his uncle, and his grandfather Clay, a lineman.
Second generation: The heat-seaking Green Bay Packers linebacker is a solid edge rusher, sure tackler and solid defender in space. The 30-year-old became a perennial Pro Bowler starting in his rookie season in 2009. The 2010 Defensive Player of the Year has recorded 67.5 sacks through his first seven seasons.
13. Eli Manning, football
First generation: Father, Archie Manning, was an NFL quarterback primarily for the New Orleans Saints (1971-1982) and a two-time Pro Bowler.
Second generation: Eli's numbers haven't always been shiny but he hasn't always played in a West coast-style offense with a weapon like Odell Beckham Jr. In any case he's a two-time Super Bowl champion, a two-time Super Bowl MVP, a part-owner (figuratively) of the New England Patriots and he looks fantastic with a beach pail.
12. Javier "Chicharito" Hernandez, soccer
First generation: Father, Javier "Chicharo" Hernandez, was a successful midfielder for Tecos and a member of Mexico's national team that reached the quarterfinals at the 1986 World Cup.
Second generation: "Chicharito," or the little pea, passed up the Rio Olympics for an opportunity to compete for Mexico in Copa America and delivered one of his 45 career international goals on an incredible header in a victory over Jamaica. Unfortunately the little pea and Mexico got squashed 7-0 by Chile in Copa's quarterfinals. The popular 28-year-old striker has netted 123 total goals in his club career that's taken him from Guadalajara to Manchester United to Bayer Leverkusen most recently.
11. Stephen Curry, basketball
First generation: Father Dell Curry was a longtime Charlotte Hornets shooting guard and became the team's all-time leading scorer (9,839 points).
Second generation: Steph is now a back-to-back NBA MVP Award winner coming off an otherworldly shooting season in which he redefined 3-point range. Unfortunately the Warriors couldn't seal the deal on their record 73-win season that ended in epic fashion and a parade in Cleveland. Health permitting (a common refrain for any athlete but Curry has battled ankle and knee injuries), Curry will jump a few spots higher on another version of this list in the future.
10. The Rock aka Dwayne Johnson, pro wrestling
First generation: Father, Rocky Johnson, is a former Canadian pro wrestler. Also Rock's grandfather Peter Maivia is a member of the Pro Wrestling Hall of Fame and the WWE Hall of Fame.
Second generation: It was difficult to figure out the right spot for The Rock because he doesn't compete in a traditional sport (notwithstanding his time in football with the Miami Hurricanes). Then I realized that there are no rules here. So based on his tremendous influence and dominance between the ropes and his great crossover success in movies and TV, plus the fact that he's one of top "good guys" in sports, it was important to place him in the top 10. Also, he's not getting docked for this '90s look -- actually that gets him credit for self-deprecation.
9. Dale Earnhardt Jr., stock car racing
First generation: Father is NASCAR Hall of Famer Dale Earnhardt, aka The Intimidator, seven-time NASCAR Winston Cup champion (and his father is driver Ralph Earnhardt).
Second generation: Earnhardt Jr. has more decorated contemporaries like Jimmie Johnson and Tony Stewart, but Dale Jr. had some impossible shoes to fill. He's remained NASCAR's most popular driver since not long after his father's death in 2001 and has reached the winner's circle 26 times, recorded 90 top-10 finishes and won the Daytona 500 twice.
8. Barry Bonds, baseball
First generation: Father, Bobby Bonds, a longtime San Francisco Giants outfielder, was one of baseball's vintage power-speed players who recorded five 30-homer, 30-stolen base seasons (with four different teams) -- a 30-30 record feat matched only by his son Barry.
Second generation: Bonds is obviously getting docked a few points for the cloud of steroids, which may also delay (if not prevent) his induction into the Hall of Fame. In any case, Bonds was one of the greatest and most feared hitters of all time and finished his career as the all-time home runs leader with 762 and the all-time walks leader with 2,558. It got to the point for the seven-time NL MVP where opposing managers were willing to walk him with the the bases empty as a run-prevention strategy. That's part of why he finished his 22-year career with an absurd 1.051 OPS.
7. Floyd Mayweather Jr., boxing
First generation: Father, Floyd Mayweather, was a welterweight boxer who compiled a 28-6-1 professional record.
Second generation: Mayweather Jr.'s professional record remains a perfect 49-0 and he's claimed a title in five different weight classes. The welterweight (most recently) is certainly not the most likeable but is undeniably one of the greatest boxers of all time, pound-for-pound. A skilled technician who specialized in defense, his fights didn't always create fireworks, case in point Mayweather-Pacquiao, which by the way materialized about five years too late.
6. Cal Ripken Jr., baseball
First generation: Father, Cal Ripken Sr., reached the majors as a coach and manager but not as a player.
Second generation: On Sept. 6, 1995, the "Iron Man" passed Iron Horse Lou Gehrig's incredible streak of 2,130 consecutive games played and ran it to 2,632 games when he decided to end it in late September of 1998. Ripken Jr. was more than just longevity: the 19-time All-Star won two AL MVP Awards (1983, 1991), eight Silver Sluggers (at shortstop) and the accolades go on.
5. Misty May-Treanor, beach volleyball
First generation: Father, Butch May, played for the 1968 U.S. men's volleyball team and mother Barbara was a former nationally-ranked tennis player and volleyball player.
Second generation: May-Treanor and her longtime partner Kerri Walsh ruled women's beach volleyball for a decade from about 2002 to 2012, a span during which the pair claimed three World Championship gold medals and three Olympic gold medals at Athens, Beijing and London.
4. Ken Griffey Jr., baseball
First generation: Ken Griffey Sr. was a three-time All-Star outfielder and a member of Cincinnati's Big Red Machine in the 1970s.
Second generation: The Mariners' wall-climbing center fielder had one of the sweetest and most seemingly effortless home run swings ever. The 10-time Gold Glove winner and 1997 AL MVP finished his career with 630 career homers, good for sixth all time. The Kid will get inducted into the Hall of Fame this Sunday, July 24, alongside catcher Mike Piazza. Recently Griffey Jr. wrote that this was the best play he ever made. There's plenty of footage with which to argue but holy heck:
3. Brett Hull, hockey
First generation: Father Bobby Hull is one of the NHL's all-time greats, a left winger who scored 610 goals (1170 points) and a member of the Hockey Hall of Fame.
Second generation: Bobby left some pretty humongous skates to fill but Brett managed with 741 goals of his own, 1,391 points, and he won two Stanley Cups. The right winger joined his father in the Hockey Hall of Fame as a member of the 2009 class, making them the only father-son combo to get enshrined.
2. Kobe Bryant, basketball
First generation: Father, Joe Bryant, was a center-forward for eight seasons in the NBA (1975-1983) and internationally for nearly a decade after that.
Second generation: The 18-time All Star, five-time NBA champion and and two-time Finals MVP ranks third all-time in points in both the regular season (33,643) and playoffs (5,640). The cold-blooded Mamba checked out in pure Kobe fashion in his final game in April -- with 50 shots attempted and 60 points -- after a legendary career that probably puts him among the seven greatest NBA players of all time.
1. Peyton Manning, football
First generation: See Eli's section above.
Second generation: It was a pretty excruciating call between Manning and Bryant but ultimately the fact that Manning played the most difficult position in pro sports, and was perhaps the greatest quarterback ever, proved determinative. Manning was a master at reading defenses and manipulating them. The two-time Super Bowl winner (even if he was a liability in the Super Bowl 50 win) and five-time NFL MVP led the league in passing touchdowns five times and holds the records for most career passing yards (71,940), career touchdown passes, passing touchdowns (55) and yards (5,477) among other records. He also leads all athletes in funny national television commercial. The recent retiree is now out there somewhere, eating Papa John's and slugging Budweisers.