That time Tony Stewart dogged Jimmie Johnson in Las Vegas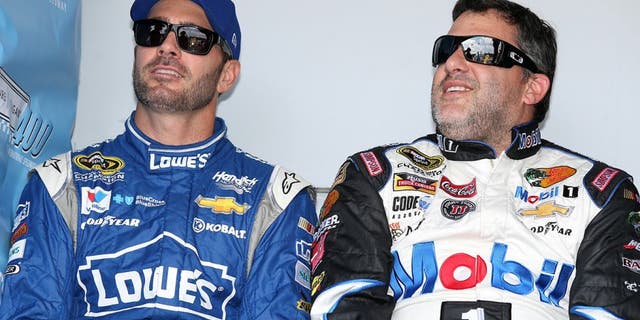 Thursday was Chase Media Day in Miami Beach with NASCAR Sprint Cup Series championship finalists Kyle Busch, Carl Edwards, Joey Logano and Jimmie Johnson fielding questions about the upcoming weekend.
Given that Sunday's Ford EcoBoost 400 will also be Tony Stewart's last race as a full-time Sprint Cup driver, naturally the four drivers were asked about their memories of Stewart.
Hands down, Johnson won the award for the best story.
Stewart and Johnson were racing together in the Rolex 24 one year and after testing at Las Vegas, Johnson and Stewart got on Stewart's plane to fly back down to Daytona for Speedweeks.
"I get on his airplane and there are two greyhound dogs," Johnson said. "We get up in the air, he (Stewart) cuts up two filet mignons, which I think probably are our meals. And he feeds the dogs (the steaks).
"And he reaches into a Burger King bag and throws me a Whopper," said Johnson. "I thought, all right, this in interesting."
The greyhounds turned out to be two of the many racing dogs Stewart has rescued.