Texans LB Brian Cushing becomes a Husky for a day after losing bet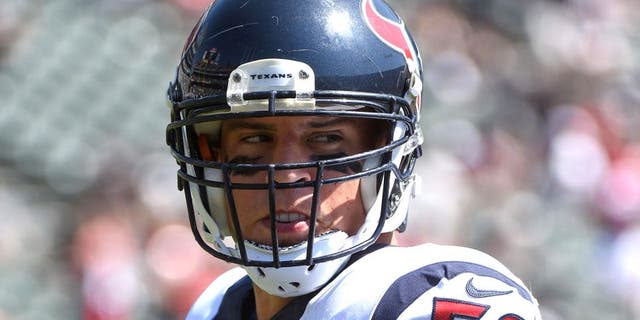 NEWYou can now listen to Fox News articles!
Houston Texans linebacker Brian Cushing and running back Chris Polk apparently made a friendly wager on last Thursday's USC-Washington football game, and the result left Cushing an honorary Husky, much to his dismay.
After the Huskies' 17-12 upset over then-No. 17 USC, Cushing a standout with the Trojans from 2005 to 2008, showed up in the Texans' locker room decked out in Washington gear.
The two posed for a picture, with Pollk, a former Washington running back, all smiles.
Cushing, on the other hand, seemed none too pleased.
MORE NEWS: Want stories delivered to you? Sign up for our NFL newsletters.
(h/t Yahoo)