Tennessee Volunteers at Florida Gators game preview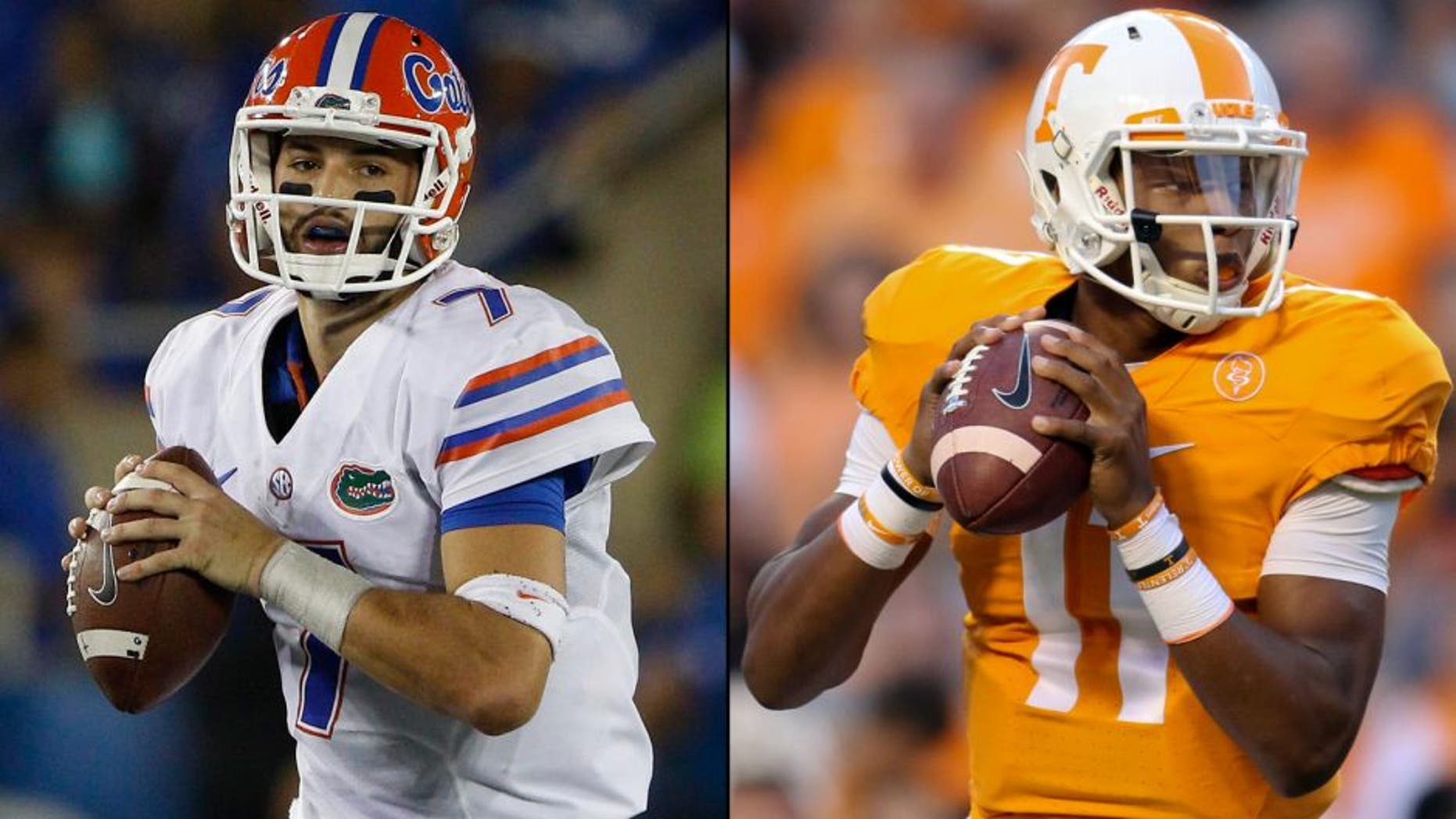 Time: Saturday, 3:30 p.m.
GAINESVILLE, Fla. -- Gators receiver Ahmad Fulwood is too young to remember when the Florida-Tennessee game took center stage for one week of each season in the 1990s.
"When I started getting to high school, Florida kind of roughed up Tennessee," Fulwood said. "I never really thought of it as a rivalry."
And then he watched an SEC Network documentary on former Vols quarterback Peyton Manning that revisited Manning's days in Knoxville and his battles against the Gators. Manning never defeated Florida, but those head-to-head matchups with former UF quarterback Danny Wuerffel were must-see TV.
"It's crazy that he never beat Florida," Fulwood said. "We're hoping to keep that streak alive."
While the Vols have defeated the Gators since Manning moved on to become one of the greatest quarterbacks in NFL history, the last time they did, Manning had a lot more hair than today.
Florida has won 10 consecutive games against the Vols and will try to make it 11 in a row on Saturday afternoon at sold-out Ben Hill Griffin Stadium.
The Gators opened Southeastern Conference play last weekend with a 14-9 victory at Kentucky in which they recorded six sacks in a bruising defensive effort. This is Tennessee's conference opener.
While talk of the streak prompts smiles around UF's campus, the opposite is true on Rocky Top.
The Knoxville News-Sentinel this week tracked down former Tennessee kicker James Wilhoit, now 32 and an AP history teacher. Wilhoit kicked a game-winning 50-yard field goal to lift Tennessee to a 30-28 victory in 2004, the last time the Vols beat the Gators.
Wilhoit is restless.
"It's time for us to get a victory in the series," he told the newspaper. "I would have never expected after running off the field and celebrating after that 50-yarder that it would be 11 years before we had a chance to beat them again."
The stage is set. Florida-Tennessee is almost here.
To help you get ready, here is an in-depth look at Saturday's game:
THREE STORYLINES
-- Quarterback Will Grier will make his third consecutive start for the Gators and could go all the way like he did in the victory over Kentucky with sophomore Treon Harris unavailable due to a one-game suspension. Third-team quarterback Josh Grady, a fifth-year senior transfer from Vanderbilt, will serve as Grier's backup and the Gators have packages prepared for Grady if needed.
-- Third-year Tennessee coach Butch Jones has the Vols trending upward but a 31-24 triple-overtime home loss to Oklahoma two weeks ago dampened some of the enthusiasm in Knoxville. Tennessee led 17-0 but was unable to maintain the lead. The Vols continue to search for a signature win under Jones, who is 14-14 in his two-plus seasons.
-- While Florida's dominance of Tennessee has received most of the headlines, the Gators can take a step toward a return to the Top 25 -- or perhaps even crack next week's polls -- with a victory. The Gators have not been ranked since Week 7 of the 2013 season, which ended with a 36-17 loss at Missouri and a drop from the national polls.
THREE PLAYERS TO WATCH
-- Gators sophomore cornerback Quincy Wilson put an exclamation point on Florida's win at Kentucky with a game-clinching interception in the final seconds. Wilson could get more reps than usual Saturday with fellow cornerback Jalen Tabor out. Tabor made a key play in the win over the Vols last season with a sack and fumble recovery that led to a score. All three of Tennessee's starting receivers are listed at 6-foot-3, so the 6-1, 209-pound Wilson's size and physical style will be needed.
-- Florida true freshman offensive lineman Martez Ivey made his first career appearance at Kentucky after missing the first two games following arthroscopic knee surgery. Tennessee's defensive line is big and active and Ivey's presence is welcomed by offensive line coach Mike Summers.
-- Tennessee running back Jalen Hurd tips the scale at 6-4, 240 pounds. He is a load to bring down and has three 100-yard games in his last four starts. Limiting Hurd's yards after contact will be a priority for Florida's defense, which sparkled up front with big performances from Jonathan Bullard and Alex McCalister at Kentucky.
THE QUOTE FILE
-- "Florida may be the best defense we've faced since we've been here." -- Tennessee coach Butch Jones
-- "I just know this. These guys, they're dialed in, they're focused. It's important to them. They do the extra [work]. They come prepared." -- Jim McElwain on Florida's defense, ranked second in SEC
-- "It was the first college I visited. I just fell in love with it, so I committed. This game right here is one of the games I've been looking forward to." -- Florida receiver Brandon Powell on facing Tennessee
-- "You know, history's history. Our goal is to go out there and make new history." -- Vols freshman receiver Preston Williams on Tennessee's 10-game losing streak to Gators
-- "They are going to hype the game up to whatever they are trying to make it. But at the end of the day, we're the Gators and we're going to go out and play and come out on top." -- Gators cornerback Quincy Wilson on Saturday's matchup
TEBOW, SEC NATION RETURN
The Florida-Tennessee game is one of the best on the schedule this weekend and the SEC Network's traveling road show "SEC Nation" took notice.
The show arrived in Gainesville on Thursday to build its set on the Plaza of the Americas. Gators Heisman winner Tim Tebow recently rejoined the show after his stint with the NFL's Philadelphia Eagles ended.
Here are some highlights of Saturday's show to look for:
Gators head coach Jim McElwain is scheduled to be on the set live sometime between 10-10:30 a.m. Saturday. In addition, former Gators defensive lineman Alex Brown will be performing as Mr. Two Bits around 10:45 a.m.
In addition, Gators baseball coach Kevin O'Sullivan and catcher JJ Schwarz will be featured, and UF senior gymnast Bridget Sloan is going to teach SEC Network analyst Paul Finebaum how to do the Gator Chomp at around 11:50 a.m.
Last but not least, Tebow will feature a Florida football player as his "Freak of the Week."
INJURY REPORT
The Gators will be without linebacker Jeremi Powell (foot), linebacker Alex Anzalone (shoulder) and running back Case Harrison (thumb) according to McElwain. Meanwhile, receiver Chris Thompson (back) and defensive lineman Jordan Sherit (foot) are probable. Redshirt freshman tight end C'yontai Lewis (hand) is questionable. Lewis did not play at Kentucky.
HISTORY LESSON
The Gators have faced many great running backs through the years in the SEC.
Herschel Walker. Bo Jackson. Shaun Alexander. Kevin Faulk. Darren McFadden.
The list could go on and on -- and likely not include former Tennessee tailback Kelsey Finch.
However, Finch had his run in the sun at Florida Field. Thirty-eight years later, Finch's record still stands.
Finch owns the longest run in SEC history in a conference game when he galloped 99 yards for a score in Florida's 27-17 victory in 1977. Finch's run tied the score 17-all before the Gators pulled out a 10-point win in the final two minutes.
Finch's score remains the longest run against the Gators in school history -- and that's not going to change -- followed by an 89-yard run by Georgia's Tim Worley in 1985, and an 87-yarder by Alabama's Billy Jackson in 1978.
10 QUICK HITTERS
-- In Tennessee coach Butch Jones' first two games against Florida, the Vols have scored just two touchdowns (one offense, one defense). They have kicked four field goals.
-- The Gators are 3-0 for the first time since 2012 and for the ninth time in 11 seasons.
-- In the last five games against Tennessee, the Gators have rushed for 991 yards and 10 touchdowns; Tennessee has 197 yards rushing and one touchdown.
-- Florida redshirt junior defensive end Bryan Cox Jr. had three of his six career sacks in last season's 10-9 victory at Neyland Stadium.
-- The Vols are 7-2 in the last nine starts for junior quarterback Joshua Dobbs, averaging 39 points and 431 yards over that span.
-- The Gators have used two quarterbacks in each of their last two wins over Tennessee. Tyler Murphy replaced an injured Jeff Driskel in 2013, and Treon Harris replaced Driskel (performance) a year ago.
-- The Vols had a kickoff return for a touchdown (Evan Berry, 88 yards) and a punt return for a score (Alvin Kamara, 50 yards) in last week's win over Western Carolina, marking first time they have done that in same game since 1950.
-- Vernon Hargreaves III and Quincy Wilson each had an interception at Kentucky, the fifth straight game the Gators have recorded at least one pick.
-- Florida junior receiver Demarcus Robinson needs 62 yards to reach 1,000 career receiving yards.
-- The Gators have won the turnover battle eight times during their 10-game win streak over the Vols and were even the remaining two games.
THE OTHER SIDE
The folks on Rocky Top are tired of hearing about Florida's dominance of their beloved Big Orange over the past decade. They are tired of the ghost of Phil Fulmer still haunting them after all these years. They are desperate to reverse the curse.
Vols coach Butch Jones has Florida on his mind. Here is a look at his weekly TV show following the victory over Western Carolina:
BOTTOM LINE
Both teams have a lot at stake in this one. Florida wants to keep its winning streak alive against the Vols, but more importantly, the Gators want to get a win and play well for a boost of confidence with No. 3-ranked Ole Miss coming to town next week. Meanwhile, Tennessee seeks to show that it really is back to being a factor in the SEC East and a win at The Swamp would make believers out of many. If Florida's defense continues to play at a high level, that is going to be difficult for the Vols.