Teams asking Rangers about Martin, who could be dealt 'for value'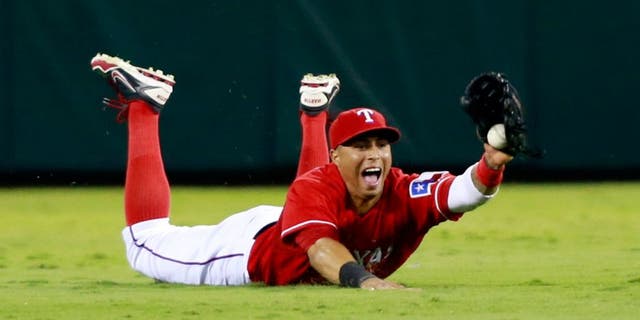 Sep 30, 2013; Arlington, TX, USA; Texas Rangers center fielder Leonys Martin catches a ball hit by Tampa Bay Rays designated hitter Delmon Young (not pictured) during the seventh inning at Rangers Ballpark at Arlington. Mandatory Credit: Tim Heitman-USA TODAY Sports Tim Heitman USA TODAY Sports
With the winter meetings heating up soon, all MLB clubs will be looking to address their most glaring weakness or areas in need of improvement - so it would behoove most general managers to listen to interested parties.
Texas Rangers GM Jon Daniels certainly is, and as he told Evan Grant of the Dallas Morning News on Wednesday, a number of clubs are inquiring about outfielder Leonys Martin. Grant quotes Daniels as saying that Martin is one of the Rangers being 'hit hardest on' so far during trade talks, and with good reason.
Martin is due for a raise, despite losing his job in the outfield and the lineup for the Rangers in 2015. His fall from favor came after he appeared in 147 and 155 games in 2013 and 2014, respectively, and was considered a potential mainstay on the club for years to come.
Grant points out that the Rangers have options with Martin: they could trade him, keep him, or tender him a contract and THEN deal him away to a club that would then have to sign him to a contract.
In addition to stating that the Rangers plan to tender Martin a contract, Daniels is quoted by Grant as leaving his options open, so to speak:
Martin's defense is presumably one of the reasons teams are interested in his services, as it's mostly his offensive shortcomings that kept him away from everyday duties in 2015.