Team Penske reveals Joey Logano's throwback XFINITY Series paint scheme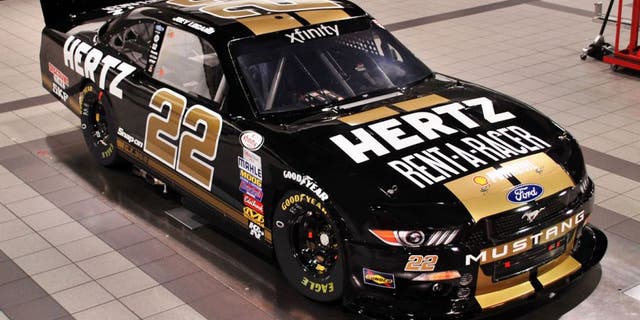 NEWYou can now listen to Fox News articles!
With a number of NASCAR Sprint Cup Series teams breaking out the retro paint schemes for this weekend's Bojangles' Southern 500 at Darlington Raceway, Team Penske is getting its XFINITY Series program in on the fun.
The team announced Monday morning that Joey Logano's No. 22 Ford would celebrate Hertz's 1960s Shelby GT350H 'Rent-A-Racer' program by featuring a classic black paint scheme with gold racing stripes.
The paint scheme honors the program between Hertz and Carroll Shelby that allowed car enthusiasts to rent high-performance, special edition Shelby Ford Mustangs.
"We are excited to commemorate the famed Hertz/Shelby 'Rent-A-Racer' program that introduced car enthusiasts to the iconic Shelby Mustang five decades ago and is the forerunner to Hertz's Adrenaline collection of high-performance vehicles today," said Bob Stuart, executive vice president, global sales at Hertz. "Together with Team Penske, we will be honoring our unique history with Carroll Shelby while celebrating the legacy of the Ford Mustang driving experience."
Logano, who has four XFINITY Series victories already this season, is looking forward to running the throwback Hertz paint scheme is Saturday's race.
"I'm pretty excited to run this special Hertz paint scheme," he said. "Anytime you can get behind the wheel of a car that has a new look to it, people take notice. And the Hertz Rent-A-Racer car just looks fast. I think it will stand out, especially among all the cars that will have really cool throwback paint schemes that weekend in Darlington."