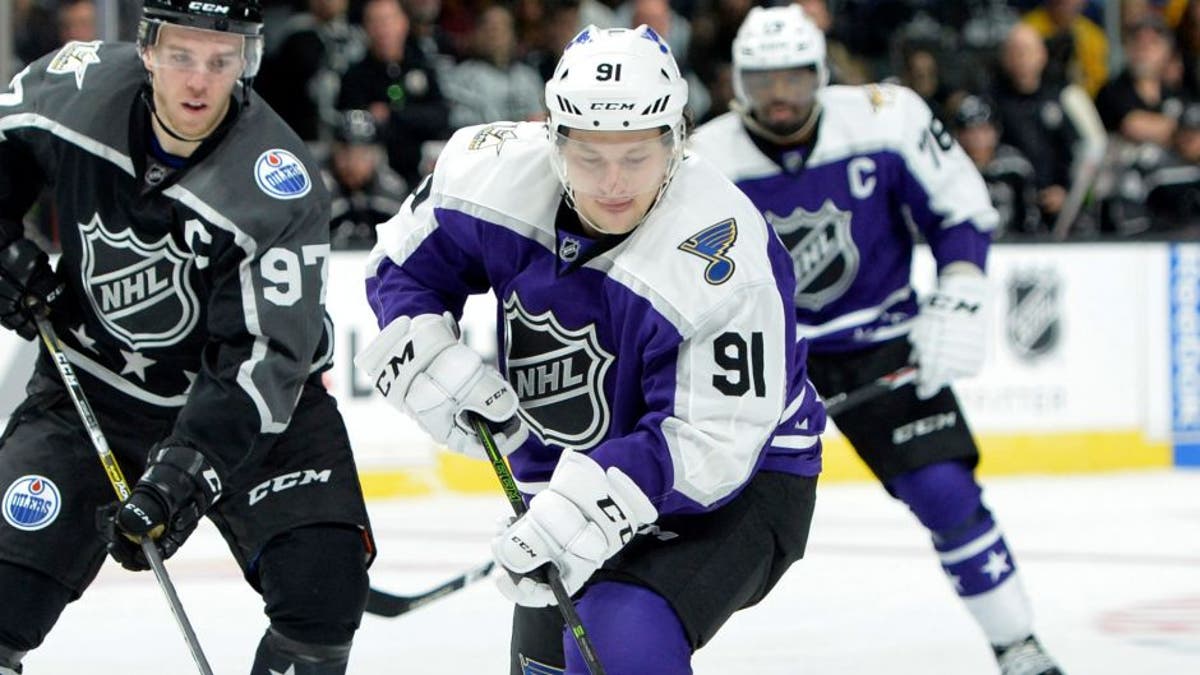 LOS ANGELES -- Blues forward Vladimir Tarasenko was one of few bright spots on a Central All-Stars team that made an early exit from festivities on Sunday.
The Pacific beat the Blackhawk-dominated Central Division team 10-3 in the first 20-minute semifinal, and the Metropolitan team beat the Atlantic 10-6 in the second. Minnesota coach Bruce Boudreau didn't love the laid-back vibe on his Central team, which had four Chicago Blackhawks.
"The guys are here on their break having fun," Boudreau said. "You aren't going to get the intensity of a Stanley Cup Final, but the intensity of a preseason game would be good every now and again."
Tarasenko, Blackhawks forward Jonathan Toews and Canadiens defenseman P.K. Subban scored for the Central.
Wayne Simmonds' first All-Star weekend after a nine-year NHL career was strange enough. Having Wayne Gretzky for a coach made it even more surreal.
And after he scored the tiebreaking goal to become the All-Star Game MVP in his former home city, the Philadelphia forward could only think of one word for his West Coast trip.
"Weird," Simmonds said with a grin.
Indeed, the 3-on-3 format of this revamped midseason showcase can lead to weird hockey. It also allows the game's biggest stars to create moments of offensive beauty, and Simmonds' winner with Taylor Hall certainly qualified.
Simmonds completed his hat trick with 4:58 to play, and fill-in coach Gretzky led the Metropolitan Division to a 4-3 victory over the Pacific Division on Sunday in the final match of the 62nd NHL All-Star Game.
Columbus' Cam Atkinson scored the tying goal five seconds earlier for the Metropolitans in the four-team divisional tournament format of wide-open hockey introduced to this talent-laden exhibition last season. Washington goalie Braden Holtby blanked the Pacific over the final 10 minutes to secure the win for his 11-man bunch, which will split a $1 million prize.
Simmonds won the truck awarded to the game's MVP after he put the Metropolitans ahead with a clever goal. Right off the faceoff following Atkinson's goal, Simmonds playfully flicked the helmet of Drew Doughty, his former Los Angeles teammate, to distract the Norris Trophy-winning defenseman. Simmonds then skated around him and converted a pass from New Jersey's Hall.
"I just took off," Simmonds said. "I said to Hallsy before the game, `I'm going to drive back-door on one of these plays, probably about a foot from the net. Just hit me with the puck. Hopefully, I can put it in.' It's exactly what we spoke about."
Simmonds is still well-liked in LA nearly six years after he was traded to Philadelphia in a deal for Mike Richards. He's also in the middle of a potential career year with the Flyers after scoring 38 points in their first 50 games.
"You leave a place, you don't expect to come back and get all the cheers as I did today," Simmonds said. "But I must have done something right when I was here. I know I had a lot of die-hard fans here, and I really appreciate those people. They made me feel really good today."
Simmonds and Atkinson, a late addition to the team, scored three goals apiece.
But the game was secondary when the NHL's best gathered on a 72-degree day in Hollywood. A sellout crowd at Staples Center cheered the first All-Star Game for Connor McDavid, Auston Matthews, Patrik Laine and a host of young talent.
The All-Stars got an additional thrill before the game when roughly half of the 100 greatest players in NHL history lined up on the ice and shook hands with the current players during introductions. The greats then dropped a ceremonial first puck for each of the 44 All-Stars.
It was also just the second All-Star appearance by Sidney Crosby, who hadn't been healthy for the game since 2007.
"It felt more like a real game toward the end, blocking shots and things like that," the Pittsburgh captain said. "(To) see that transpire and see how it elevated as it went on, that was fun. Hopefully, the fans enjoyed it because as players we started to get into it, especially in the second half of that game."
Crosby and Alex Ovechkin were played together by Gretzky, who stepped in to coach the Metropolitan team when Columbus' John Tortorella couldn't attend the weekend festivities due to an ailing dog.
Shortly before Atkinson and Simmonds scored, an apparent deflection goal by the Pacific was taken off the board when McDavid was ruled offside. Gretzky's players thought he had successfully challenged it, although the goal review apparently originated in the league offices in Toronto.
Either way, Gretzky reacted with roaring laughter when the goal was disallowed. He didn't stick around Staples Center afterward to talk about his tactical genius, but Simmonds thought Gretzky deserved the credit for leading the Metropolitans to victory.
"Helped us win, right? That was the point," Simmonds said. "That was the game-changer. That was the decision. Obviously, he's got a great hockey mind. He pulls that card. It's offside. Come back, score two goals and we win the game, so obviously it was a great decision."
McDavid, the 20-year-old NHL scoring leader, didn't use his peerless speed to dominate, but he got one of the afternoon's best goals early in the final. He slipped behind the Metropolitan defense, got a pinpoint long pass from Anaheim's Ryan Kesler and beat Sergei Bobrovsky's poke check with a nimble stop and a push shot while falling to his knees.