Suspended FIFA president's lawyer slams ethics committee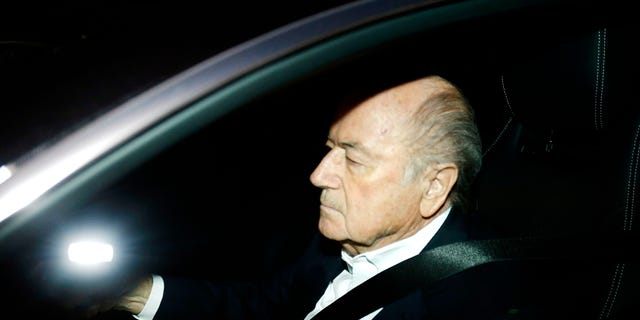 NEWYou can now listen to Fox News articles!
FIFA's ethics committee violated proper procedures when it decided to ban its president Sepp Blatter for 90 days, his attorney said Thursday.
Richard Cullen says Blatter was "disappointed that the ethics committee did not follow the code of ethics and disciplinary code, both of which provide for an opportunity to be heard."
Cullen also says the ethics committee for soccer's governing body based its decision on a "misunderstanding," adding that the Swiss attorney general has not charged Blatter with a crime.
Blatter and Michel Platini, the man who had been favored to take over as FIFA leader, were suspended in the wake of a Swiss criminal investigation. The decision seemingly ends Platini's bid to succeed Blatter as FIFA president in the emergency election in February.
Swiss authorities turned up at Blatter's office at FIFA headquarters in September and interrogated him. The criminal case centers on Blatter allegedly misusing FIFA money by making a $2 million payment to Platini, who was questioned as a witness.
Blatter was also questioned by Swiss investigators about broadcasting contracts sold to former FIFA vice president Jack Warner in 2005 that were supposedly undervalued. FIFA pocketed $141 million in profits in 2014, financial records show.
The suspensions can be extended by up to 45 days.
FIFA also confirmed Thursday African soccer leader Isaa Hayatou will serve as acting president of the governing body for the next 90 days.
According to FIFA, Hayatou gets automatically elevated to the top job as the longest-serving vice president on its executive committee. The 69-year-old Hayatou has ruled African soccer for 27 years.
The International Olympic Committee called on FIFA to consider a "credible external presidential candidate of high integrity" as Blatter's replacement.
"Enough is enough," IOC President Thomas Bach said. "We hope that now, finally, everyone at FIFA has at last understood that they cannot continue to remain passive.
"They must act swiftly to regain credibility because you cannot forever dissociate the credibility of FIFA from the credibility of football."
The Associated Press contributed to this report.