Stronger McKinnon seeks role in crowded Vikings backfield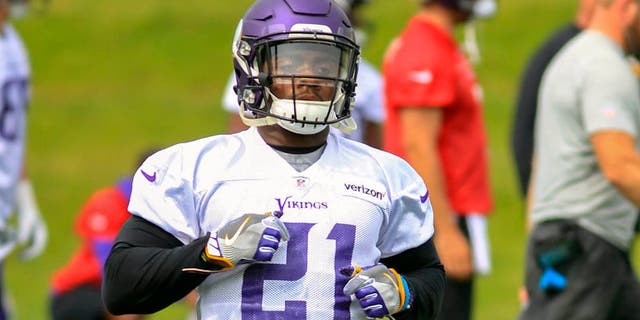 NEWYou can now listen to Fox News articles!
EDEN PRAIRIE, Minn. -- By signing an accomplished free agent in Latavius Murray and using their second-round draft pick on Dalvin Cook, the Minnesota Vikings took aggressive steps to replace Adrian Peterson in the backfield.
Jerick McKinnon did, too.
Stronger and ideally more durable after a focused offseason effort to add between 10 and 15 pounds, McKinnon has begun his fourth year with Minnesota with the same design on regular carries this fall despite the recent acquisitions of Murray and Cook.
"I was 212 yesterday," McKinnon said, smiling about his accomplishment on the scale Tuesday after minicamp practice with his face drenched in sweat.
The greater feat will be to avoid falling to third on the depth chart this season. He acknowledged feeling personally challenged by the team's decisions to sign Murray from the Oakland Raiders and draft Cook out of Florida State .
"You know, that's tough," McKinnon said, "but those guys are great. So for me, it was about seeing how they work and then at the end of the day just stacking my game up against theirs."
Fittingly, McKinnon worked out again this winter with Peterson at his gym in Houston. Tired of nagging injuries over his first three years, the 5-foot-9 McKinnon sought to gain muscle and explosiveness without sacrificing agility or speed.
"No junk food. Just doubling up my portion. Some sushi with B-Rob," he said, referring to defensive end Brian Robison.
"Just snacking a lot. Just making sure that I don't get lazy. It's hard when you're tired and you really don't want to eat. You've just got to make sure you make yourself eat to keep the weight."
With Peterson absent following an injury to his right knee suffered in the second game of the season and an in-flux, injury-ravaged offensive line that struggled badly, Minnesota's rushing attack was as lean as could be with a league-worst average of 75.3 yards per game and 3.2 yards per attempt.
McKinnon had his most productive year as a pro with 794 yards and four touchdowns from scrimmage, but his impact on the offense was minimal.
Now with the New Orleans Saints, Peterson departed Minnesota with by far the most rushing yards in franchise history, but he was essentially already gone last season.
So McKinnon at least has the advantage of extra time in the system under offensive coordinator Pat Shurmur.
Murray, too, is recovering from right ankle surgery. Plus, the bell-cow days of a featured runner in the NFL have largely disappeared. Successful teams need two or three reliable players at the position.
"We know there's only going to be one starter, but in the grand scheme of things all of us might touch the ball in a game," McKinnon said. "So it's just about working with each other, competing and then we go from there."