Strong rides the Texas roller coaster unsure what wild ride awaits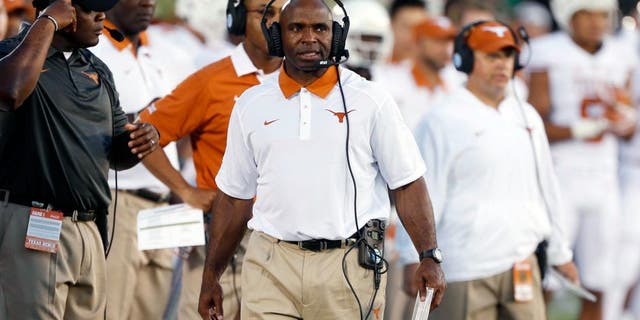 NEWYou can now listen to Fox News articles!
Texas coach Charlie Strong says he never worried about losing the team. Brian Spurlock USA TODAY Sports
When it appeared Charlie Strong's program was coming apart from the inside-out after the embarrassing loss at TCU that led to players sniping at each other in the media and on Twitter, Strong said he never worried that he was losing the team.
The win at the Cotton Bowl against Oklahoma proved his team had always bought into his program, he says.
"The players have bought in," Strong said Monday during his weekly press conference as Texas prepares seeks its first consecutive wins of the season when it plays host to Kansas State on Saturday in Austin. "I was never concerned about them. When you have a win like that, where you sit on the edge of everything, to have a win like that trying to get over the hump, now that it has happened, you just hope the confidence builds on and on."
Despite how dysfunctional things appeared from the outside, with freshman defensive back Kris Boyd tweeting during halftime of the TCU game, with the upperclassmen and underclassmen seemingly going after one another, Strong said on the inside he never believed the team was fraying.
"I guess so much had just happened prior to that [Oklahoma] game, when you talk about so much was said, and a lot of times I don't listen to it, but when you talk about losing your team -- we had never lost our team," Strong said. "When they talk about losing our locker room, you sit back and say, 'Wow, I guess someone's in there' -- because we never lost it. They're still going to work and do everything they ask you to do. It was never where the (sky) was falling on us. I was so excited for our players more than anything because so much had been said about them."
Now that Texas has had a a week to let the emotions settle from the roller coaster that has been the Notre Dame blowout, the change in quarterback and play-caller, the consecutive gut-punch losses to Cal and Oklahoma State, the TCU debacle and then the OU euphoria, Strong still isn't sure which Texas team will show up against a Kansas State squad that nearly upset TCU weeks ago only to get crushed 55-0 to OU last week. Strong said he cautioned his team not to pay attention to that score because the Wildcats can bounce back just as Texas did against the Sooners.
"I wish I had that answer for you," Strong said about how he expects his team to play Saturday. You're right, it's just -- you'd like to develop some consistency and hope that you gain momentum and you just continue to improve and get better and better. Now with this week off, now you'd love to continue to play so that now you have a little momentum, just continue to play on. But you know, we had to get them ready and had to have a game plan where we can go and execute a game plan and where you have some success executing it."
MORE NEWS: Want stories delivered to you? Sign up for our College Football newsletters.