Stewart hopes strong finish in New Hampshire helps at Indy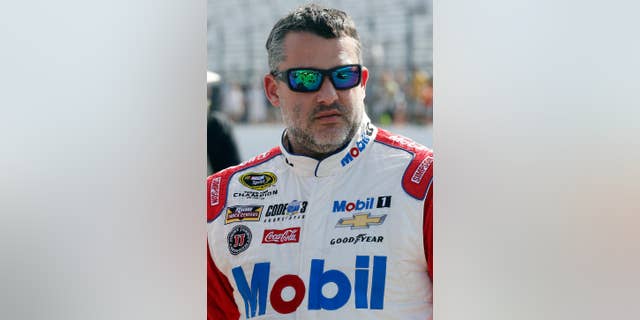 NEWYou can now listen to Fox News articles!
LOUDON, N.H. – Smoke is heating up just in time for his final trip to the Brickyard.
Tony Stewart's final NASCAR season — no, he's not retiring from racing — has gone from bust to boon in a matter of weeks and he's now all but assured of racing for a fourth career Sprint Cup championship in the fall.
Stewart finished second behind race winner Matt Kenseth on Sunday at New Hampshire Motor Speedway and continued a solid streak that his him tucked inside the top 30 in points that he needed to clinch a spot in the Chase.
How sweet it would be for the Indiana native to keep his run rolling next week at his hometown track, Indianapolis Motor Speedway.
"I'm not going to downplay it because it's one of the most important weekends of the year for me," Stewart said.
He heads home not for a sad swan song, but among the favorites to win.
Stewart missed the first eight races of this season with a back injury suffered in an off-road vehicle accident one week before the season opened. He had just one top 10 in his first six races and posted two finishes in the 30s.
He finished seventh at Michigan that proved just an appetizer for what was next. Stewart burst through the next week at Sonoma Raceway and snapped an 84-race losing streak dating to 2013.
Stewart finished fifth last week at Kentucky Speedway and had positioned his No. 14 Chevrolet at the right spot Sunday when some of the leaders started dropping down the stretch.
Stewart inched from 30th to 28th points, the final hurdle needed to clinch a spot in the Chase for the Sprint Cup championship.
"When Tony wants it, he's kind of hard to beat," said Joe Gibbs, his former team owner. "You hate to see him retire because he means a lot to our sport."
Nothing would mean more than another win at Indy.
Stewart, a Columbus, Indiana native, had dreamed since he was a boy making trips to the Brickyard with his family of winning at the famed track. He would have loved an Indianapolis 500 victory in his brief open-wheel career. He settled instead for two wins in the Brickyard 400.
When he won his first one in 2005, Stewart had tears in his eyes over the final laps when he saw his father pressed against the fence cheering him on.
Now 78, Nelson Stewart still races.
"I promise you, I've got more talent behind the wheel than he does," Stewart said. "I've watched him race, and if he can still race at 78, I might be able to make it to 78, too. I've got a long way before I think about (retirement)."
His final NASCAR seasons marred by injuries and tragedy, Stewart remained firm that he'll simply step away from NASCAR at the end of the season, not from behind the wheel of other race cars.
Stewart has struggled since he broke his leg in a 2013 crash, then was emotionally devastated after his car struck and killed driver Kevin Ward during a New York sprint car race in 2014. He's facing a civil suit filed by the driver's family.
But this week should be a happy homecoming for Stewart. He spent Saturday night at Eldora Speedway to watch sprint car races and will return there Wednesday night for the NASCAR Truck Series race on the dirt.
Stewart, of course, is more than just an interested observer at Eldora. He owns the half-mile dirt track in Rossburg, Ohio that has served the last few years as the lead-in for the Brickyard.
With dwindling crowds and boring races, the Brickyard has lost some luster as one of NASCAR's crown jewel events.
Indy is still Indy to Stewart.
The spotlight figured to shine bright on Smoke next weekend in his final shot to kiss the bricks for a third time. Jeff Gordon's potential return driving for the injured Dale Earnhardt Jr. could dim the attention on Stewart — and that's fine with one of racing's all-time prickly stars.
"I don't need the spotlight on me anyway," Stewart said. "I show up to race. I'm not the profile guy."