Steve Smith admits he and Cam Newton 'bumped heads' before his release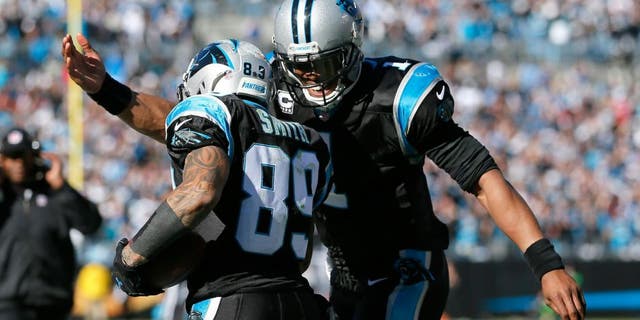 NEWYou can now listen to Fox News articles!
The Carolina Panthers made one of the most surprising moves in recent NFL memory back in 2014, when they released their all-time best player: Steve Smith. The veteran receiver was seemingly nearing the end of his career, but he made it clear he still had plenty left in the tank. He wanted to play at least one more season in Carolina before calling it a career, but the Panthers weren't on board with that plan.
They opted to cut Smith, who then went on to join the Ravens and put together a 1,000-yard season in his first year in Baltimore. The decision appeared to be strictly football-centric, but there was more to it than just Smith's decreased production.
Smith and a young Cam Newton weren't exactly on the same page.
"We bumped heads for the obvious reason. He's the first overall pick and he was a star where he was," Smith said on NFL Network's "A Football Life," via BlackAndBlueReview.com. "I was 31 years old. I had three kids. So we were two people in two different phases of their life."
Smith wasn't pleased with the connection (or lack thereof) between him and Newton. The veteran wideout was frustrated with having to go through Newton's growing pains as a young quarterback, which he certainly had.
It wasn't until 2013 -- Smith's last season -- that Newton really took off, throwing 24 touchdown passes and 13 interceptions. By that time, Smith was already on his way out, and even in Newton's best season the veteran receiver was relatively unproductive (64 catches, 745 yards and four touchdowns).
The front office saw releasing Smith as the best option for not only the franchise but for Newton.
"That was a tough dynamic. It frustrated Steve being with such a young quarterback who maybe didn't get all the terminology down right away, who would mess up his reads on a hot route, things like that. Steve had no patience for that," former Panthers tackle Jordan Gross said.
"Honestly, I feel like that hurt Cam's development a little bit because Steve was such an in-your-face character. He wanted to win now. Steve wasn't a rookie. Steve was getting into double-digit seasons, and he didn't want to wait to win for this young quarterback to develop.
"I think the organization felt like for Cam to flourish, they needed Steve to step down."
It was obviously a tough choice for the Panthers to make, severing ties with the franchise's greatest player in the midst of a rebuilding phase with Newton, but it clearly had a strong impact on the team. Just two years after Smith was released, Newton went on to win NFL MVP and led the Panthers to a Super Bowl.