Stephen Curry's wife blasts NBA, claims Finals Game 6 was 'rigged'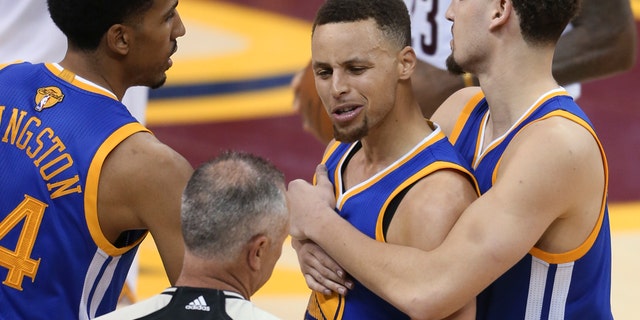 NEWYou can now listen to Fox News articles!
The wife of Golden State Warriors star Stephen Curry took out her frustration over the Warriors' loss in Game 6 of the NBA Finals on Twitter late Thursday, posting that the championship series was "rigged for money" before deleting the message.
Curry, the two-time league MVP, scored 30 points in Golden State's 115-101 loss to the Cleveland Cavaliers. However, Curry was ejected after throwing his mouthpiece into the stands when he fouled out of the game with 4:22 remaining.
Shortly thereafter, Ayesha Curry tweeted about the foul call, "I've lost all respect sorry this is absolutely rigged for money... Or ratings in[sic] not sure which. I won't be silent. Just saw it live sry[sic]"
Curry later apologized before claiming that her father had been racially profiled by police earlier in the evening.
Curry did not provide details of the alleged profiling incident. Earlier in the evening, Ayesha took to Twitter to complain that the familes of Golden State players were being kept on a bus and not allowed into the arena.
The New York Post reported that the bus was delayed by congestion in the arena's underground garage after leaving the Warriors' hotel later than planned.
The Warriors, who once led the series three games to one, will get a third and final chance to win their second straight title Sunday night, when they host the Cavaliers in Game 7.