Stenson dedicates British Open win to pal who died of cancer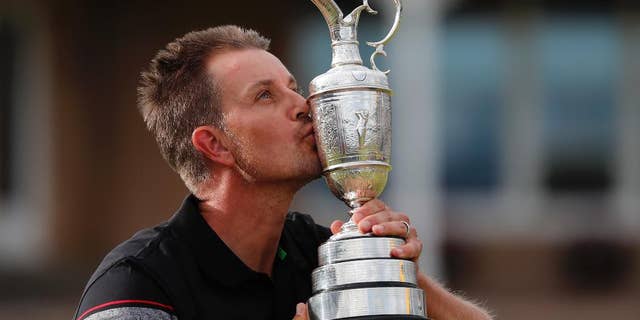 NEWYou can now listen to Fox News articles!
TROON, Scotland – Henrik Stenson ended his winner's speech on the 18th green at Royal Troon by dedicating his first major title to a close friend who died of cancer the day before the British Open started.
"I feel like he has been with me all week — Mike, this one is for you," said an emotional Stenson as he raised the claret jug one more time and kissed it.
Beside the green, Stenson's wife Emma sobbed.
Mike Gerbich was a pal of the Stensons when they lived in Dubai. Gerbich and Henrik Stenson used to play golf together.
"I know he's hurting inside," Stenson's caddie Gareth Lord said. "It's a perfect way to say thanks."
Emma Stenson started to weep again soon after, as she spoke of the impact Gerbich's death had on her husband.
"Henrik played for him this week," she said. "It was hard, definitely. I'm glad he did it for him."
Talking about his late friend was one of the few times Stenson showed any emotion all day. "The Ice Man," as he is sometimes called, kept his cool in a final-round duel with Phil Mickelson to shoot an 8-under 63 and win his first major title at age 40. He collected the trophy he wanted more than any other.
Emma Stenson always knew her husband would get his hands on the claret jug one day. Even during two big slumps in his career — the first in 2001 after he'd tried to tweak his swing, and then in 2010 after he contracted viral pneumonia and a debilitating stomach bug.
In early 2012, Stenson was 230th in the world rankings.
"I remember we were sitting in the kitchen when he had his first slump and he mentioned something like, 'Maybe I should quit,' or something," Emma Stenson said. "I have never ever doubted him because of his personality, his mental strength and his golf game.
"When you are married for so long, and part of ups and downs, you become a family psychologist on the side. You have to try your best to say the right thing and keep him in the right frame of mind."
Stenson didn't appear nervous the evening before the biggest day of his golf career. Emma said he almost fell asleep on the couch while they watched the movie "Bridesmaids."
Throughout Sunday, whether it was on the practice putting green, at the driving range alongside swing coach Pete Cowen or out on the course, Stenson was a picture of calm.
"His attitude was phenomenal," Lord said. "Everyone calls him 'The Ice Man.' I can tell you sometimes he's not. But he certainly was today.
"I had the best seat in the house."