Steelers' Ryan Shazier may kick it old school in his return to lineup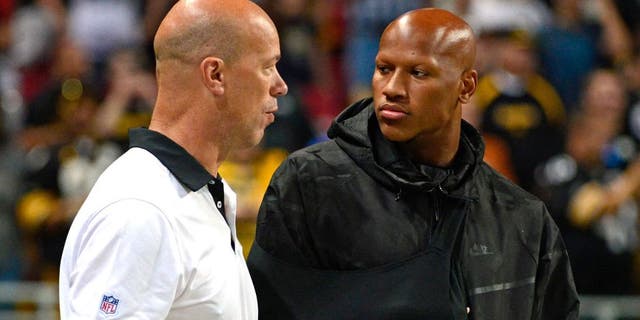 NEWYou can now listen to Fox News articles!
Steelers linebacker Ryan Shazier is expected back after a four-game absence. Jeff Curry Jeff Curry-USA TODAY Sports
If Steelers middle linebacker Ryan Shazier returns to the field this Sunday in Kansas City as expected, he may be sporting an old school look.
Shazier has been wearing a neck roll straight out of the 1980s in practice this week to protect the injured shoulder that has kept him out of the last four games.
"I was telling a few of the guys I look like Goldberg from "The Longest Yard", or some of the older linebackers," Shazier said via the Pittsburgh Post-Gazette, referring to former WWE wrestler Bill Goldberg in the remake of the classic football film. "But if I have to wear it, I'm going to wear it. They want me to put it on. They feel like it helps, so I'm going to wear it, whatever I have to do to be out there on the field."
After practicing fully on Wednesday and Thursday, Shazier is finally expected to make it back into the lineup. Shazier called the injury minor when he suffered it against San Francisco, but setbacks in practice the past few weeks have prolonged his absence.
Missing four games has been a tremendous disappointment for Shazier, who was hoping to rebound from an injury-plagued rookie season. The fact that he suffered the most recent injury at the end of his best career game was even more disheartening.
"You can't really control injuries, and God has everything planned -- He does everything for a reason," Shazier said per the Pittsburgh Tribune-Review. "So he probably just wanted me to be able stay focused in and learn more."
Fellow linebacker Jarvis Jones is also expected to return Sunday. He has been a full participant in practice this week after missing last Sunday with a hip injury.
MORE NEWS: Want stories delivered to you? Sign up for our NFL newsletters.