Steelers' Roethlisberger thought foot was 'broken in half'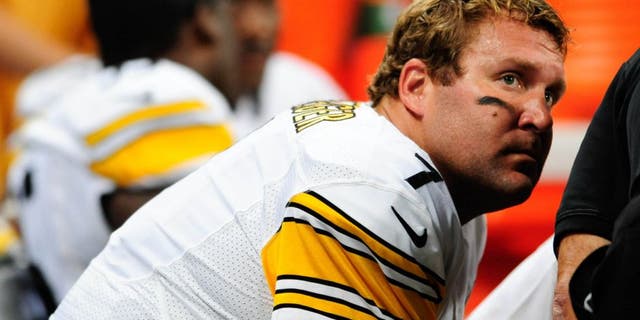 NEWYou can now listen to Fox News articles!
Steelers quarterback Ben Roethlisberger is still holding out hope of playing this Sunday against the Browns. Joshua Lindsey-USA TODAY Sports
Steelers quarterback Ben Roethlisberger thought his season was probably over when Raiders linebacker Aldon Smith landed on his foot after a sack on Sunday.
"I kind of sat there for a second and I went to get up, got help to get up and I went to take a step and it felt like the middle of my foot was just broke in half," Roethlisberger said via PennLive.com. "And that's when Doc thought that it could be -- he was convinced it was the Lisfranc."
Such an injury likely would've been season-ending but instead, Roethlisberger and the Steelers caught a break. He was diagnosed with a mid-foot sprain that was initially expected to keep him out a few weeks, but the quarterback is still holding out hope of playing this Sunday against Cleveland.
Roethlisberger, who reportedly already shed his walking boot, will not practice this week, ceding all the reps to second-stringer Landry Jones. He still thinks he can play without doing so, but with a bye week ahead, head coach Mike Tomlin may err on the side of caution despite leaving the door "slightly ajar" for Roethlisberger to play. Roethlisberger has already missed four games earlier this season with a knee injury, and the Steelers went 2-2 without him.
Jones will make his second start of the season if Roethlisberger is held out. The Steelers fell 23-13 to Kansas City in Jones' first NFL start in Week 7.