Steelers' Jarvis Jones still looking for first sack, Tomlin not worried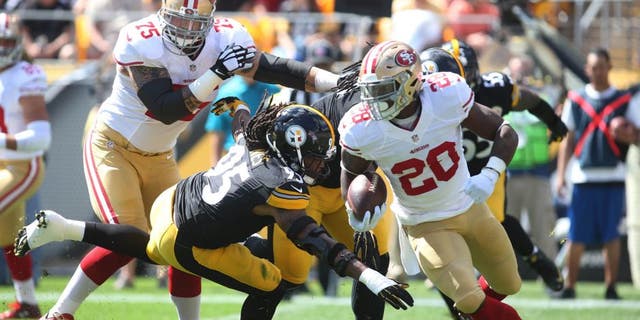 NEWYou can now listen to Fox News articles!
Speculation was rampant this offseason that Steelers linebacker Jarvis Jones was entering a make-or-break season.
Jones is the only Steelers linebacker with over 100 snaps without a sack. Head coach Mike Tomlin says part of the reason for that has been a lack of pass-rushing opportunities, especially in games against the 49ers and Rams.
"We would bring the left outside linebackers probably three to four times more often than the right outside linebackers. Such is life," Tomlin said. "We are going to do things that give us a chance to win."
The numbers from Pro Football Focus don't support Tomlin's claim. Jones actually has rushed the passer more than James Harrison, Arthur Moats or first-round pick Bud Dupree via the Pittsburgh Tribune-Review. Additionally, James Harrison has one sack along with five quarterback pressures while Jones comes up empty in both categories. Jones has rotated on the right side with Harrison, who leads Steelers outside linebackers with 175 snaps, according to Football Outsiders.
"I think he's been solid," Tomlin added via the Pittsburgh Post-Gazette. "I like the violence in which he is playing. His hands have been heavy. He's done a nice job in the run game. He hasn't necessarily produced the numbers from a pressure or sack standpoint yet."
The Steelers have racked up 14 sacks through four games without any from Jones, good for fourth in the NFL. They are well on their way to surpassing last season's total of 33.
h/t: Tribune-Review
MORE NEWS: Want stories delivered to you? Sign up for our NFL newsletters.