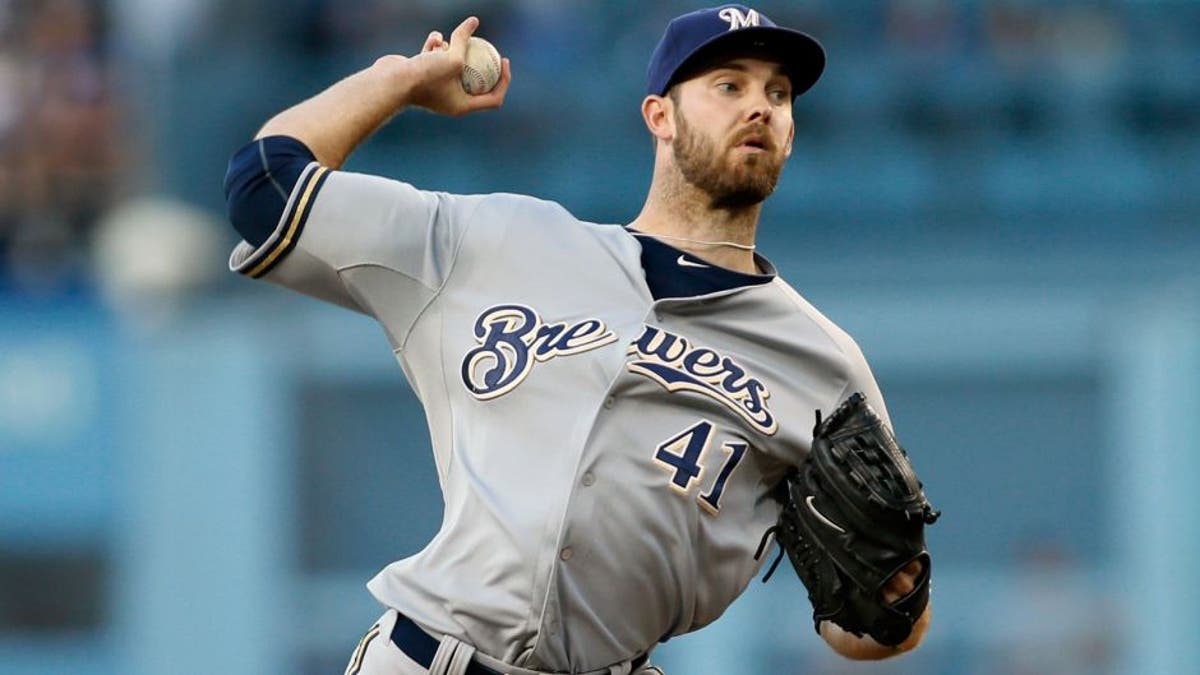 Welcome to the latest edition of StaTuesday, where each week we'll give you a different look at sports by examining a particular statistic or number.
This week, we'll take a quick look at Taylor Jungmann.
It is hard to imagine anyone thought Jungmann would be pitching as well as he had after getting recalled to the Milwaukee Brewers in early June. After all, in 11 games (nine starts) at Triple-A Colorado Spring this year, Jungmann had a 6.37 ERA and 1.517 WHIP. Even in a hitter's league, those numbers didn't indicate what was to come.
Through his first 10 starts with the Brewers, Jungmann has a 2.23 ERA, is allowing 7.0 hits per nine innings (and has a 1.098 WHIP) and is striking out 7.4 batters per nine innings.
If Jungmann can keep up that production, he'd be just one of 10 pitchers in Brewers history to start at least 10 games, allow 8.0 or fewer hits per nine innings and strike out 7.0 or more batters per nine innings. He'd also be just the fifth to accomplish that and have an ERA under 3.
It would not only arguably mean Jungmann would have one of the best seasons ever for a Milwaukee starting pitcher, but also the best by a rookie (Teddy Higuera and Cal Eldred certainly would have an argument as well).
Here is the complete list of pitchers with 10+ games started, 8.0 or fewer hits/9 and 7.0 or greater K/9 in Brewers history:
| | | | | | | |
| --- | --- | --- | --- | --- | --- | --- |
| Pitcher | Year | Record | GS | H/9 | K/9 | ERA |
| Teddy Higuera | 1988 | 16-9 | 31 | 6.65 | 7.60 | 2.45 |
| Ben Sheets | 2004 | 12-14 | 34 | 7.63 | 10.03 | 2.70 |
| Doug Davis | 2005 | 11-11 | 35 | 7.92 | 8.41 | 3.84 |
| Seth McClung | 2008 | 6-6 | 12* | 7.95 | 7.43 | 4.02 |
| CC Sabathia | 2008 | 11-2 | 17 | 7.30 | 8.82 | 1.65 |
| Yovani Gallardo | 2009 | 13-12 | 30 | 7.27 | 9.89 | 3.73 |
| Shawn Marcum | 2011 | 13-7 | 33 | 7.85 | 7.09 | 3.54 |
| Marco Estrada | 2013 | 7-4 | 21 | 7.66 | 8.30 | 3.87 |
| Mike Fiers | 2014 | 6-5 | 10** | 5.78 | 9.54 | 2.13 |
| Taylor Jungmann | 2015 | 5-3 | 10 | 6.96 | 7.38 | 2.23 |
* -- also pitched 25 games in relief
** -- also pitched four games in relief
Follow Dave Heller on Twitter