StaTuesday: How Brewers rookies performed down the stretch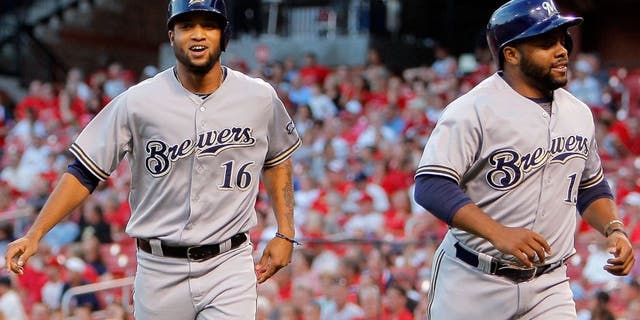 Long out of the playoff race by the time the leaves started to change, the Milwaukee Brewers let a legion of rookies play out the string on their disappointing 2015 season, observing and evaluating which young players could help the team in the future as it heads into an offseason of transition.
Because their talent-stocked Double-A affiliate, the Biloxi Shuckers, was in the midst of a playoff run -- they'd fall in the Southern League Championship Series on Sept. 21 -- the Brewers waited until later in September to call up some of their best prospects. In all, 17 rookies got to play for Milwaukee from Sept. 1, when rosters were allowed to expand to 40 players, until the season ended with Sunday's loss to the Cubs.
Some first-year players, such as starting pitcher Taylor Jungmann and power-hitting outfielder Domingo Santana, had already been in the majors for a while; others, like reliever Adrian Houser and outfielder Michael Reed, hardly saw any action after their autumn call-ups. A couple made the most of their time -- hot-hitting infielder Jason Rogers and craftier-than-he-looks starter Zach Davies turned heads down the stretch. While a few seemed in over their heads, including 31-year-old catcher Nevin Ashley and Biloxi co-aces Jorge Lopez and Tyler Wagner.
But now new general manager David Stearns, whose tenure officially began on Monday, and the Brewers front office have at least a bit of a body of work to assess the kids after they went 13-19 in their last 32 games.
Here, we offer a statistical look at how Brewers rookies performed from Sept. 1 to Oct. 4.
Pitchers
| | | | | | | |
| --- | --- | --- | --- | --- | --- | --- |
| NAME | INN | W-L | ERA | AVG | SO | BB |
| Zach Davies | 34.0 | 3-2 | 3.71 | .211 | 24 | 15 |
| Taylor Jungmann | 28.2 | 1-3 | 7.85 | .283 | 24 | 15 |
| Ariel Pena | 27.1 | 2-1 | 4.28 | .238 | 27 | 14 |
| Tyler Cravy | 15.2 | 0-3 | 4.02 | .220 | 17 | 9 |
| David Goforth | 15.2 | 1-0 | 3.45 | .328 | 15 | 6 |
| Corey Knebel | 12.0 | 0-0 | 2.25 | .244 | 15 | 3 |
| Jorge Lopez | 10.0 | 1-1 | 5.40 | .350 | 10 | 5 |
| Tyler Wagner | 10.0 | 0-2 | 5.40 | .333 | 3 | 6 |
| Yhonathan Barrios | 6.2 | 0-0 | 0.00 | .136 | 7 | 0 |
| Adrian Houser | 2.0 | 0-0 | 0.00 | .167 | 0 | 2 |
Batters
| | | | | | | |
| --- | --- | --- | --- | --- | --- | --- |
| NAME | AB | AVG | OBP | SLG | HR | RBI |
| Domingo Santana | 94 | .245 | .360 | .383 | 3 | 14 |
| Hernan Perez | 76 | .263 | .269 | .316 | 0 | 11 |
| Jason Rogers | 46 | .435 | .500 | .630 | 2 | 9 |
| Shane Peterson | 45 | .244 | .320 | .422 | 2 | 5 |
| Nevin Ashley | 20 | .100 | .143 | .150 | 0 | 1 |
| Yadiel Rivera | 14 | .071 | .071 | .071 | 0 | 0 |
| Michael Ree | 7 | .000 | .000 | .000 | 0 | 0 |
Follow James Carlton on Twitter