Spanish Tour de France hopeful suffers blow with crash during opening stage of race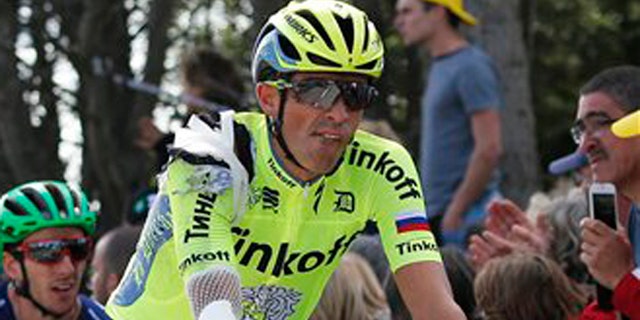 NEWYou can now listen to Fox News articles!
SAINTE-MARIE-DU-MONT, France (AP) – With his biological clock ticking, Alberto Contador had made the Tour de France his main goal of the season.
But his quest for a third Tour title immediately suffered a serious blow on Saturday when the Spaniard crashed during the opening stage of the three-week race.
The 33-year-old Contador hit a traffic curb while coming around a right turn with about 80 kilometers (50 miles) left in the first stage between Mont-Saint-Michel and Utah Beach in Normandy. The stage was won by Mark Cavendish following a sprint marred by a crash.
"This was not the best way to start. In theory it was a quiet day," Contador said. "I'm bruised all down along my right side from my ankle up but at least I don't have to go home. Hopefully I can get through the coming days and recover before the mountains. There are some positions where my shoulder gives me some doubts but I want to be optimistic and recover."
Contador, who won cycling's showpiece race in 2007 and 2009, skipped the Giro this year to focus on the Tour. He won the Italian race last year but his efforts took a toll on the seven-time Grand Tour winner and he struggled in the heat of the French summer.
After the crash, Contador got back on his bike with a ripped jersey and scrapes on his right shoulder. He later changed his bike and quickly made it to the back of the peloton with the help of his teammates.
"I came into the corner, there was a traffic island and my front wheel hit it and then I fell back on the curb," he said.
Contador then had to replace one of his shoes and dropped back to the race doctor's car to have his shoulder bandaged. He was awarded the same time as his main rivals after an ugly crash in the final stretch split the peloton.
"He has some abrasion on his right shoulder, elbow, and groin," race doctor Paul-Henri Jost said, adding that Contador took a small dose of painkillers. "At first glance, this is no big deal."
Contador, who was stripped of the 2010 Tour title and was suspended for two years after testing positive for the banned steroid clenbuterol in the final week of the race that year, was among the three main favorites alongside defending champion Chris Froome and Colombian climber Nairo Quintana.
Tinkoff sports director Steven de Jongh gave reassuring news regarding his team leader's condition but it remains to be seen how he will recover in the coming days.
"It's very unfortunate of course," De Jongh said. "(Brent) Bookwalter crashed in front of him and took Alberto out. The first signs are good, he said he was fine. When you crash you get back on bike and don't feel pain, but then after the stage you might be in trouble. But hopefully he'll be fine."
Team Sky's Luke Rowe was among those who went down with Contador and he was also able to return to the race, joining the pack with bottles for his teammates.
The first week of the Tour is usually nervous and marred with crashes. In 2011, Contador crashed four times in the opening nine stages, damaging one of his knees.