South Carolina State basketball player has terrifying collapse on the court
A South Carolina State basketball player collapsed on the court in a terrifying scene and was taken to a hospital during the first half of the Bulldogs' 103-71 loss at North Carolina State on Saturday.
A spokeswoman for Rex Hospital told the Associated Press that Tyvoris Solomon was in fair condition as of Saturday night.
Emergency medical personnel administered chest compressions before Solomon was transported off the court on a stretcher.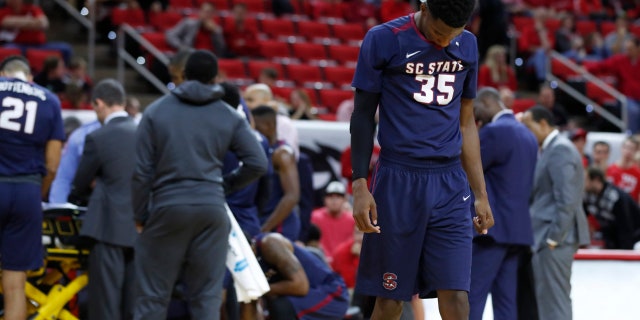 Solomon collapsed near the bench at the 13:08 mark of the game, causing the arena to fall silent. Cries rang out from people around the Bulldogs' bench as staff members fanned Solomon with a jacket.
Solomon, a 5-foot-10 senior guard, started the game and checked out at the 16:02 mark.
The game resumed after a 40-minute delay. Team spokesman Kendrick Lewis said S.C. State coach Murray Garvin went with Solomon to the hospital. Assistant Rio Pitt led the team for the remainder of the game.
"He's conscious, and he was talking some," Pitt said.
Once they knew that Solomon was conscious and able to speak, S.C. State's players decided to keep playing.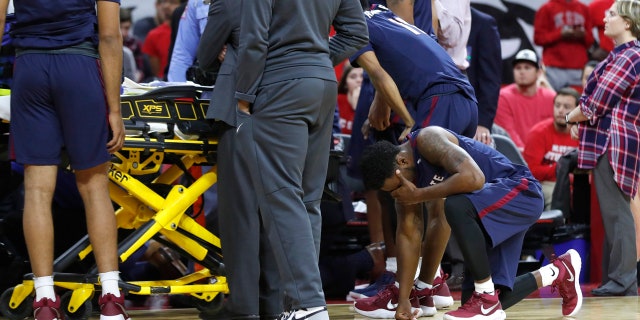 "They said they would do what Ty would do, and Ty would tell us to go out there and play," Pitt said. "That was the response the guys gave us. We let them decide."
Pitt declined to provide any details about the moments leading to Solomon's collapse, and S.C. State players were unavailable for comment.
Bulldogs coach Garvin thanked people for their "support and prayers."
"It puts everything else in perspective," N.C. State coach Kevin Keatts said. "At that moment, basketball is not important."
Players and coaches from both teams looked on with concern as Solomon received medical attention. Pitt said Garvin dropped to his knees in prayer.
The Associated Press contributed to this report.