Sources: Jaguars to stick with Gus Bradley no matter result in London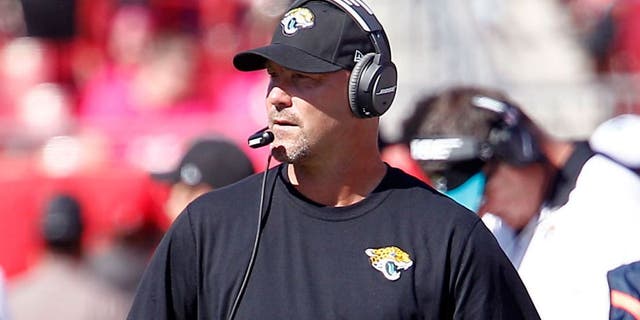 NEWYou can now listen to Fox News articles!
In the past 12 months, two head coaches have gotten fired immediately following a loss in London.
Gus Bradley won't be the third.
FOXSports.com has learned that Jacksonville Jaguars ownership plans to stick with Bradley regardless of how the franchise fares Sunday against Buffalo at Wembley Stadium.
Bradley's job security has come into question in the media and among disgruntled Jaguars fan following the team's 1-5 start. Jacksonville is 8-30 overall since Bradley was hired in 2013.
Jaguars management, though, is well aware that Bradley and general manager David Caldwell inherited a dilapidated roster needing a massive overhaul that is still ongoing. Bradley, too, continues to maintain strong support among Jaguars players even through what has now become a four-game losing streak following last Sunday's home defeat to Houston.
The Jaguars are hoping the team can rebound in the second half of the season as players return from injuries and quarterback Blake Bortles continues to develop in his second NFL season.
Miami Dolphins head coach Joe Philbin was fired following his team's loss to the New York Jets earlier this month in London. Oakland head coach Dennis Allen suffered the same fate in 2014 after the Raiders were routed by Miami.