Sources: DeJesus claimed on waivers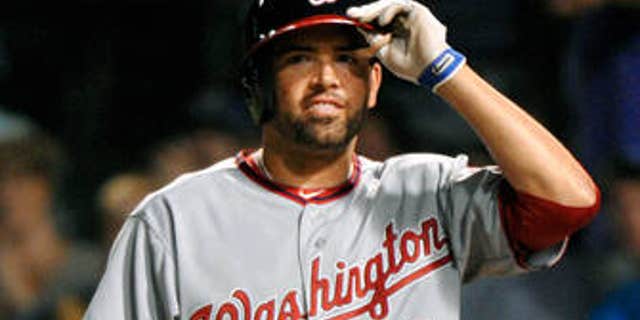 Do the Washington Nationals truly want David DeJesus? We're about to find out.
DeJesus has been claimed on revocable trade waivers by an unspecified team, giving the Nats the chance to escape the approximately $2.5 million left on his contract, according to major-league sources.
The deadline for a resolution on DeJesus is 1 p.m. ET on Friday. A player who is claimed can be traded to the claiming team, dumped on that club or pulled back.
The DeJesus saga began Monday when the Nats acquired him from the Chicago Cubs, then almost immediately put him back on waivers, sources said.
DeJesus, 33, is owed just over $1 million for the rest of the season, and the Nats inherited his $6.5 million club option or $1.5 million buyout for 2014.
Rival executives, after seeing that DeJesus was back on waivers, speculated that the Nats wanted to clear his money.
The Cubs declined to pull back DeJesus after the Nationals claimed him on waivers, leading to the trade, sources said.
The Nats are set in their outfield with Bryce Harper, Denard Span and Jayson Werth. To clear room for DeJesus, they released outfielder Roger Bernadina.
Nats general manager Mike Rizzo told the Washington Post that he wanted DeJesus to improve the team's bench.
"(DeJesus) improves our left-handed side of the bench immediately," Rizzo said. "He's also a guy that is capable of being an everyday player. He can step in there for extended periods of time if there are injuries. He helps us in a variety of ways.
"He's really wearing out right-handed pitching right now. He's a high on-base percentage guy in his career. A consummate professional hitter."
DeJesus, who missed more than a month earlier this season with a right shoulder sprain, is a career .279 hitter with a .354 on-base percentage and .771 OPS. He batted .250 with a .732 OPS and six homers in 284 at-bats for the Cubs.
The Nationals will learn Wednesday if DeJesus cleared waivers. The Cubs will be interested in re-signing DeJesus if the Nationals or another team that acquires him declines his club option, sources said.