Soccer: Lionel Messi Magic, Sergio Aguero & Carlos Tevez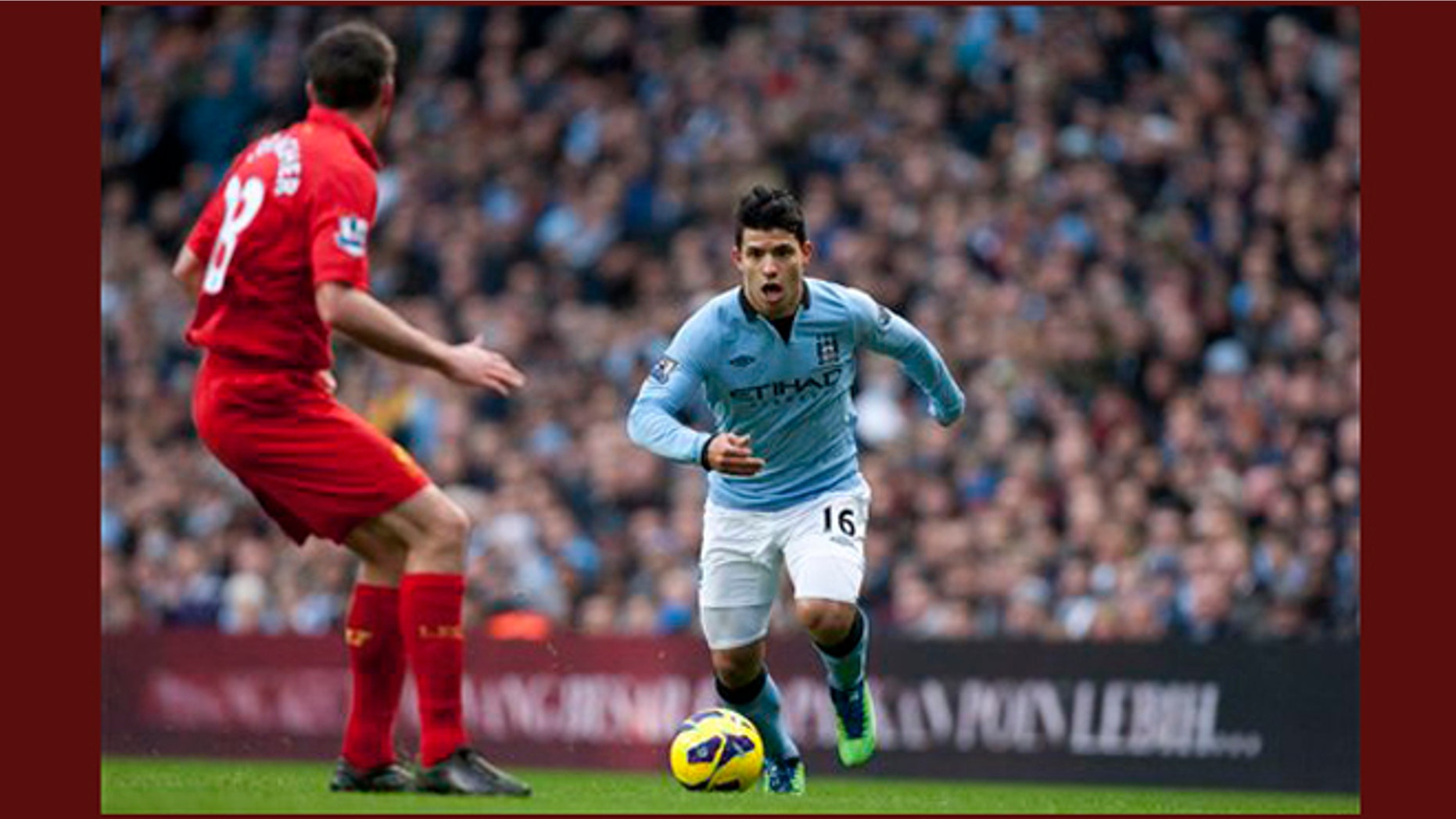 Another game, another milestone for the fabulous Lionel Messi – actually, make that several more milestones.
Messi struck twice in Barcelona's 2-1 comeback win at Granada on Saturday.
Let's go through what the Argentine superstar accomplished in La Liga encounter.
He bagged a brace, the equalizer and the game-winner for the hosts, extending his goal-scoring streak a league-record 14 consecutive games and his season league total to 37 tallies and 48 in all competitions. The only two teams that have not surrendered a goal to Messi are Sevilla and Celta.
He became the first player in Spanish soccer history to score in 12 road matches in the same season and only the second player to score more than 20 goals away from home. The first player? Real Madrid's Cristiano Ronaldo.
He broke the 300-goal barrier for Barca. He now has 301 goals in 365 appearances (for the record, Messi has 206 goals in La Liga, 56 in the UEFA Champions League, 24 in Copa del Rey, 10 in the Spanish Super Cup, four in the Club World Cup and one in the European Super Cup). And he now can boast he has scored in all 20 stadiums in the Spanish top flight.
Not that Messi will do any boasting. The four-time FIFA World Player of the Year lets his talented right and left feet do his talking, leaving the comments of astonishment and superlatives to his teammates and coach.
"Over 300 goals. It's extraordinary what Messi does," Barca assistant coach Jordi Roura said.
"Playing next to Messi gives you a lot of tranquility," Brazilian defender Dani Alves said. "It makes it easier to get things done."
"He improves on a daily basis," defensive midfielder Sergio Busquets said. "He's the best in the world."
Added defender-midfielder Jordi Alba: "301 goals for Messi ... whatever anyone says will come up short."
Messi hit goal No. 300 in the 50th minute as he put home a rebound of a Cesc Fabregas shot past goakeeper Tono after Odion Jude Ighalo scored for the hosts in the 25th minute. It did not take long for the striker to strike for No. 301 as he scored off a superb free kick in the 73rd minute. Messi came close to finishing with a hat-trick, but Tono denied him that honor in a 1 vs. 1 situation late in the match.
Barcelona (21-1-2, 65 points) retained a 12-point lead over Atletico Madrid (17-5-2, 53), which recorded a 3-0 road triumph at Real Valladolid.
Messi and Barca next will be in action at A.C. Milan in the first leg of a round of 16 UEFA Champions League match on Wednesday.
SPAIN
Radamel Falcao, Cristian Rodriguez
Falcao, a Colombian sharp-shooter, struck in the 11th minute and his Uruguayan teammate and midfielder added an insurance goal in the 90th minute in its 3-0 road win at Real Valladolid.
Sergio Ramos
Within a six-minute span in the first half, the Real Madrid captain experienced ecstasy and agony for his team in its 2-0 victory over cross-town rival Rayo Vallecano. The Spaniard scored off a header in the 12th minute, but was slapped with two yellow cards -- the second was for a handball – during a two-minute span and was sent off in the 18th minute. It was the 17th time in Ramos' career that he was sent off. Alvaro Morata tallied in the third minute. Third-place Real (15-5-4, 49) still trails Barca by 16 points.
Carlos Vela
The Mexican forward continued his hot scoring for 10-man Real Sociedad, which had to settle for a 1-1 home draw with Levante. Vela converted a penalty kick in the 18th minute. He has 10 goals this season, tied for ninth place in the league.
Giovani dos Santos
Dos Santos, a Mexican international, was a constant threat for Mallorca thanks to his speed, but he could not score or coax any goals out of his teammates in a 2-0 away loss to Valencia.
Javier Saviola, Willy Caballero
The former Argentine great demonstrated he still has some kick left in his legs, connecting for the lone goal, his seventh of the season, in the 18th minute of Malaga's 1-0 home victory over Athletic Bilboa. Brazilian Lucas Piazon set up the goal, dribbling to the end line before he pulled the ball back for the South American. Saviola's countryman, Caballero, was just as vital in goal, making several big saves to preserve the shutout as Malaga prepared for its Tuesday confrontation against Porto in the Champions League. Caballero almost started a goal-scoring sequence later in the match as he punched the ball out of harm's way to begin a counterattack that Joaquin shot just wide of the post.
Federico Fernandez, Augusto Fernandez
A pair of Fernandez's from Argentina scored for either side of Getafe's 3-1 home win over Celta Vigo. Midfielder Augusto Fernandez tallied in the 20th minute to lift Celta into a 1-1 deadlock. Federico Fernandez, a central defender, added an insurance goal in the 42nd minute after Diego Castro put in the winner eight minutes prior.
ENGLAND
Luis Suarez, Jose Enrique
Suarez was the man of the match for Liverpool in its 5-0 romp over Swansea City in the round of 16 of the F.A. Cup. The Uruguayan standout played an inspired match, scoring one goal, creating another and getting fouled in the penalty area to set up a third. Kenny Agustien fouled him in the box, resulting in Steve Gerrard's penalty kick in the 34th minute. In the opening minute of the second half, he created Philippe Coutinho's goal for a 2-0 advantage. After Enrique, a Spaniard, tallied in the 50th minute, Suarez himself found the back of the net six minutes later.
Sergio Aguero, Carlos Tevez
Aguero inspired Manchester City to a rather easy 4-0 victory over Leeds United in the F.A. Cup, The Argentine star scored twice -- in the 14th and 74th minutes -- his countryman, Tevez, added a goal in the 52nd minute.
Juan Mata
Mata scored one goal and set up another as Chelsea thrashed Brentford, 4-0, in its F.A. Cup fourth-round replay at Stamford Bridge. The Spanish midfielder gave the hosts all the scoring they needed as he fired home a 20-yard shot in the 54th minute. His cross also set up Frank Lampard's goal for a 3-0 advantage in the 71st.
ITALY
Mauro Formica
The Argentine midfielder scored five minutes into the match, but his Chievo Verona teammates could not hold off Palermo in a 1-1 draw. Cyril Thereau converted a penalty in the 55th minute.
Gabriel Paletta
Paletta, an Argentine central defender, endured the embarrassment of scoring an own goal for A.C. Milan in its 2-1 home victory over his Parma team. Paletta knocked the ball into his own net in the 39th minute to give Milan a 1-0 lead. Mario Balotelli added a second goal in the 78th before Nicola Sansone pulled one back for Parma three minutes into stoppage.
German Denis
Denis, an Argentinean, converted a penalty in the 75th minute, but it wasn't enough for visiting Atalanta Bergamo in its 2-1 defeat to Torino. Denis tied things up, but Valter Birsa scored the winner for the hosts three minutes from time.
Sergio Almiron
The Argentine midfielder scored the lone goal of the matc in the 42nd minute and Catania made sure it held up en route to a 1-0 home triumph over Bologna.
FRANCE
Emanuel Herrera
Some 35 minutes into the match, the Argentine striker gave Montpellier all the scoring it needed in its 1-0 home win over AS Nancy.
Guillermo Ochoa
The Mexican goalkeeper produced three saves to help AC Ajaccio to a 1-1 tie at Stade Brest in French Ligue 1 action. Florian Raspentino beat Ochoa in the 12th minute before Ajaccio's Dennis Oliech tallied in the 70th minute before a crowd of 12,067. Last week Ochoa earned honors on L'Equipe's team of the week for his stellar performance in Ajaccio's 1-0 home win over Bordeaux.
GERMANY
Gonzalo Castro
A German of Spanish descent, Castro set up Bayer Leverkusen's first goal off its 2-1 win over Augsburg, the team's first victory in four games. Stefan Kiessling headed home Castro's 26th-minute free kick for his 15th goal.
PORTUGAL
Jackson Martinez
The Colombian star closed out FC Porto's 2-0 away triumph at Beira Mar with a 73rd -minute goal.