Six Points: Steelers vs. Rams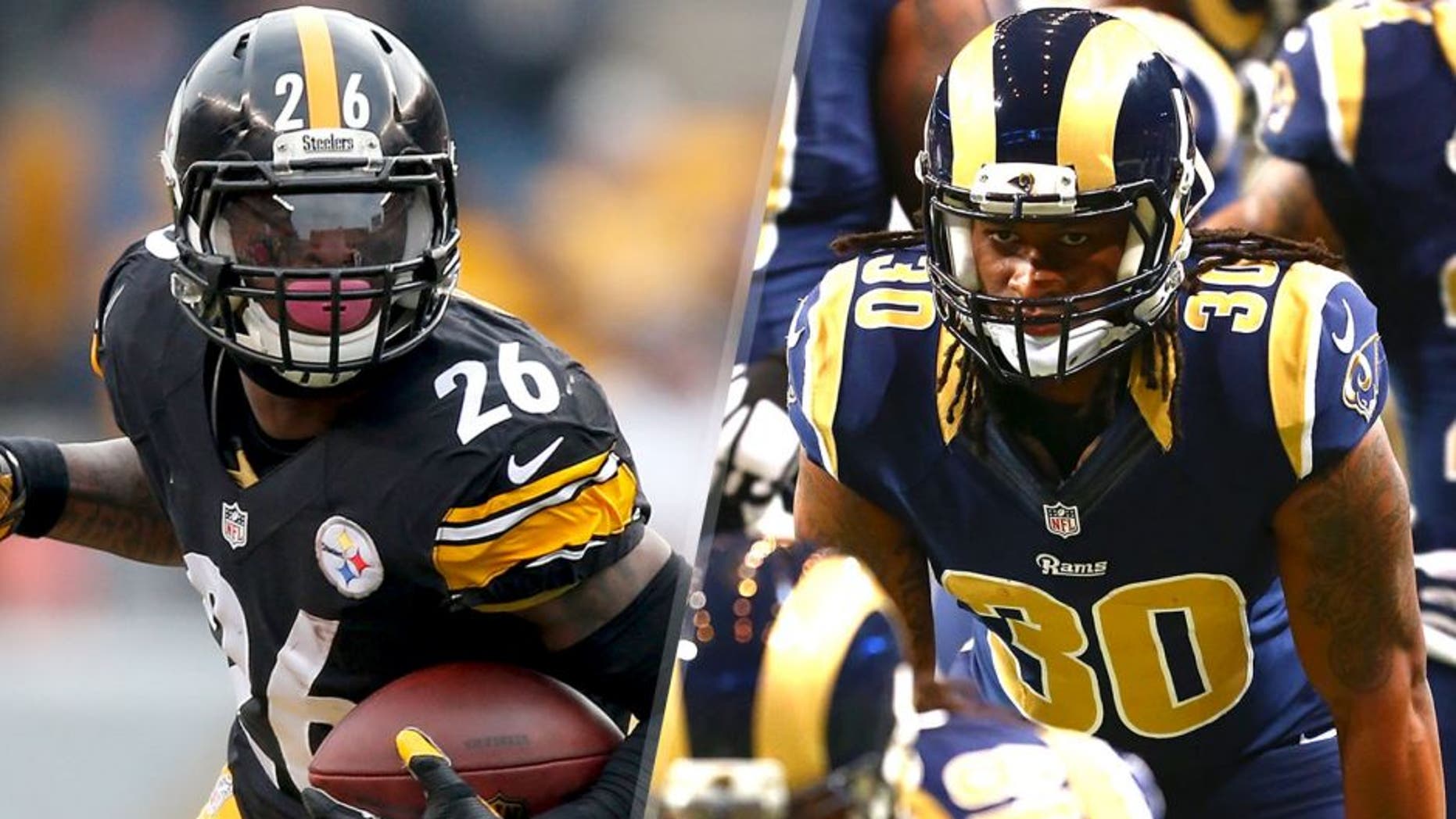 The Pittsburgh Steelers (1-1) get a familiar face back in the fold, while the St. Louis Rams (1-1) hope to see their franchise back make his NFL debut.
Ben Roethlisberger & Co. hung 43 points on the scoreboard in Week 2, all without the services of do-it-all back Le'Veon Bell (suspension). In particular, Big Ben connected with Antonio Brown for nine receptions and 195 yards.
The Rams, meanwhile, struggled on both sides of the ball against the Redskins. But they could return dynamic running back Todd Gurley, who has been recovering from ACL surgery in November.
Here are three keys to the game for both the Steelers and Rams.
Can you beat the Crowd's Line? Submit your final score prediction below. Good luck!
STEELERS
1. Get Le'Veon Bell to the edge
The Redskins gashed the Rams for 182 yards on the ground last week, mainly by running away from ferocious defensive tackle Aaron Donald. Look for the Steelers to use their bread and butter counter runs to trap Donald and seal the edge for Bell in his first game back.
2. Mark Tavon Austin
The Steelers gave up a ton of big plays last season and the trend has continued two games into 2015. If there is one player on the Rams roster that can break one, it's Austin. The smallish receiver does most of his damage as a returner and in the run game, but the Steelers must keep a close eye whenever he is on the field.
3. Don't come away empty-handed
Veteran kicker Josh Scobee has struggled mightily in his first two games with Pittsburgh, missing two field goals and a PAT. The Steelers will need points every time they are in scoring territory, and the kicker-friendly confines of the Edward Jones Dome should help Scobee get his confidence back.
RAMS
1. Prevent the big play
The Steelers capitalized on plenty of big plays in Week 2 en route to putting up 43 points on the 49ers. Roethlisberger connected with his receivers on six plays of 20 or more yards. Pittsburgh is averaging 350 yards through the air in two games, so it's not a coincidence their passing attack is their bread and butter.
2. Establish offensive rhythm
Sustaining drives have been an issue for the Rams through two weeks. Growing pains were expected incorporating a new quarterback and new pieces along the offensive line. But keeping the chains moving in turn keeps their own defense off the field, something that has played a key factor in team's success thus far.
3. Attack Steelers secondary
If there's any area of weakness in the Steelers' defense, this is it. Both the Patriots and 49ers had considerable success through the air, racking up 288 and 335 yards, respectively. Nick Foles has a number of weapons on the outside he can use to exploit the Steelers on the backend.