Six Points: Raiders at Browns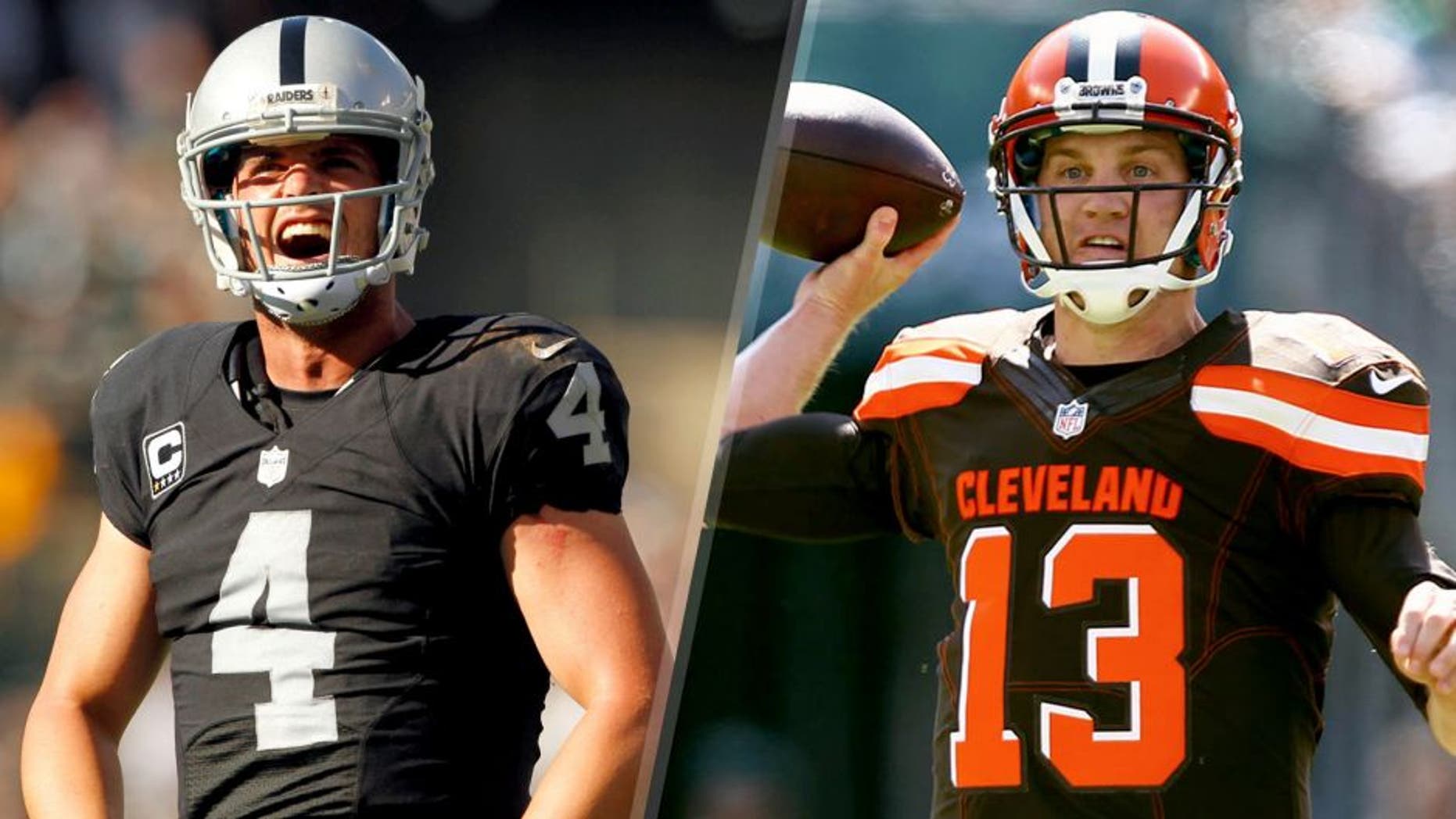 The Cleveland Browns are reverting to their original starting quarterback this Sunday, meaning Johnny Manziel will be watching from the sidelines when Josh McCown takes the field for the first time since suffering a concussion on his first drive of the season.
The Browns (1-1) will welcome Derek Carr and the Oakland Raiders (1-1), who are coming off an emotional comeback win over the Baltimore Ravens. Carr, selected 14 picks after Manziel in the 2014 draft, rallied his offense down the field with two minutes remaining for the game-winning drive last Sunday. Oakland will be facing its third straight AFC North opponent, having dropped a 33-13 home decision to Cincinnati in Week 1.
Here are three keys to the game for both the Raiders and Browns.
Can you beat the Crowd's Line? Submit your final score prediction below. Good luck!
RAIDERS:
1. Blitz the linebacker that would've spied Manziel
Defensive coordinator Ken Norton Jr. won't have to account for the dazzling mobility of one Mr. Football this week; he's back on the Browns bench. That could -- and should -- free him to dial up heavier blitz on a not-so-mobile Josh McCown. The Raiders haven't tallied a single sack this season -- and that might change come Sunday.
2. Don't let Travis Benjamin separate deep
Manziel's favorite target through two weeks isn't the world's most polished route runner. But Travis Benjamin (34.0 yards per catch) does one thing well -- run fast in a straight line. Oakland's banged-up secondary better be ready for plenty of fly and fade routes.
3. Look Michael Crabtree's way a little
Derek Carr wasn't afraid to hurl the ball deep against Baltimore's so-so secondary last weekend. He'll have no such luck if he wants to try the same on a player of Joe Haden's caliber. If Cleveland's other No. 23 wants to follow Amari Cooper around, it might be best to test other corners covering Crabtree, his second option.
BROWNS:
1. Let McCown clear the cobwebs early
Offensive coordinator John DeFilippo should try to get McCown into a rhythm right off the bat with some quick hitters and a bootleg or two, especially with Oakland's secondary in disarray. Heck, maybe he can even throw a few passes to Dwayne Bowe, who has played just eight snaps this season with zero catches.
2. Hang with Mr. Cooper
Either Donte Whitner or Tashaun Gipson should keep an eye on Cooper at all times. Crabtree isn't going to beat any anyone deep the way Cooper burned Ravens corner Jimmy Smith last week for a 68-yard touchdown. Regardless of how good Joe Haden is in coverage, he shouldn't be left alone to cover Cooper by himself.
3. Get speed into space
Now that Benjamin has established himself as a viable deep threat with three long touchdowns in three games, the Browns should let him stretch the field all day. That will open up space underneath for the likes of Andrew Hawkins and Duke Johnson and force the Raiders defense to pick their poison.