Singer Carrie Underwood trolls Predators' Johansen over a kiss (of a stick)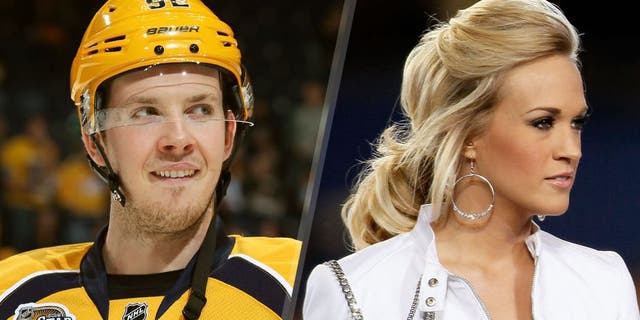 Country music star Carrie Underwood had a little fun over social media recently at the expense of Nashville Predators forward Ryan Johansen.
Underwood, who is married to Predators veteran Mike Fisher, gave Johansen the business after the 23-year-old player was seen kissing his hockey stick during Friday's game against the Tampa Bay Lightning. The seven-time Grammy Award winner wasn't about to let that public display of affection go by the boards as Underwood took to Twitter and set Johansen's kiss to four separate three-second music clips.
The former American Idol was direct in pairing Color Me Badd's ditty of "I Wanna Sex You Up" with Johansen's display before taking a classier route with Sixpence None The Richer's "Kiss Me." Whitney Houston's "I'm Your Baby Tonight" followed before Underwood finished her trolling with Prince's "Kiss" - complete with emojis in tow.
Johansen fired back on social media with what best could be described as a comedic kiss off. How did he do that? Well, the new Predator puckered up with Fisher in front of a poster of Underwood.
Your move, Carrie.