Shootout helps Hawks, hurt Coyotes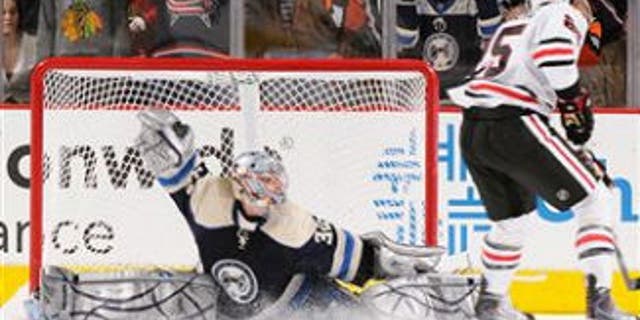 There's an extra point available every time a game goes to a shootout. On Friday night, the Chicago Blackhawks got it. The Phoenix Coyotes didn't.
The eighth-place Hawks blew a 2-0 lead, forced overtime with a late goal and got the only goal in the tiebreaker to win 4-3 at Columbus. Phoenix, fourth in the West, was just the opposite: The Coyotes trailed 2-0, led 3-2, allowed a late goal and lost 4-3 to Colorado in a shootout, leaving a valuable point on the table against the 14th-place team in the conference.
In the East, Philadelphia's drive to clinch the Atlantic Division and Eastern Conference titles hit another roadblock when the Flyers lost 4-2 at New Jersey.
Here's a look at how the races in each conference shape up after Friday night's games:
Eastern Conference
Division leaders
Philadelphia (102 points after Friday's 4-2 loss at New Jersey) lost for the second time in as many nights thanks to a hat trick by Devils forward Patrik Elias. The Flyers, who've been tops in the East for most of 2011, could find themselves owning the No. 2 seed when they step onto the ice for their next game, Sunday afternoon at home against the New York Rangers.
Washington (101 points) got good news at an off-day practice when All-Star defenseman Mike Green was able to take part for an hour and said he wasn't feeling any concussion-related effects. He hopes to play before the end of the season, though he's unlikely to be in the lineup when Buffalo comes to the Verizon Center on Saturday (NHL Network-US, 7 p.m. ET). A win will put the Caps into the top spot in the East.
Boston (97 points) needs one point in Saturday afternoon's game against Atlanta to wrap up the Northeast Division title and no worse than a third seed. The good news: The Bruins have won the last seven meetings between the teams at TD Garden.
The next five:
Pittsburgh (98 points) had the day off between games at Tampa Bay and Florida. Sidney Crosby skated again at practice but still has not been cleared for contact.
Tampa Bay (95 points) pays its first visit to Minnesota since Nov. 28, 2008, for an afternoon contest on Saturday. The Lightning have won just once in five previous trips to the Xcel Energy Center.
Montreal (89 points) plays the first of its four games in April at New Jersey on Saturday. Playing three of their last four on the road will make getting to the playoffs a challenge -- Montreal is 23-11-6 at the Bell Centre, but just 18-19-1 away from home. The Habs figure to see Montreal native Martin Brodeur in goal for the Devils.
Buffalo (87 points) practiced at HSBC Arena before flying to Washington for Saturday's game against the Caps. Goaltender Ryan Miller, who missed Wednesday's game against the Rangers with an upper-body injury, didn't practice and is still listed as day-to-day. Forward Jochen Hecht (upper body) is also out and Mike Grier (knee) is unlikely to play.
New York Rangers (87 points) didn't practice Friday but did sent Norwegian forward Mats Zuccarello back to Connecticut of the AHL. The Rangers, losers of their last two, are off until Sunday afternoon's visit to Philadelphia (12:30 p.m. ET, NBC, TSN).
On the outside looking in:
Carolina (84 points) faces its biggest weekend of the season. The 'Canes visit Long Island on Saturday, but have to resist the temptation to look past the Islanders with Buffalo coming to the RBC Center on Sunday.
Toronto (82 points) has to win at Ottawa on Saturday to keep its flickering hopes alive.
Western Conference
Division leaders:
Vancouver (113 points) has four more tune-ups, beginning Saturday against Edmonton, before the playoffs begin. Injured defensemen Alex Edler and Andrew Alberts both skated at Friday's practice and hope to play before the regular season ends.
San Jose (99 points) hosts Anaheim on Saturday night in what could be a first-round playoff matchup. Sharks captain Joe Thornton enters the game three points shy of 1,000 for his career.
Detroit (98 points) still won't have Pavel Datsyuk when it visits Nashville on Saturday. He'll miss his seventh game in a row with a lower-body injury. However, center Mike Modano will be in the lineup -- he practiced Friday after sitting Thursday with a sore groin.
The next five:
Phoenix (96 points after Friday's 4-3 home shootout loss to Colorado) overcame a 2-0 deficit to take a 3-2 lead, only to give it up and lose in a tiebreaker. The Coyotes picked up one point, but have played one more game than Nashville and two more than Los Angeles. They haven't clinched a playoff spot and can only sit and watch until they play again Wednesday night in L.A.
Los Angeles (94 points) shook up its lines at practice on Friday after failing to get a third-period shot in Thursday's 3-1 loss at Vancouver. The Kings are 2-1-0 since Anze Kopitar joined Justin Williams on the injured list, but coach Terry Murray is looking for more offense for Saturday afternoon's game against Dallas at Staples Center.
Nashville (94 points) has a chance to get within two points of first-place Detroit in the Central Division if it can beat the Wings on Saturday afternoon at Bridgestone Arena. The Predators have won their last four against the Wings; they've never beaten Detroit five times in a row.
Anaheim (93 points) has the NHL Player of the Month for March in forward Corey Perry, who had 15 goals and 21 points in 14 games. Perry leads the NHL with 46 goals. The Ducks hope to have 33-goal scorer Bobby Ryan available for Saturday's game at San Jose -- he didn't make it all the way through Friday's practice due to a sore knee following a knee-on-knee hit from Calgary's Mark Giordano at the end of Wednesday's 4-2 win.
Chicago (92 points after Friday's 4-3 shootout win at Columbus) took a big step toward securing a playoff berth when Victor Stalberg scored the only goal of the shootout and Corey Crawford stopped all three Columbus shooters. The Hawks led 2-0, fell behind 3-2 late in the third period, but tied it when Brian Bickell scored with 5:03 left in regulation.
On the outside looking in:
Calgary (89 points after Friday's 3-2 win at St. Louis) stayed alive thanks to captain Jarome Iginla, who reached the 1,000-point mark by scoring his second goal of the night with 5:03 remaining, capping the Flames' comeback from a 2-0 deficit. Calgary finished its road schedule, but has only two more games remaining, against Edmonton and Vancouver at home.
Dallas (87 points) desperately needs points from this weekend's swing through Southern California, beginning Saturday at Los Angeles. The Stars have lost the first three of a five-game road trip.