Sharks not living off past series win over Wings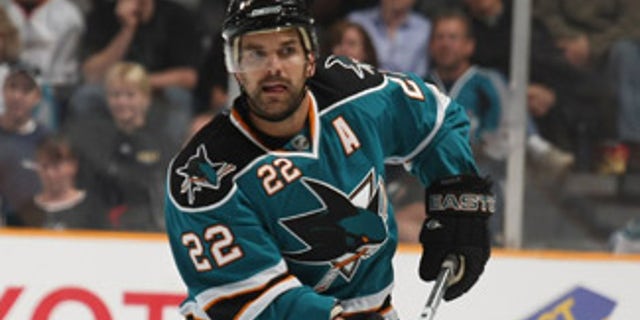 SAN JOSE, Calif. -- Entering last year's conference semifinals, the Sharks were flooded with questions about facing the mighty Detroit Red Wings, a franchise that seemed to have the mental edge in previous playoff matchups.
The Sharks got that monkey of their backs in style, vanquishing the two-time defending Western Conference champions in five games.
Entering Friday night's Game 1 against the Red Wings in this year's conference semifinals, the Sharks are once again being flooded with one question, only it has a far different tenor: Does last season's playoff victory against the Red Wings give the Sharks the mental edge in this series?
"I figured that was going to be the question that was asked the most," Sharks defenseman Dan Boyle said. "It hasn't disappointed."
That's how quickly things can change.
"I think mentally, if you're ever down in a series, it's in the back of your mind that you have beat them before," forward Devin Setoguchi said. "You've been in these situations and there's definitely that belief that we can win."
There aren't many changes in terms of personnel one year later -- perhaps Antti Niemi replacing Evgeni Nabokov as the Sharks goaltender is the most notable -- but Sharks coach Todd McLellan doesn't think his team's success last season will have much of a bearing on what happens this season.
"I do know is that it's very important for our team to separate last year from this year," McLellan said. "If we keep referencing it, it will come back to bite us. There are a lot of differences between the two series and we want to be very, very careful about bringing last year into the mix this year."
The biggest difference can be found in Detroit's locker room, and it has nothing to do with players and everything to do with rest and experience.
The Red Wings entered last year's postseason on the heels of making two straight trips the Stanley Cup Final and needed seven games to beat the Phoenix Coyotes before facing San Jose. The Red Wings finished their sweep of Phoenix this season on April 20, giving them more than a week's worth of much-needed rest.
Henrik Zetterberg (knee) and Johan Franzen (ankle) are 100-percent healthy after Zetterberg missed the entire series against the Coyotes and Franzen was forced to sit for Game 4. Sometimes coaches aren't fans of an extended layoff during the playoffs, but Mike Babcock doesn't believe there is such a thing as too much rest.
"I would take the time off any day over getting beat up and more injured," Babcock said. "This way we got a situation that we needed and it worked out perfect for us."
Throw in the fact that Jimmy Howard, Darren Helm and Justin Abdelkader all have a second full NHL season under their belts, and the Red Wings are icing a far more formidable opponent this time around.
"Our young guys have had to contribute more throughout the year, and they've done that," defenseman Brian Rafalski said. "I think they're ready to be a bigger factor this year than they were last year."
And the Sharks know it.
"These guys are hungry and ready for us," Setoguchi said. "They've been sitting there for the last week watching us play. They're going to be prepared and we need to make sure we're ready as well."
For all the familiarity these teams have with one another, Boyle put his feelings about what their histories will mean when they take the ice at HP Pavilion on Friday night into almost philosophical terms.
"The past is the past, man," Boyle said. "It's out the window."
Follow Dave Lozo on Twitter: @DaveLozo