Sharks need top line to start contributing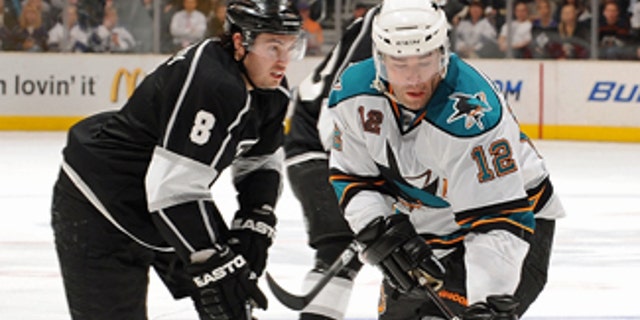 SAN JOSE, Calif. -- Seventy-two players had scored at least one goal and 146 had recorded at least one Stanley Cup playoff point this year through Sunday's games.
You won't find San Jose Sharks center Joe Thornton or Patrick Marleau on that list. Two games into the playoffs, the Sharks' two biggest guns are averaging a Blutarsky -- 0.00 -- for goals, assists and, of course, points.
Thornton's No. 1 line, which includes Devin Setoguchi, has yet to notch a point. Then there's All-Star defenseman Dan Boyle, who's still looking for his first playoff point entering Tuesday night's Game 3 against the Los Angeles Kings at Staples Center. Of the Sharks' big-name players, only Dany Heatley has recorded a point, scoring a goal 28 seconds into San Jose's overtime win in Game 1.
No one in teal is panicking -- not even after Saturday's 4-0 nightmare loss -- but it's hard to imagine the Sharks going very deep in the playoffs unless their top players lead the way and, in particular, their top line delivers some offense.
"At the end of the day, they have to produce," Sharks coach Todd McLellan said of the top line. "They have to get on the scoreboard. They have to find a way, and the power play is a great opportunity for them to do it. But we also have to stick with the game plan and a team plan, and they have to be part of it. We've proven that when they're not on the game sheet consistently we still have the ability to win games, so it's nothing new for us, especially the second half."
Marleau led the Sharks with 73 points this season, scoring a team-high 37 goals. Thornton finished second in points with 70 and had a team-high 49 assists.
"You've just got to keep playing the same way you've been playing all year, and I think good things will come," Thornton said. "But I think as far as points, you don't want to do things on your own. That's usually when breakdowns happen. So you just have to rely on your teammates and trust your instincts."
"You just got to stick with it," Marleau said. "You get your chances and you got to make the most of them. You got to work for those chances and just look forward to the next game and getting those and burying them."
History tells us that Marleau can break loose offensively in the playoffs, even after disappearing for a number of games. He leads the franchise in playoff goals (45) and points (75) and has played a team-high 108 postseason games. Last postseason, after a glacial start, he finished with 8 goals and 13 points, his fourth double-digit playoff total.
Thornton had 3 goals and 12 points last postseason, his third double-digit scoring output in the playoffs since coming to San Jose from Boston in 2005.
"We have to contribute any way we can, hitting and competing, getting pucks out, getting pucks in, blocking shots, scoring goals," Marleau said. "In all areas we have to be better as individuals and as a team."
Thornton and Marleau play huge roles in the Sharks' power play, which finished tied for second during the regular season at 23.5 percent with 68 goals in 289 opportunities. In the playoffs, however, San Jose is 0-for-7 on the power play, including an 0-for-5 performance in Game 2.
It was no surprise that McLellan spent much of Monday's practice concentrating on the power play, as well as some time on the penalty kill -- the Sharks allowed two shorthanded goals Saturday.
"Quite frankly, I'm more disappointed in our power play than I am our penalty kill," McLellan said. "Our power play has to be better. We spent a lot of time on that today. (The Kings) do a very good job, but it's also our group of players sometimes not executing or mishandling the puck in key situations. We'll see if we can adjust a little bit and go from there."
"We saw some video," Thornton said of the power play. "It wasn't flowing like it has in the past. The passing was just a little bit off. We didn't get shots through. So just kind of breaking things down so we could make adjustments."
The Sharks have killed just 66.7 percent of their penalties (6-for-9), but McLellan said he expects his players to take fewer penalties and be much more disciplined Tuesday night than they were in Game 2 when Ryane Clowe took two early penalties and Ben Eager one. The Kings cashed in the first two penalties, taking a 2-0 lead.
"If you're watching some of the other series you see the impact of penalties and the momentum on the game, the final score," McLellan said. "It played a huge role in Game 2 in our series and each of those penalties, the first three, were completely avoidable in my opinion. Sometimes you get involved in the game where you get tied up or twisted with players or something happens and you have to kill those, but when you can personally make a decision to avoid it, that's the decision we want made."
Defenseman Ian White, who adds valuable depth on special teams, appears ready to return Tuesday. He missed Game 2 after Kings center Jarret Stoll drove his head into the glass in the opener, earning a one-game suspension. White returned to practice on Monday.
"I thought he looked really good," McLellan said. "He looked sharp in the drills, bright, and executed well. I quickly skated by him after, he said he felt good. We'll see what the training staff thinks and then move forward."