Sharks lean toward playing Niemi in Game 4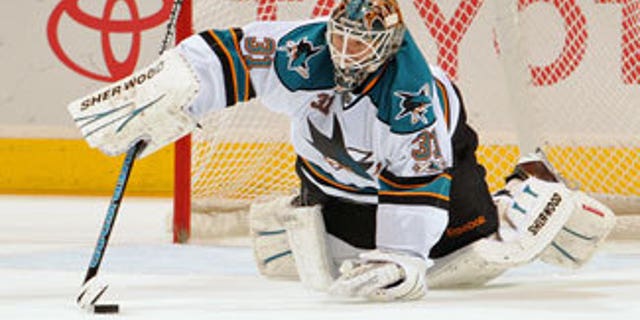 LOS ANGELES – Antti Niemi may get a chance to redeem himself with another start in goal for the San Jose Sharks.
Coach Todd McLellan said Wednesday he was "leaning towards" starting Niemi on Thursday night in Game 4 of the Western Conference quarterfinal series with the Los Angeles Kings at the Staples Center.
Niemi allowed four goals on 10 shots and was replaced by Antero Niittymaki 44 seconds into the second period in Tuesday's game. Niittymaki stopped 11 of 12 shots the rest of the way and the Sharks turned a 4-0 deficit into a 6-5 overtime win for a 2-1 lead in the series.
"We're confident in both of them," McLellan said. "When you look at Nemo's record when we pulled him (during regular-season play), which wasn't very often, he responded very well. If we go that route, which I think we're leaning towards, we expect him to be very good."
Neither goalie said he knew who would start Thursday after a team meeting at the Sharks' hotel, but Niittymaki assumed it would be Niemi, who played in 60 regular-season games and won all 16 games last year with Chicago when the Blackhawks won the Stanley Cup.
"I think Nemo's going to be the goalie," said Niittymaki, who before Tuesday's relief appearance played only twice since mid-January after suffering two lower body injuries.
Regardless of who plays, McLellan said Niittymaki's performance under difficult circumstances was a "rallying point" for the Sharks.
"Niitty has been very patient," he said. "He's worked extremely hard. He lost a lot of playing time because of a pair of injuries later in the year. At that point Nemo took over, so we weren't prepared to make many changes down the stretch.
"But I remember sitting with him one day and saying in playoffs we're likely going to need two (goalies) at some point. I give him a ton of credit for coming in and playing the way he did."
Niittymaki said the pressure was off because of the large deficit the Sharks faced.
"The pressure came when we tied the game," he said. "I went, 'Oh, now it's a new game.' It was fun to play. The building was loud and everybody was fired up."
Niittymaki smiled when asked if he could recall any particular save that might have made the difference.
"All of them," he said. "I haven't had too many saves lately, so I was just happy to make whatever."
Willie Mitchell beat Niemi with a shot from the left circle that dribbled off his glove at 2:26 of the first period, and Kyle Clifford followed by knocking in a bouncing puck 13 seconds later during a scramble in front.
"When you look at the first two goals they got, Nemo would really like to have that first one back," McLellan said. "The second one, a bouncing puck all over the place, I think we shot it into our own net, to tell you the truth."
Michal Handzus made it 3-0 with 1:38 left in the period after a Sharks turnover, and Brad Richardson scored 44 seconds into the second period after a Sharks giveaway, which finished Niemi for the night.