Sharks hope to have momentum after comeback win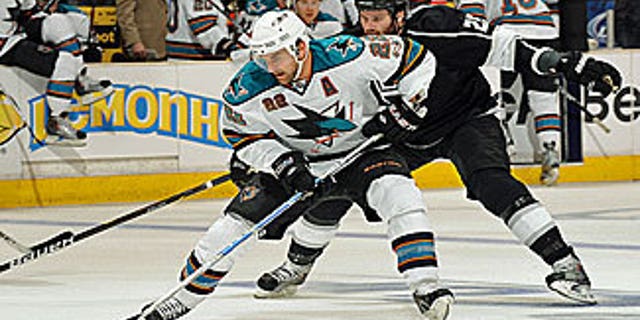 LOS ANGELES -- Devin Setoguchi slept well after finally getting to bed early Wednesday morning, a few hours after he completed the San Jose Sharks' remarkable 6-5 overtime win against the Los Angeles Kings in Game 3 of the Western Conference quarterfinal series.
"I was pretty tired so I went to bed around 1 o'clock and I just woke up a couple hours ago," he said a little before noon Wednesday following a team meeting at the Sharks hotel.
Setoguchi's goal at 3:09 of the extra period capped the Sharks comeback from a 4-0 deficit and gave the team a 2-1 series lead heading into Thursday night's contest at the Staples Center.
The Sharks became just the fourth team in playoff history to overcome a deficit of four or more goals -- the first since Minnesota rallied to beat Chicago 5-4 on April 28, 1985.
"It was obviously a pretty exciting game for everyone," said Setoguchi, who accepted a pass from Patrick Marleau on a 3-on-2 rush while driving down the slot and put a wrist shot past Kings goalie Jonathan Quick. "It was pretty emotional coming back from four goals. It's something that doesn't happen very often, especially in the playoffs. We worked hard and it feels pretty good."
Setoguchi, who had five game-winning goals in the regular season, said he watched replays of his heroics "a couple of times" on television after getting back to his room before getting some well-deserved rest.
"Patty gave me a great pass and I just tried to shoot as fast as I could," he said. "It was definitely a good feeling, but today you have to be a little humble. We'll get a little workout in today and start fresh."
As exciting as the comeback was for the Sharks, coach Todd McLellan made sure to point out to his players that a repeat performance isn't likely, and that the team can't afford to have an emotional letdown.
"Our group, when we woke up this morning felt pretty good about ourselves because of the comeback," McLellan said. "As a coaching staff we have to remind them that there are 21 minutes that were played earlier in the game when we weren't very good. There will be a balance between good and bad and there will be a very -- I don't want to say stern –reminder that an emotional letdown and a lack of professionalism will not allow us to advance in Game 4."
The Sharks didn't respond well in Game 2, a 4-0 loss, following their 3-2 overtime win in the series opener.
"Maybe in Game 2 we were riding a little bit high," Setoguchi said. "We got knocked down a peg or two there."
The Sharks have had two poor starts in a row. They fell behind 2-0 in the first period of Game 2 when the Kings got power-play goals from Jack Johnson and Drew Doughty.
They gave up goals to Willie Mitchell and Kyle Clifford 13 seconds apart in the first 2:39 of Tuesday's game, and Brad Richardson's goal 44 seconds into the second period gave the Kings what appeared to be a commanding 4-0 lead.
Rather than panic, calm heads prevailed in the Sharks locker room Tuesday during each of the first two intermissions.
"It was just calm, to be honest with you," team captain Joe Thornton said Wednesday. "It was really, 'We know we have a great chance here to do something special.' Everybody kind of took some deep breaths and getting some energy back into their system and getting ready to go."
McLellan said that yelling and screaming at players wouldn't have accomplished anything.
"Between the first and second period we went in the locker room," he said. "We talked a little bit about our effort and about our commitment level, which I actually thought was higher than what it was in Game 2. We talked about how the game could evolve by scoring one (goal) and getting them to tighten up and we went from there.
"Between the second and third we basically left them alone. We said, 'It's in their hands now. This is a really abnormal game. They have some momentum, let's leave them alone.' I think it starts with your captain. He was vocal between periods and was saying the right things."
Thornton's calming words helped settle younger players like Logan Couture, who scored one of the Sharks' five second-period goals.
"It was just a feeling that someone was going to step up and score that big goal for us," he said. "We dug ourselves a hole, but there was a long way to go. It was good to hear that because I was excited."
Sharks players say they have learned their lesson and once again vowed to get off to a better start.
"We just have to make sure we're ready because we know they're going to be ready right off the bat again," Setoguchi said. "It's good that we got the win. We got the lead again, we're up 2-1 and we got home ice back, but you can't look ahead. We know they're going to be a hungry hockey team."