Sharks believe 'Nemo' will find himself in Game 6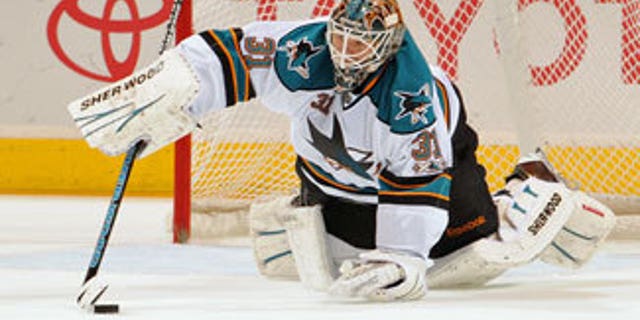 LOS ANGELES -- The San Jose Sharks were giving goalie Antti Niemi plenty of verbal support Monday morning at the Staples Center. Now they need to carry that support onto the ice in Game 6 of their Western Conference quarterfinal-round series with the Los Angeles Kings.
The 27-year-old Finn will start again Monday night despite getting pulled Saturday for the second time in the series after allowing three goals on four shots in a 3-1 Sharks' defeat in San Jose that prevented them from advancing to the next round.
The Sharks still own a 3-2 series lead and remain in position to finish off the pesky Kings, and they expressed plenty of confidence in Niemi's ability to help them accomplish the task.
"Ten months ago he led a very good hockey club to a Stanley Cup, and he had some bumps in the road along the way there, as their team did," Sharks coach Todd McLellan said.
Niemi won all 16 playoff games last year with a 2.61 goals-against average and .910 save percentage when the Chicago Blackhawks won the Cup, but his numbers this postseason -- a 4.30 GAA and .855 save percentage -- pale in comparison.
Antero Niittymaki has stopped 29 of 30 shots in two relief appearances for the Sharks, but McLellan said he believes Niemi will bounce back and get the job done.
"We've pulled our No. 1 guy twice already and he's been on the bench and Nitty's gone in and played extremely well," McLellan said. "It strengthens our belief in him as a team and as a staff, but we're going with Nemo tonight because we believe in him as well. We believe that he's the starter. He knows that we haven't wavered in that one bit and we'll continue to do that. He's proven in the past that he can do it.
"You can pull a defenseman or a forward off and send a message real quick, but usually he's going to get back out there. The goaltender is the one that gets welded to the bench, unfortunately. You hear coaches talk about it all the time; they're not just pulling the goaltender because of his performance. You're often pulling him to wake the rest of the group up and send a message. That's also been the case in our scenario."
The Sharks absolved Niemi of blame for the first two Kings goals in Game 5. Wayne Simmonds scored on a double deflection and Kyle Clifford knocked in the rebound of Simmonds' shot on a 2-on-1 rush that followed a Dan Boyle turnover. Niemi was too deep in his net when Dustin Penner beat him to the glove side with a long shot.
"He was a rock for us the second half of the year," Sharks left wing Ryane Clowe said. "He's won a lot of games for us. I'm sure last game there was pretty much one goal he should have had back, (but) the other ones -- a two-on-one and a double tip -- I don't know how much you can blame those on the goalie."
Sharks captain Joe Thornton said that he and his teammates have Niemi's back and expect to give him better support Monday night.
"Everybody wants to play good for him," he said. "Everybody wants to play well in front of him and make sure he's comfortable back there."
The Sharks also need to find a way to get some pucks behind Kings goalie Jonathan Quick. He frustrated them Saturday with a number of sensational stops and finished with a franchise-record 51 saves for a playoff game.
Thornton said there's not much a team can do after a performance like that except to tip your hat to Quick and move on.
"Hey, 'good game,' " Thornton said. "That's all you can do, just 'good game.' But we feel we have the recipe and we've got the players to put some goals in. We've done it in the past and we'll try to do it tonight."
Sharks left wing Patrick Marleau scored the lone goal against Quick, and he had a game-high nine shots on goal.
"We had our chances and we have to keep trying to get those chances and eventually they're going to go in for you," Marleau said. "You have to stay with it. You have to be persistent. We had some real quality scoring chances and he stood on his head. He played great for them. We still have to go to those areas and get those opportunities.
"If we can do that again and maybe get some guys in front of him so he doesn't see the puck, that'll definitely help our cause."
As would getting an unusually quiet power play untracked. The Sharks boasted the second-best power play in the NHL during regular-season play but have gone 2-for-20 with the man advantage against the Kings.
"We need better net presence and getting second opportunities," McLellan said. "We have a group that's proven, not only this year but through the past three years, that when they get it together they can find a way to be successful. There isn't any magic potion. There aren't any secrets between the two teams. Special players play on special teams and you expect special results, and that's what we'll be talking about."