Seahawks' Carroll: 'Perfect play' lost amid controversial finish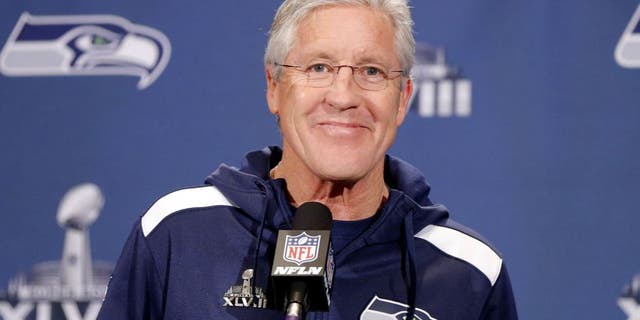 NEWYou can now listen to Fox News articles!
The debate raged on Tuesday over a crucial non-call near the end of the Seattle Seahawks' 13-10 victory over the Detroit Lions on Monday night.
And, according to Seahawks coach Pete Carroll, the controversial finish marred an otherwise brilliant play by safety Kam Chancellor and linebacker K.J. Wright.
"I just think it's unfortunate because it was such an incredible play," Carroll said on his radio show Tuesday. "An incredibly poised, disciplined, fully-in-the-moment play by Kam and also K.J. It was a perfect play to end a game in a dramatic fashion."
While Chancellor saved a go-ahead touchdown by smartly punching the ball loose from Lions receiver Calvin Johnson at the goal line, Carroll also lauded the play that set off the hysteria - the illegal batting of the ball out of the end zone by Wright that the NFL admitted should have been called a penalty.
"That was a smart play," Carroll said. "I would have done the exact same thing. I didn't know that rule, either. I've never even seen it come up, and I've been coaching for I don't even know how many years it is. ... I don't know if anyone would have known that."
(h/t Seattle Times)
MORE NEWS: Want stories delivered to you? Sign up for our NFL newsletters.